I once found it quite hard to get into racing. I have friends who are big fans, and who can talk endlessly about the microscopic detail that goes into every car, but as an outsider, I admit it's easy to miss the complexity for the simple – cars go fast. This strange paradox of endlessly complex yet mindlessly straightforward runs true in the racing genre of video games. Players are spoilt for choice across the various long-running franchises. Need for Speed, Forza, Gran Turismo, Grid, F1, Drive Club; all have long histories (with some even spanning decades) and yet aside from the diehard fans who would cringe at my lumping Forza and F1 in the same category, most people might see them as interchangeable – there are cars, and they go fast.
But looking more deeply into the aesthetic choices of each racing game reveals more than just speed and adrenaline. The genre has always been on the cutting edge of graphical innovation – arguably the racing genre is responsible for the most boundary-pushing aesthetics work – and developers have made the most of this to deliver consistently memorable visual experiences. "Car porn," it's often called. Across the history of the genre, there are multiple successful approaches to making games about driving, uniquely beautiful.
Genre roots
Racing is one of the oldest genres of video game, but where a game stops being an action game and starts being a pure racing game is up for debate. Top-down titles like Atari's Speed Race were functionally not much different from a scrolling shooter. The first racer that starts looking like our modern genre is Namco's Pole Position, which used raster graphics to effectively flatten a top-down view into a single-point-perspective one, simulating a three-dimensional road. Pole Position holds up fantastically well today with its well-calculated smoothness, and the design was quickly joined by Squaresoft's Rad Racer and SEGA's Super Hang-On and Out Run.
Out Run stands as one of the most beautiful entries in this style of racing game. Lead programmer Yu Suzuki toured Europe as inspiration for the environments that the player would drive through, resulting in a game structure where players choose their own paths through beaches, cities, forests and deserts. The focus was on the open road rather than the repetitive cycles of a Grand Prix circuit, a premise that perfectly showcased SEGA's sprite-scaling innovations in the arcade space. The opening level, with the ocean on the left side and the city on the right, serves as a powerful introduction to what racing games could be – a world tour at high speed, delivering an unparalleled sense of freedom. This feeling is preserved even today when playing Out Run through the SEGA AGES port – it's like the game is a magic trick, creating a perfect illusion of speed.
The move to 3D
Once polygonal graphics became available, racing games were one of the first genres to take full advantage. SEGA's Virtua Racing is blocky and awkward, but remains a historical milestone and earned widespread attention on its first release. It's amazing to consider in the space of three years, Namco would be competing with the first Ridge Racer, SEGA would release Daytona USA, and EA would begin the Need for Speed series. These games do feel quite dated today, but the leap from raster graphics to true 3D still feels monumental.
As SEGA and Namco duelled to perfect their arcade titles and their Saturn or PS1 software, each subsequent game became more and more impressive. This culminated in Namco's Ridge Racer Type-4, arguably the pinnacle of this era of design. Type-4 makes the most of the technical limitations of the PlayStation era – its cars are blocky, but clean and decaled to recall the best of street-racing culture. It features complex, twisting courses that transition rapidly between urban and rural locales so that players are always enthralled by something new to look at. These are locations that feel real, lived in, and momentarily borrowed for racing purposes. Everything is set at dusk or night, to show off fancy lighting effects such as the taillights of the cars in front trailing lines across the screen. And all to a pumping electronic soundtrack – it's a vibe, through and through.
The game is purely a product of its time, equal parts nostalgic and forward-thinking. The cars slide gracefully through hairpin turns and city underpasses, sailing across forests and oceans seconds later. Conversations with team managers flesh out a world of competing car manufacturers, letting players rise up the ranks of the racing scene. It's a game effortlessly dripping with style. Unfortunately, it's challenging to get a copy of this on current-gen hardware – the best bet is via PS1 Classic on a Vita – but it's well worth the search.
Towards photorealism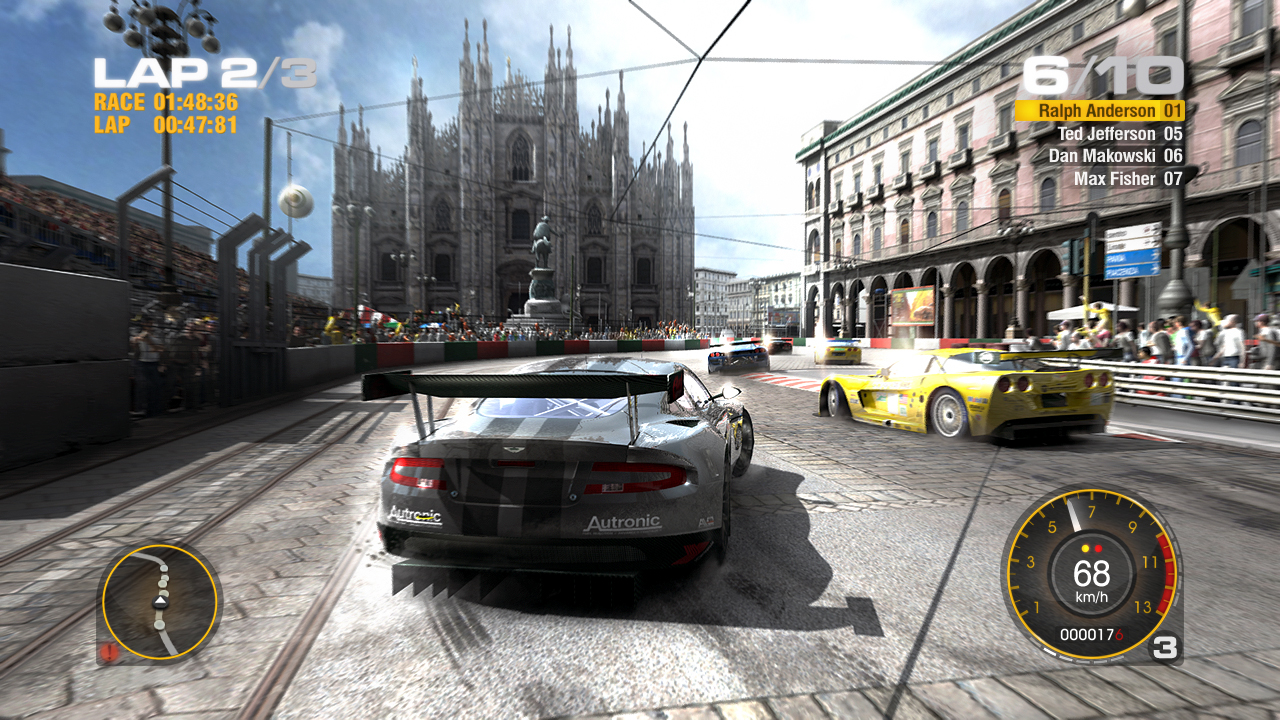 As graphics started to improve, development teams grew and racing games reached new levels of visual impressiveness in the late 00's – yet the increments were getting smaller, and there was no jump quite as monumental as the one from 2D to 3D. Codemasters, Criterion and EA ruled supreme in this era, delivering plenty of thrills while innovating on their own house formulas. The inability of developers to achieve photorealism arguably fostered a push towards a distinctive theme or aesthetic for each game. The Need for Speed series was a beneficiary and victim of this approach, with each subsequent game in the 00's seemingly adopting the newest trend, from imports to street gangs to police chases. Games started to be defined not just by their gameplay, but by their fantasy – giving a specific type of driver for the player to embody.
Racing games at this time split between the precise and simulation-style titles like Gran Turismo and the cinematic, high-octane efforts of Need for Speed. More realistic games tended towards a competition or World-Tour premise,  while the more arcade-like fare started offering open world cities in line with the prolific success of Rockstar's Grand Theft Auto series.
The game that defines the realistic push in this era will always be Race Driver: GRID. While not the most hardcore of racing sims, GRID does insist players respect the course and fear recklessness – cars spin out easily, damage lingers and corresponds to specific car parts, and AI racers are prone to making the same mistakes as players. The result is a game that emphasises skill and precision over aggression, stressed by its career mode that rewards players with sponsorships and car upgrades for efficient driving. Codemasters' graphics bear a rusty, mellowed-out filter that, today, evokes the gritty-brown realism of the mid- 00's Call of Duty or Gears of War games. But it's a look that totally works for what GRID is aiming for – a cinematic yet career-focused look at circuit racing. The highlight (and sorely missing feature in the sequels) of the first GRID game is "touge" – a 1-on-1 duel down a Japanese mountain ridge where elegance is rewarded and even the mildest collision is penalised. It's a game mode that emphasises raw skill and strategy, paired with picturesque maps that you'll need to learn carefully if you want to succeed.
On the opposite end of the spectrum sits Criterion's Burnout Paradise, which has recently seen a remaster on modern systems, cementing its legacy. Whereas GRID's sepia palette evokes realism and control, the Burnout series indulges in stark contrasts between urban greys and electric neons for the playable vehicles. Rather than handling like methodical, weighty machines, the Burnout cars feel like toys – tearing through corners at high speeds, jumping and flipping off ramps, and crumpling like aluminium foil at the slightest nudge. Burnout Paradise's open city is a sandbox for playing with cars, not just racing or driving them. There's a carnal joy that I derive from this game which is replicated in the more bombastic thrills of the Need for Speed games.
Racing today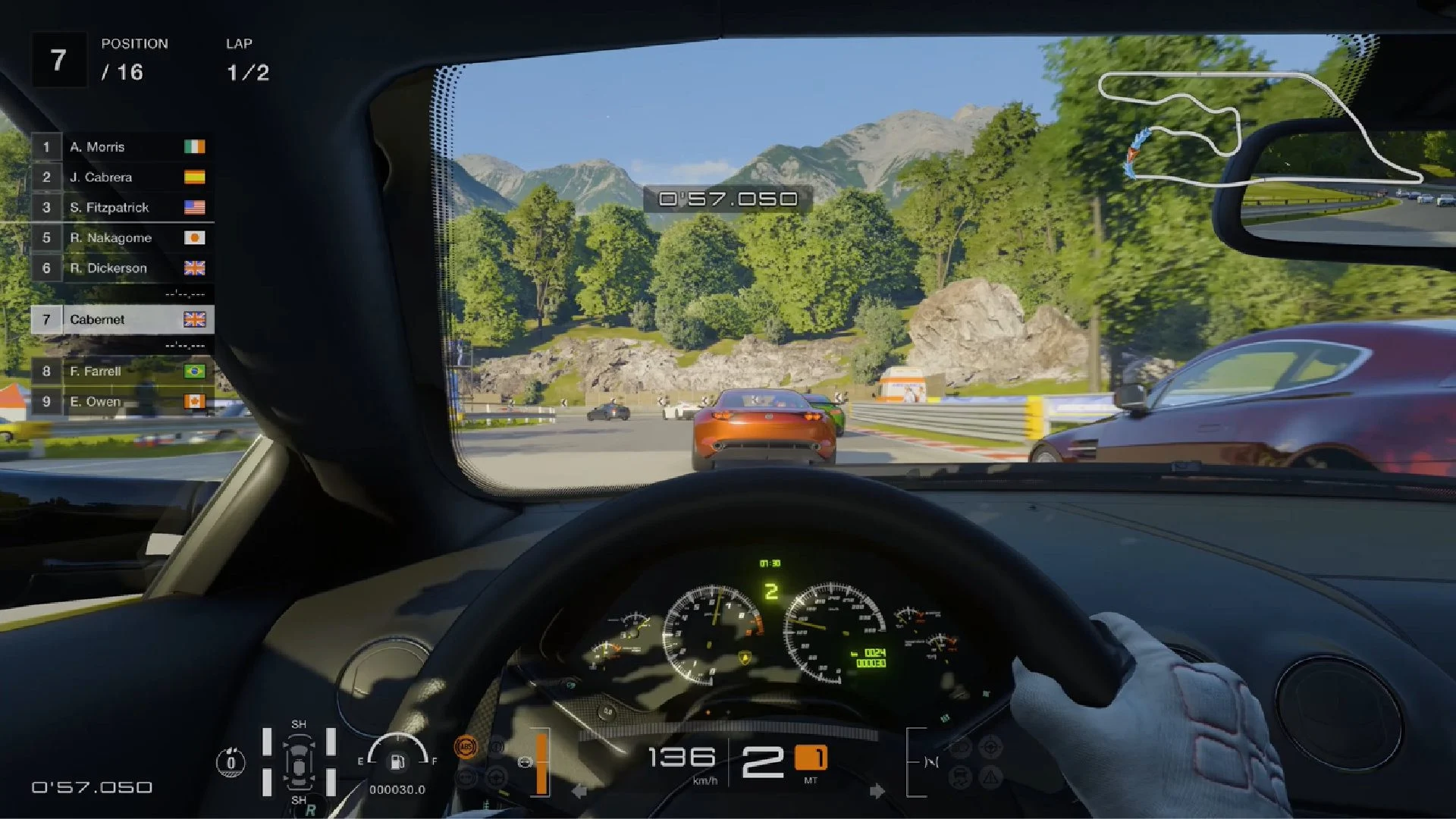 We're on the cusp now of true photorealism in graphics, and of course the racing genre is the first to take advantage of it. But with realism also comes setting aside the more fantastical elements of the past. It's a telling fact that when searching for the most beautiful racing games, nearly all the examples come from the last five years – it's common to see mentions for Drive Club, Forza Horizon 5, Assetto Corsa Competizione – games which could be mistaken for real photography. We're at a moment when photorealism is synonymous with beautiful, and while we can't quite render humans and nature, we've properly succeeded with cars.
These new games give players a huge amount of control over their car setups – being able to tune and customise every facet to maximise performance and personalise designs. They are games that invite players to invest time into them, to learn the intricacies of the systems, or at the very least, unlock the vast amount of content up for offer.
Gran Turismo 7 stands as the pinnacle of this style of design – it feels like a definitive step forward in the long-running series, with an encyclopedic knowledge of automobile history and a  determined effort to appeal to players of all experience levels. Most high-profile racing games now have deals with car manufacturers to include real-world models, but GT7 goes above and beyond by including historical models, design documentation, and tours through each manufacturer's legacy. Each of these cars can be taken out for a spin on the racetrack, which can also be customised or modified to suit the player's whim. A dynamic weather system allows for each track to have its own character – players can develop familiarity with the physical space, and know how it behaves in rain, under the stars, or in the early hours of the morning.
But all of this flash is done with care – what could have been crass or consumerist instead simply celebrates the developers' lifelong appreciation for automobiles in all their interesting complexity. GT7 is interested in teaching players how to race, how to differentiate between the smallest minutiae of car modifications, and eventually develop a personal relationship with the sport. This is most clearly demonstrated in the game's photo mode, which is surprisingly powerful for a game ostensibly about making cars go fast. The player can position vehicles in any environment they like, and produce something that is just as personal as a real photograph. It's a means of creating beauty in tandem with the game, that fully recognises the aesthetic appeal of racing as sport and culture. It's a refreshingly effective use of photorealism to create a fantasy worth indulging in.
Revival
It's easy to look at a game like Gran Turismo 7 and say, "This is it, we're never getting any better than this". But the thing I love most after tracing the history of racing aesthetics is that while it first seems like graphical development has been a strict linear path towards photorealism, things are always more complex. Even if newer technology makes earlier development methods obsolete, the pioneers of each style have crafted their own distinct aesthetics which are worthwhile in its own right. That's why we see indie developers still making raster games, and why blocky cars like the early Ridge Racers are still popular. I go back to play just about every game I've mentioned all the time – and the draw is more powerful than mere nostalgia.
The racing game genre today might seem more complete than it's ever been – we're at the point where a screenshot, or even sometimes game footage, is indistinguishable from photography and video. But this completeness is perhaps what we also felt in the early 3D era, and in the heavily stylised PS3/360 era. The racing genre has been one where we've always been saying "this is it" only to be surprised again and again by new innovations, new styles and new designs. I'm confident that the genre will continue to evolve in new directions, and we'll one day look back on the 2020s' photorealism as just one of many fantastic approaches to racing simulation.
Note: This article originally appeared in the Dee Dee Zine. As we have stopped publishing that magazine we have reprinted it here for all to read. Read more about why here.