I lingered round them, under that benign sky: watched the moths fluttering among the heath and harebells, listened to the soft wind breathing through the grass, and wondered how any one could ever imagine unquiet slumbers for the sleepers in that quiet earth.
When you think of England's iconic moors, one book should surely stand out in your mind – Emily Brontë's Wuthering Heights. If it doesn't, put down whatever device you're reading this on, go get yourself a copy of that book, and read it. The review will be here for when you come back, and I just can't stand the thought of anyone being unaware of the greatest book written by an English person.
Of course, the moors are so central to the themes of Wuthering Heights that when you do a Google search for it, a thousand "study helper" websites pop up, all sharing the same laboured "analysis" of the setting of the book. The moors represent the wildness of the romance and the two central characters in the book. They're dangerous just like Heathcliff. And so on and so forth. It's right up there with the most over-analysed thing in literature by students and the textbook industry that exploits them.
The point of this entire introduction is that it's rare for the moors to represent the heart and soul of a text quite like they do for Wuthering Heights… and as they do for The Excavation of Hob's Barrow. These are entirely different narratives, of course. However, in sharing that point of commonality with one of my very favourite books of all time, this game grew on me, big time.
Hob's Barrow is a point-and-click adventure set in the heart of the moors during Victorian England, right in the tiny hamlet of Bewlay. You play as a young woman that is touring the country, digging up ancient Barrows as research for a book. An acquaintance has invited you out to Bewlay to explore a particularly interesting Barrow (Hob's!), but the sense of unease kicks in almost immediately. The townsfolk are generally hostile to outsiders, and your acquaintance has disappeared. Moreover, absolutely no one wants you investigating this barrow. Undeterred by superstition and setbacks, you set out to find and then excavate the barrow anyway.
Rendered in some gorgeous pixel aesthetics, the loneliness of the moors sets a very different tone for the kind of horror in Hob's Barrow. Most horror games aim for ugliness and monstrosities, as well as physical threats and extreme bloodletting. Were it not for the dark aesthetics, most of them would pass for typical action games. But Hob's Barrow is not about jump scares or action sequences. Rather, it is a cerebral, literary kind of horror – much like Wuthering Heights itself, really – and it is truly, remarkably well-written.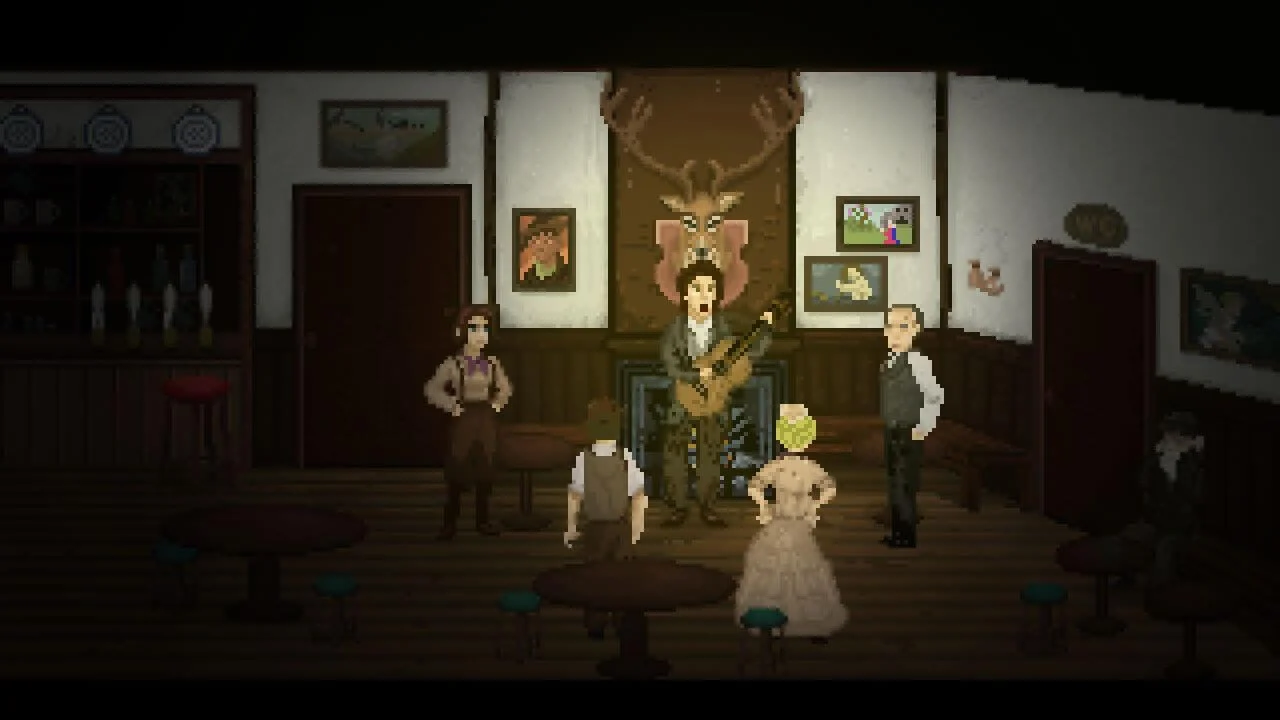 Every character in Bewlay has a story that you're going to want to learn about. You don't get to know most of them nearly as much as their snippets of characterisation demand, and that is unfortunate. However, in setting the scene of a dreary, xenophobic, and backwards lot, this game has captured the required essence and nuance for the setting perfectly. The folkloric approach to horror does come on slowly, but it weaves a beautiful, gothic, sad and compelling story that, were it captured within a book, would sit comfortably next to Frankenstein, Dracula and, yes, Wuthering Heights.
The game itself is structured to support the narrative, rather than the other way around. However, we've all seen adventure games go so very wrong in the past, and this one avoids the most critical design mistakes. For example, too many adventure games have logic that seems broken, and you need to trial-and-error your way out of it. You might need to find a random watermelon somewhere and shove a stick of dynamite in it so it explodes and uncovers a key that you need to use on a door in the town over, for example. Hob's Barrow has got a similar trail of breadcrumbs – you'll need to find a rare fossil to give to the blacksmith so he'll give you paraffin wax to use in a lantern – but the logical flow of the "puzzles" is much cleaner and, typically, you're going to be able to actually think through things logically and figure out the solutions without having to try every inventory item on every object and person in the hope that some esoteric logic triggers the next scene. As long as you're methodical in your explorations and willing to trek around a bit, you'll be fine.
It's not the longest game, at about ten hours depending on how quickly you puzzle through it. However, there's a haunting quality to Hob's Barrow that will stay with you long after you finish playing. It's a fine example of literary and gothic horror being brought to the video game medium, and that's something I've been asking for more of in video games for quite some time now.