HyperX is generally well regarded in the gaming peripherals space, whether you're talking its Cirrus Buds Pro or its HyperX Clutch Wireless Controller or… well, nearly every single type of gaming peripheral paraphernalia you could care to think of. Except maybe one. While competitors like Razer and others have delved into the world of online game streaming with gamer-centric webcams, it's an area where HyperX hasn't dabbled in the past.
Which is odd, when you consider that the whole HyperX brand is owned by HP, and HP has a lot of webcams and more serious, business centric video conferencing equipment that men in dull grey suits spend their entire lives in front of. You'd think some of that DNA would percolate down into the HyperX brand, no?
It finally has, via the HyperX Vision S webcam. HyperX sent me one to review ahead of its launch, and I've spent the past week or so putting it through its paces doing everything from simple video recording to podcast production and more.
Out of the box, the HyperX Vision S doesn't do much to really show off its "gaming" origins at all.
So very many gaming peripherals seem to think that RGB lighting and a cheap cyberpunk aesthetic is a must, and clearly this is something of a taste matter, but I do prefer a peripheral that's suitable for all seasons. The HyperX Vision S is a thin camera tube with an integrated clip stand built into the base. It features a privacy shield via a magnetic clip on front that obscures the entire camera lens.
It's nicely built, but I did find during my testing time that almost continually misplaced it when I didn't have it on the lens itself. In fact, as I'm writing this exact sentence, I'm not sure precisely where it is on my desk. That does rather suggest that it's likely to become permanently lost at some point.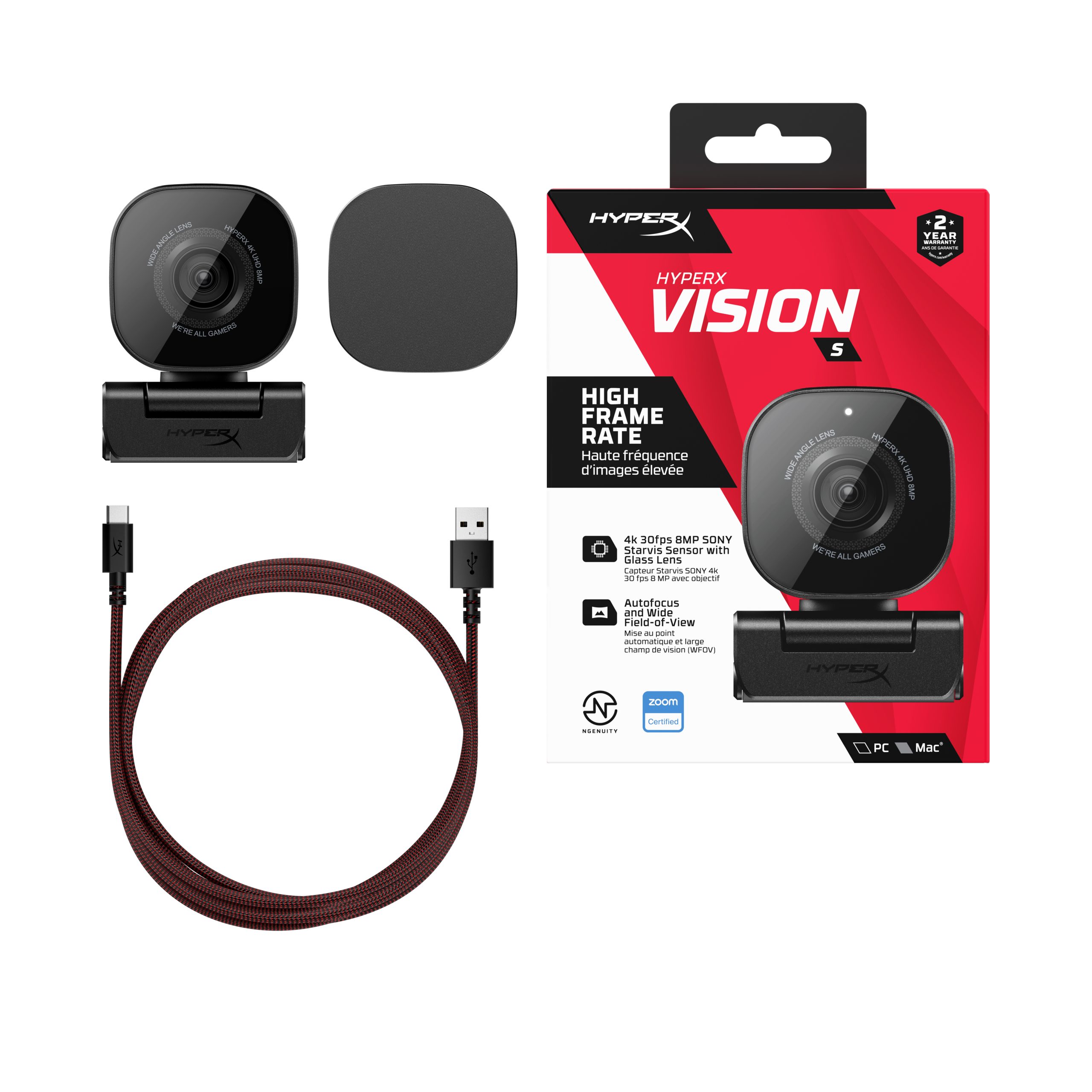 The HyperX Vision S advertises itself as compatible for both PC and Mac, which is kind of rare for gaming peripherals where Windows utterly dominates. It'll certainly plug into a Mac and work as a basic camera, but there is a catch here. Like its gaming peripheral rivals, HyperX has its own catch-all software suite for customisation and firmware updates. HyperX's particular app is called Ngenuity, and it's available for Windows only. So, if you do need to upgrade firmware or want to make specific changes to the HyperX Vision S' output, you're in a Windows-only world… sometimes.
Look, I don't like anyone's take on these management apps, because they all tend to be a bit glitchy, and Ngenuity is no exception. About half the time testing on a Windows 11 desktop, Ngenuity simply failed to recognise that the HyperX Vision S was plugged in at all. Not that this stopped Ngenuity from claiming the camera as its own, stopping other apps such as OBS from recognising it. That was solved by quitting Ngenuity entirely, but that's hardly an elegant solution. What I'm basically saying here is that HyperX should write better, more stable software, the sooner the better.
Those hurdles aside, the HyperX Vision S experience for video capture is generally a very good one. It's built around a 8MP Sony STARVIS sensor… and, sorry, but every single time I read the word "STARVIS", I think of the butler from the Avengers being malnourished. Surely that can't just be me? That weird mental image aside, STARVIS is Sony's particular branding around largely security-centric camera sensors. So what does that have to do with the HyperX Vision S? Is it watching me while I sleep or go to the bathroom?
Well… no, not unless I set it up that way, and if that's your thing I won't shame you for it – but equally I'm not going to watch either.
The point here is that a STARVIS sensor is tuned for low light performance, and that's important in the game streaming area where you might have a mix of poor or uneven lighting, or for that matter a lot of intermittent lighting – say, from all those flickering RGB peripherals I was talking about earlier.
It works really well, too; while I tend to try to light as well as possible for video recording, switching off everything and closing curtains to make my home office as dark as possible did alter the visual quality (as you'd expect), but left me with a surprisingly workable picture even in gloomy conditions.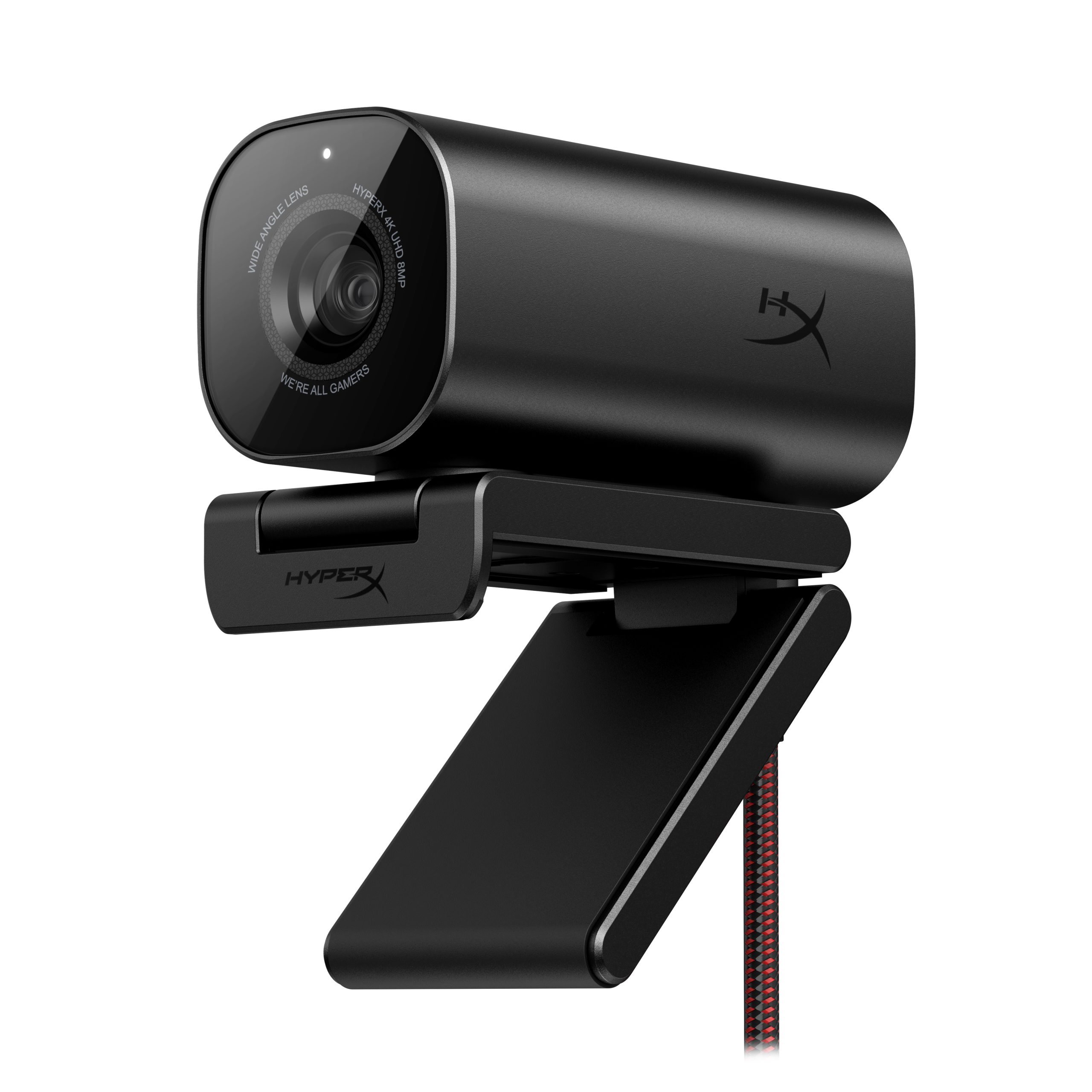 The HyperX Vision S supports up to 4K/30 or 1080p/60 recording; my own testing leans towards the 1080p/60 as preferable for most situations especially given the bandwidth challenges for both USB connections and computing power in general, but obviously your tastes can vary and it's useful to have both to hand.
If you do have to intermittently put on the grey suit for business purposes, I should note that it also works rather nicely for Windows Hello biometric unlocking. Macs don't have anything similar – and still no Ngenuity software – but it is noteworthy that if you've updated to MacOS Sonoma, the full camera controls for portrait and studio lighting will work across most apps natively.
At $359 outright, the HyperX Vision S certainly isn't inexpensive. If you want a really solidly built webcam with good low light capabilities and the ability to work across a range of exposures and multiple OS configurations as well, it's a really decent option.
Conversely of course if you're streaming and just throwing that typical tiny blocky picture in the corner of your game stream, it might be overkill. Quite glorious overkill, but overkill nonetheless.