It's the beginning of 2023's biggest week of western gaming news. I'm still calling it Not-E3, just because there's no better term for it yet. Up first is Guerrilla Collective's 2023 showcase. I'll be highlighting the best featured games, while also providing a full list of titles mentioned and the full showcase in video form. All games are being released for PC; other platforms will be noted per game if mentioned. If you're interested, check out last year's showcase here.
Game highlights
Terra Memoria
Game announcement time! Pixel art RPG Terra Memoria follows six loveable characters. There's an investigation through the ages, a world with crazy inhabitants, and cozy music. It features exploration, fighting, construction, and puzzle gameplay elements. In the world, there's another crystal shortage (hello, Final Fantasy). Your train was just cancelled. Robots are attacking. You'll set out to investigate all that on a road trip with your new friends. Terra Memoria is "coming soon" for PC via Steam, PlayStation 5, Nintendo Switch, and Xbox Series.
Europa
This is a new gameplay trailer for open-world adventure game Europa. The game is set on one of Jupiter's moons, which is actually a lush terraformed paradise. An android, Zee, sets out in search of answers regarding the mysteries of the ruins in a fallen utopia. They'll run, glide, and fly across the landscape, all to discover the story of the last human alive. Europa is a peaceful game of both adventure and meditation. Zee's jetpack can be upgraded as players progress through the game, boosting their air time until they can flow freely through the sky. Europa will be released for PC via Steam later this year.
Leximan
Welcome to a whimsical, wordy wizardry world. Leximan is set in a modern fantasy world, and is drive by bizarre characters, mystical word puzzles, and hilarious mini-games. Enrol in the world's most exclusive magic school… too bad magic is a bit embarrassing in this world! You alone have the ability to use Leximancy, driven by language. Years ago, you caused things to happen, and you've been banished to the basement with the school's other failures. The academy is attacked, and it's time to become the outcast that can save the school. Leximan will be released for PC via Steam in 2024.
Demonschool
Quite honestly, Demonschool just looks cool. Hey, I rhymed! In the tactics RPG, motion equals action. Play as Faye, and defeat weirdos between the human and demon worlds with the help of her misfit companions. All while navigating university life on a mysterious island. Plan the school schedule to level up characters and build their skills. There are 15 characters to build relationships with.
Sticky Business
I wrote about Sticky Business in this week's catch-up coffee, and you're mad if you think I wouldn't take another opportunity to write about the sticker business management sim! Players will combine dozens of elements to create their own sticker collections to sell to like-minded people. Then sell them online, pack orders, and wait for customer stories to come rolling in. Actually, it's not that easy. Players will also have to optimize sticker rproduction by building the perfect sticker sheets, making as much use of resources as possible. Buy upgrades to get new graphics and effect foils. Finally, add goodies and custom packaging to order to improve customer happiness. Sticky Business will be released later this year.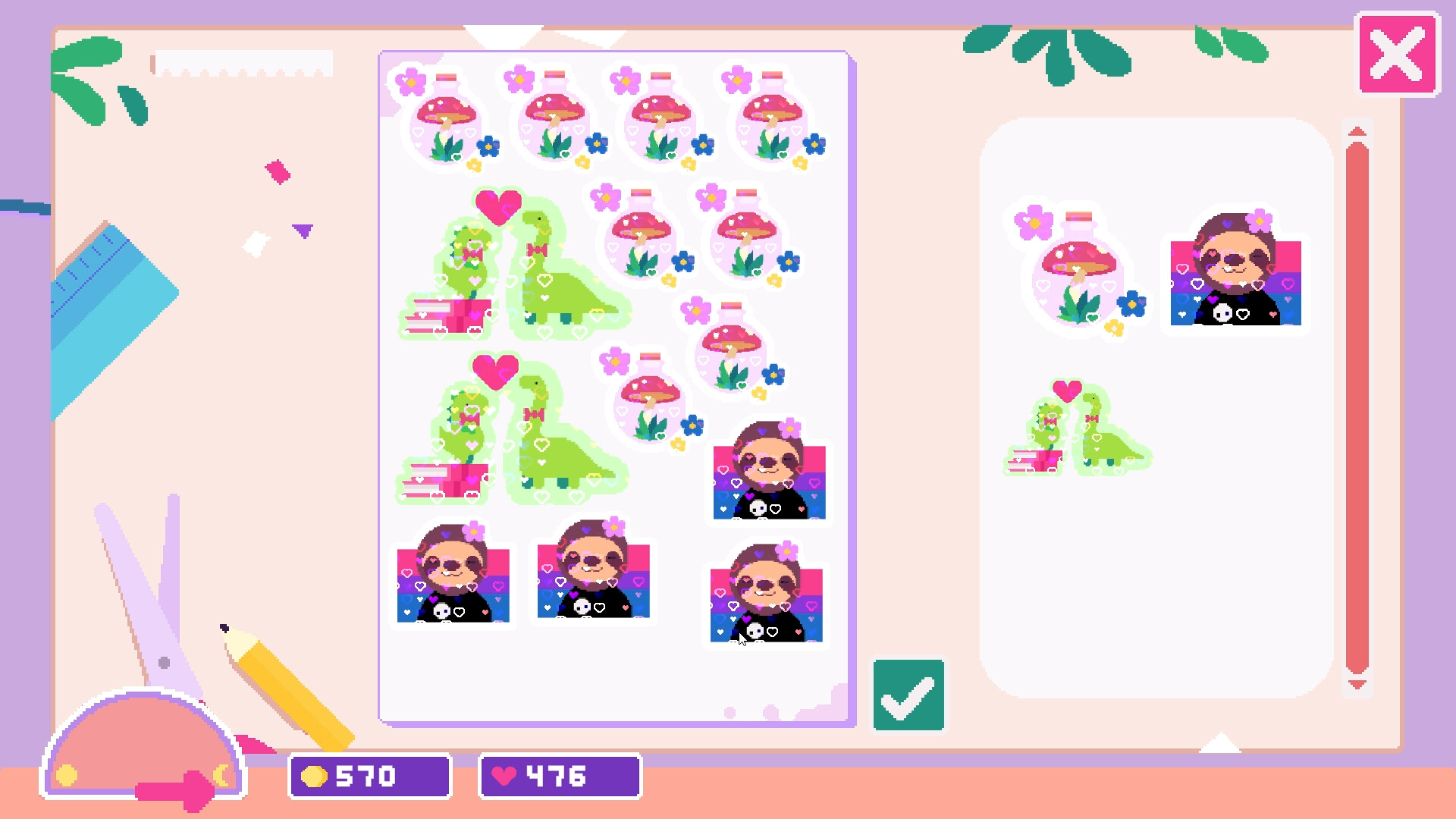 Death Trick: Double Blind
The star magician of Morgan's Travelling Circus has vanished, but you know what they say: the show must go on! The circus show was once the greatest in all of America, but without its star, that's no longer true. Death Trick: Double Blind is a non-linear detective game where an unlikely duo (a magician and a private eye) gather clues, question subjects, and reveal contradictions. Only then will the mystery of the missing magician start to unravel. Each character has access to different information, so it is imperative to alternate between their perspectives to uncover the bigger picture.
The full list of games
Terra Memoria (coming soon, also for PlayStation 5, Nintendo Switch, Xbox Series)
Sengoku Dynasty
Forgotlings (launching in 2024, also for PlayStation, Nintendo Switch, Xbox)
Evolutis Duality
Europa (launching in 2023)
Light Odyssey (launching in 2023))
Abyssus
A Tiny Sticker Tale (also for Nintendo Switch)
Dwarf Delve
Remnant II (launching in "Summer" 2023 (Q3), also for PlayStation 5, Xbox Series)
Iron Meat (launching in October 2023)
Hammerwatch II
Annalynn (also for Nintendo Switch)
Super Space Club (launching August 4, also for Xbox One)
Toxic Crusaders
30XX
Leximan (launching in 2024)
Anton Blast (coming soon, also for Nintendo Switch)
Serum
Clapperheads: Do You See Sparky?
World of Horror (launching October 19, also for PlayStation 5, PlayStation 4, Nintendo Switch)
Pneumata
Battle Shapers
Deadlink (launching July 27)
Blood West (launching on December 5)
Demonschool
Quest Master (also for Nintendo Switch)
Sacrifire
A Bonnie Odyssey
Dark Deity II
WrestleQuest
Grifford Academy
Toads of the Bayou
Arc Seed
Crashlands 2 (coming soon)
Deck of Souls
Yomi 2 (launching June 27)
Growth (coming soon)
Nova Lands (launching June 22, also for PlayStation, Nintendo Switch, Xbox)
Jumplight Odyssey
Don Duality
CorpoNation: The Sorting Process
Kingdom Eighties: Summer of Greed
Super Adventure Hand!
A Corgi's Cozy Hike
Lake: Season's Greetings (coming this holiday season)
Pizza Possum (also for PlayStation 5, Nintendo Switch, Xbox Series)
Noun Town: Language Learning
Olliefrog: Toad Skater
Lil Guardsman (coming "this summer" – Q3 – also for PlayStation 5, PlayStation 4, Nintendo Switch, Xbox Series, Xbox One)
Bye Sweet Carole
A Void Hope (launching on June 19, also for Nintendo Switch)
Death Trick: Double Blind
Three Minutes to Eight (coming soon to PlayStation5, PlayStation, Nintendo Switch, Xbox Series, Xbox One)
Welcome to Nivalis
Heart Abyss
Promenade (2023, also coming to consoles)
Nocturnal (available now, also for PlayStation 4, Nintendo Switch, Xbox Series)
Coreupt
Crypt Custodian (coming in 2024)
Gory: Cuddly Carnage (also for PlayStation 5, PlayStation 4, Nintendo Switch, Xbox Series, Xbox One)
Grime: Tinge of Terror (free DLC)
Dawn of the Monsters: Arcade Edition (free title update)
The full showcase