Welcome to Digitally Downloaded's weekly catch-up news feature, the catch-up coffee. With each issue I will bring you the best news that you may have missed. Grab the biggest mug you've got, fill it with your favourite brew, and catch up with us (and our favourite news anchor, Dee Dee)!
Goodbye World set to launch on PlayStation, Xbox
Back in March, I wrote about how Goodbye World was set to come to new consoles "soon" (it is already available for PC via Steam and Nintendo Switch). Well, soon has almost arrived, as the game about making games will be released at the end of June. The linear game features a story of 13 chapters, and follows two game creators while playing an in-game puzzle platformer.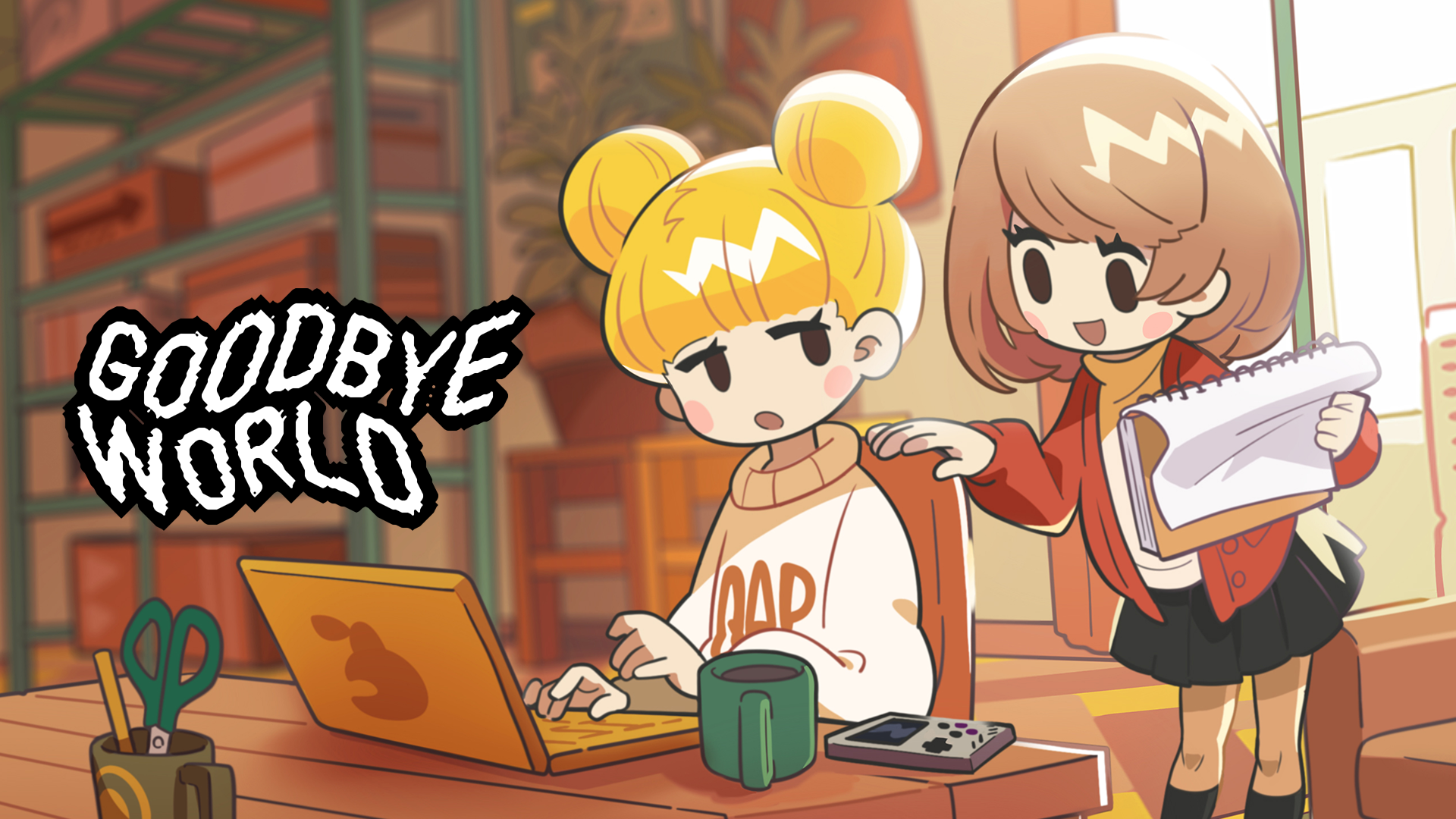 All relationships change over time, and Goodbye World is the story of one such friendship. It follows programmer/game designer Kanii and graphic designer/scenario writer Kumade, two indie creators working a new project thanks to the earnings of their last game. Unfortunately, Kanii is going through a slump and they haven't actually created anything in two years. Time is running out, and so is money. As players progress through the adventure part of the game, the development level of the game within this game will advance, making the next stage playable.
Developed by Isolation Studio and published by PM Studios/Flyhigh Works, Goodbye World will be released digitally for PlayStation 5, PlayStation 4, Xbox Series, and Xbox One on June 30. On the same day, physical versions for PlayStation 5, PlayStation 4, and Nintendo Switch will be released.
PowerWash Simulator VR announced
I've said it before and I'll say it again: there is something incredibly soothing about PowerWash Simulator. Actual powerwashing requires a lot of physical effort and that kind of undoes some of the calmness, but the digital version is all happy with no actual physical labour. The game is still growing, but a new version has been announced: PowerWash Simulator VR.
PowerWash Simulator VR features precise 1:1 control that makes even the dirtiest jobs a downright pleasure to complete. "PowerWash Simulator has always been about putting relaxation and satisfaction into the hands of the players. Now with PowerWash Simulator VR we are pleased to be able to make this happen not only figuratively, but literally!" said Chris Mehers, COO at FuturLab, via a press release. "A VR version of the game has been highly requested by the community since early on in development, so we are excited to finally be able to announce this news."
Developed by FuturLab and nDreams, PowerWash Simulator VR will be released for Meta Quest 2 this year.
Sticky Business is a cozy business sim about running a sticker-making business
If someone says "cozy business sim," I'm immediately fully invested. This is what's happened with Sticker Business, a game about making stickers and selling them. Players create stickers thanks to thousands of customization options, pack orders, develop and online store, and build relationships with customers. How perfect does that sound? I love stickers. I love business sims. I cannot wait for this game to launch in the coming months.
The base of running the business is designing stickers, which could be overwhelming due to all the options but the game has an approachable interface to keep it as serene as possible. A sticker business isn't all stickers, though: there's the business management too. Players must Crete an engaging storefront, manage sales, pack orders, and device what sort of bonus goodies customers receive in their boxes. With that hard-earned revenue, buy upgrades to get more sticker graphics and effect foils.
Developed By Spellgarden Games and published by Assemble Entertainment, Sticker Business will be released for PC via Steam "later this summer," so presumably July-September (or Q3 2023).
Whispike Survivors: Sword of the Necromancer announced
Whispike Survivors: Sword of the Necromancer is described as a hybrid of horde survival and farm simulation games. The game actually links to the developer's other titles, Sword of the Necromancer, as you control its monsters and make it fight other critters until it becomes the strongest of them all.
Only "adult" Whisplikes are able to fight, so until they grow players will have to take care of their farm. That isn't super straightforward, though, as planting seeds in neighbouring slots can create hybrids that combine both seeds' attributes. Players will defeat hordes of enemies to make their Whisplike stronger. They'll drop seeds when dying, so grow those to make even stronger hybrids.
Developed and published by Grimorio of Games, Whispike Survivors: Sword of the Necromancer will be released for PC via Steam, PlayStation 5, PlayStation 4, Nintendo Switch, Xbox Series, and Xbox One "soon."