The high-end gaming handheld market is really heating up. The Steam Deck kicked the fad off, but it has since been joined by the likes of the Ayaneo series, the Anbernic W600 and, now, the Asus ROG Ally. Despite its ridiculous name, after getting hands-on time with the Ally, I can say that this is a device that you'll want to keep an eye on.
The ROG Ally will land in June for Aus $1,299. That's a touch more expensive than the Steam Deck, and a fair bit less expensive than the higher-end Ayaneo devices. For that investment, you are getting a solid chunk of power. The console will be the first to feature the AMD Ryzen Z1 Series, and it comes equipped with a 7-inch, 1080p screen. It's a Windows 11 device, meaning that it will play anything in your Steam, Epic Games, GoG or Xbox game collections. It has a battery that will last between one and two hours when gaming, and can be docked to connect it to your home TV or monitor setup for play at home.
According to Asus, it has been designed to handle the high-end, "AAA" gaming space. In the hands-on time I had with it, I got to have a quick go at Halo Infinite and Hitman. Halo Infinite's frame rate ran a little lower than 30 fps for the most part (but well enough that it was still playable). Hitman was much smoother. This device is obviously not going to replace dedicated gaming PCs, or upper-end gaming laptops, but this is much more portable, and I imagine that outside of the most hardcore and demanding of gamers most will find it adequate for gaming on the go, especially with mid-tier titles.
The main impression I walked away with was that the console feels very nice in the hand. At 608gm it's a little lighter than the Steam Deck, and feels even lighter than that, thanks to some exceptional weight balancing. The console fits snuggly into the hands, too, and aside from a slight issue I had with the shoulder buttons (the boundary between them wasn't defined very well, meaning that it was hard to know if you pressing down on the right one in the heat of the action), everything felt great to press down.
However, it's the analogue sticks that are the absolute standout. These are incredible. They are soft, yet precise, and glide around with extreme speed and zero friction. It's genuinely like they're resting on blocks of ice for the speed you can skate them around. I'm not actually sure I've ever experienced a better analogue stick than these. I played with the Nintendo Switch immediately after, and while I appreciate the Joycons well enough, these are truly next-level analogue sticks.
Finally, to show just how well-engineered the device is overall, not once did I feel heat while using it. It does build up a lot of heat when in use because of course it will (especially with more demanding games). However, the device itself remains completely cool on the hands, with the heat effectively dissipated from vents at the top of the device. Having used many emulation consoles and gaming laptops, having a device that doesn't feel like it's going to burn your hands after a while in play is a nice change of pace.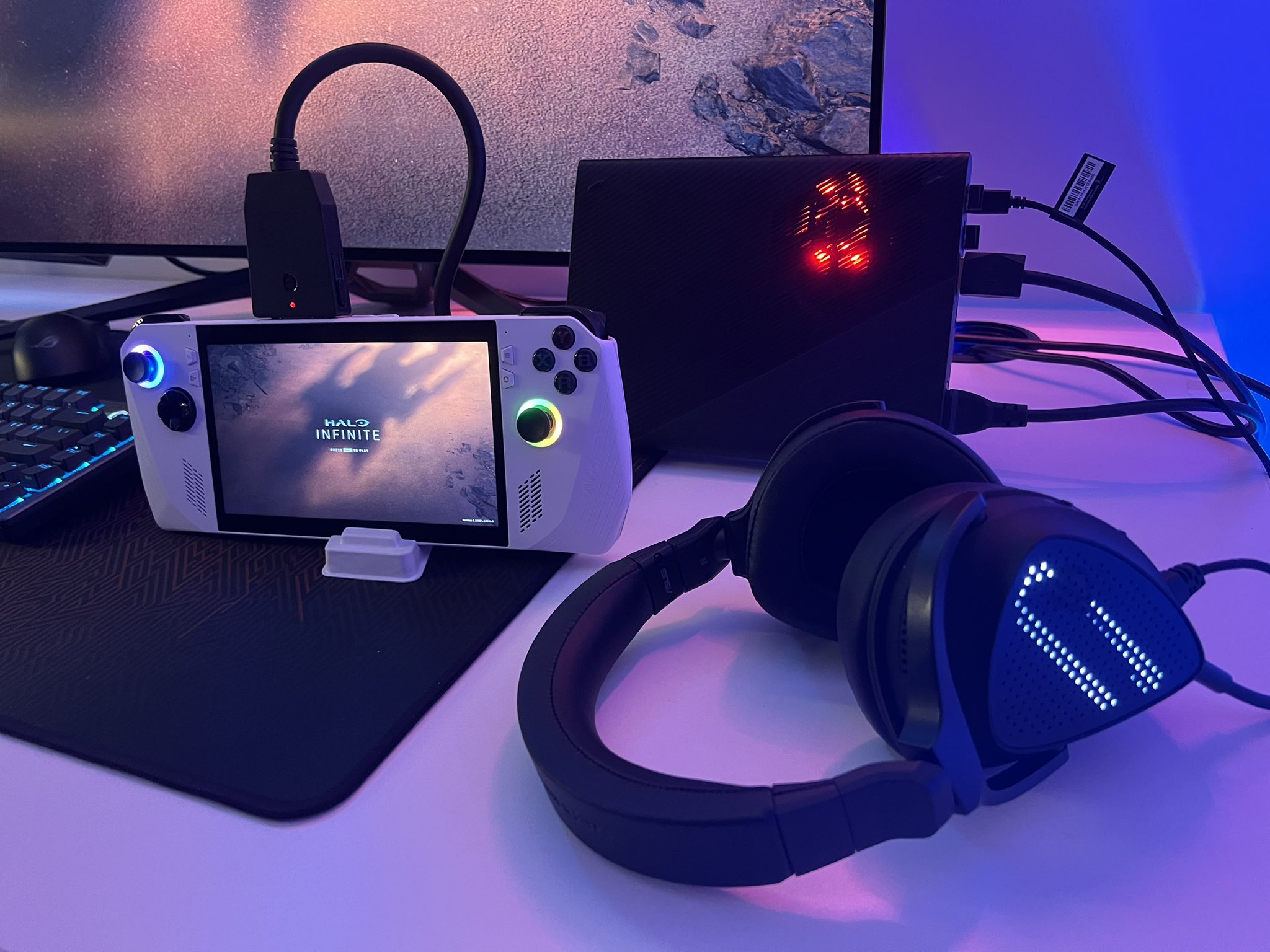 Build quality is going to be a defining characteristic of the Ally. Asus really did impress me there. And as someone who doesn't really care for the AAA space, this console will do a stand-up job at playing most of the titles in my Steam library. I'm not sure of just how portable it is. The screen is large and uncovered, meaning that despite the application of gorilla glass, it can scratch. Furthermore, as good as those control sticks are, they do stand out from the console a fair way, which means they run the risk of catching if not carefully packed. You can get a carry bag for the console but… I will still likely stick to my cheap clamshell Retroid Flip for the commute.
Instead, I imagine my use case will be to play it at home in bed, or while watching something on TV, rather than using it as a travel device. And that's okay. Between the Steam library and the inevitable PS2 and GameCube emulators that I'll set up, as well as the ability to play on a TV while at home, the Ally represents a big step up from the retro emulation devices that I've been using, and that alone is really enough to justify the device to me. The fact that it's made so spectacularly is really the unexpected icing on the cake.
I only got enough time with the console to form a very general first impression, and this is by no means a review. For all I know it blows up after two hours and that's why the demo session was 90 minutes. But I walked away very enthusiastic about the ROG Ally. This is a versatile, powerful, and deeply pleasurable handheld console to use. I can't wait to really put it through its paces.