Wow did Lover Pretend have the potential to go places. Thankfully it doesn't, ultimately, but there were more than a few moments on this game's journey where I felt particularly uncomfortable about some of the flags that it was throwing up despite it being a narrative that is, by developer Otomate's standards, quite mundane.
In Lover Pretend you play as a young woman in her final year of college who, thanks to an incredible case of stars aligning, has the chance to work on a film that has brought together the (now adult) children of actors/writers that were involved with a film that her now-deceased mother had worked on decades ago. It's a fortunate turn of events for our protagonist because she doesn't actually know who her father is. She knows it was one of the men that her mother worked with in that aforementioned film, but there were a lot of men, and she's not sure which it was. Her invitation to work on the film, therefore, serves a double purpose: It allows her to progress her dream of becoming a writer herself and allows her to get to know a bunch of her potential brothers-in-law. Her plan? Deduce which of their fathers is also her father.
To be clear here: Each of these men that may be her sibling is also a love interest. Thankfully, that's a red herring of a plot hook. The incest never actually happens, even on "bad" endings (and I'm sorry if that was a spoiler to you but also, I sincerely hope you don't care about that little plot hook being spoiled). No matter which boy you pick, the protagonist gets "lucky" and he's not her bro. Nonetheless, you've got to ask questions of this girl. There she is actively dating a bunch of guys, knowing full well that one of them is going to turn out to be her brother. Through so much of this visual novel, I was asking myself "well, wouldn't you want to know which first?!? DNA tests are right there!", but I guess the risk of incest isn't enough to stop these ridiculously pretty people for falling into lust for one another.
Amazingly for everything that I've written up there, Lover Pretend is actually a sweet and wholesome romance visual novel. As mentioned, the incest theme is never actually on the table, and while the game features plenty of difficult moments and characters that have their problems, for the most part, it pitches itself as a slice-of-life and heart-warming story. Really, it's not dissimilar in tone to the kind of straight-to-video love story that our protagonist's mother wrote in the game.
The core hook of it is as the name suggests – you'll be pretending to be a lover. Regardless of which boy you choose, through much of their story, you're going to be pretending to be their bed pal for one reason or another. Naturally, for how these kinds of stories go, stronger feelings start to emerge from that deceit. It's hardly Shakespeare, but it is written well enough, and, impressively for this genre, each character journey is good! Usually, with otome games, there are one or two characters that will rub you the wrong way, but here there's a consistency and they're all believable and interesting enough male leads.
Some people might find the plot of Lover Pretend to be a little unimaginative, however. In stark contrast to the Magical Girls/Boys theme of Paradigm Paradox, the Italian rise of fascism period drama of Piofiore and the historical epic of Birushana, Lover Pretend is about… filmmakers and actors. It has a much heavier "slice of life" quality to it, and unlike Cupid Parasite from last year, isn't trying to be outrageously funny. It has its moments that will make you laugh, but it's not what I would consider an out-and-out comedy. It might therefore lack excitement in the eyes of some, and no amount of quality writing in the characterisation is going to help counter that.
With that being said, Lover Pretend is not shallow. As Yukio Mishima once wrote in his short story, Star: "The very thing that makes a star spectacular is the same thing that strikes him from the world at large and makes him an outsider," and certainly this is something that the game canvasses cleverly. The role of the celebrity in society, as something magnificent and exotic beyond the common person, as well as the way that world touches "normal" lives, is a recurring topic throughout the game. It is not overlooked that this irresponsible little microcosm of a world, existing outside of "reality" for the rest of us, left the protagonist unaware of even who her father is. The narrative looks at fandoms, the expectations and pressures placed on actors and celebrities, and more. The storytelling is perhaps not critical enough where it needs to be (Mishima's short story is certainly scathing), but Lover Pretend doesn't present any of this as an idyllic paradise where people are free to aspire and pursue their dreams.
Mechanically there's just one notable element. Every so often you'll be pulled into a series of questions, which you need to answer correctly, in order to "fake" something. Usually, it has to do with your relationship with whatever boy you're hanging out with at the time (hence the title "Lover Pretend"). These "pretend" sequences are very simple. Get too many "wrong" answers and it's a fail and game over. Get enough right and you'll pass the "challenge." These sequences don't really add anything to the narrative or your understanding of the characters, so it comes across as a desperate effort to put gameplay in for the sake of it.
On the other hand, the game is gorgeous, and certainly a lot more classically appealing than Paradox Paradigm from last month. The backgrounds are lovely and the boys are all strapping. Otomate does far higher quality art than this, but it's still very pleasant on the eyes and the key CGs are treats to look forward to.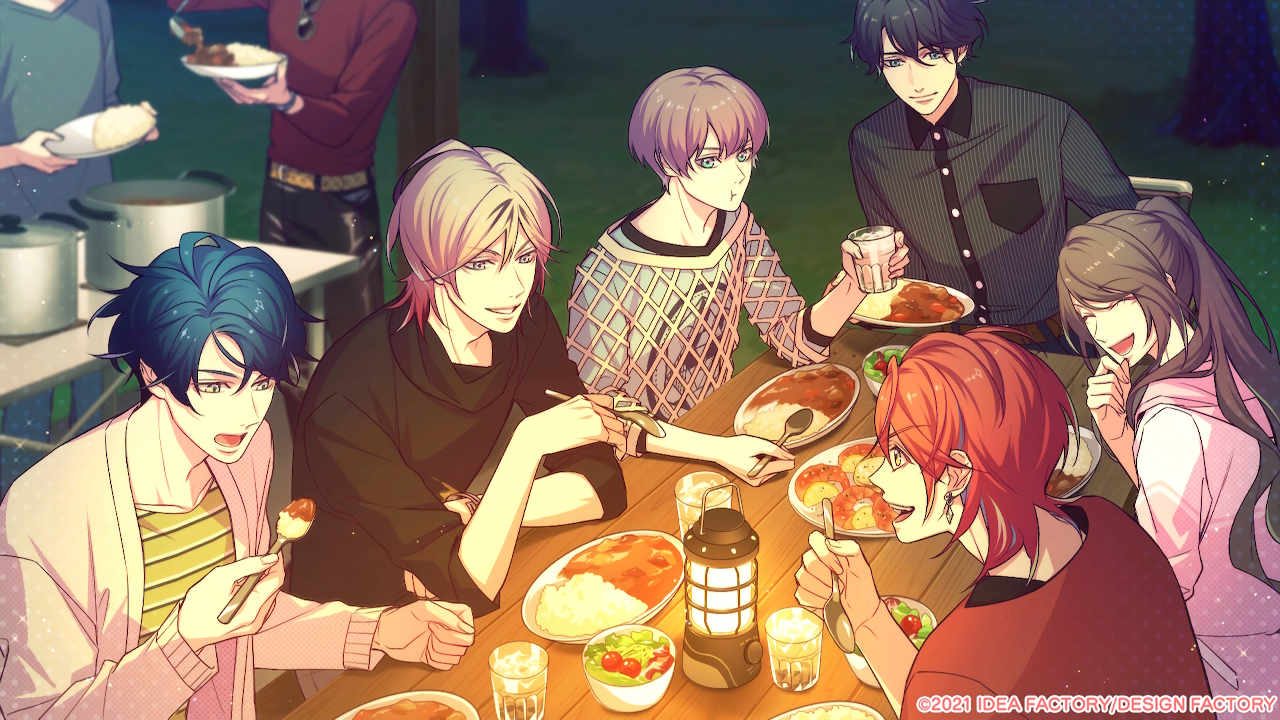 After being disappointed with Paradox Paradigm I am thrilled that Lover Pretend was a big bounce back to form, both in my perception of Otomate, and the localiser, Aksys. While the first impression is that this one is going to make incest a core theme and that's going to be simply plain unpleasant for (almost) anyone, the good news is that it soon settles down into a rather comfortable reflection on celebrity, the filmmaking process, and, of course, romance.