I'm a big fan of itch.io for the freedom and open platform that it allows for developers to be creative, experimental, and directly canvas the audience for feedback for games that are not yet ready for primetime on Steam and its ilk. In addition, itch.io allows you to be transgressive, subversive, and downright dangerous. It's a true "art gallery" for game ideas and creative developers, and it should be celebrated for that.
What makes itch.io a little difficult at times is finding things that are interesting to play. Discovery is a real issue when great ideas are buried among high school projects and nasty little efforts to scam a quick buck from players. With that in mind, I thought what might be helpful to readers would be if I did a brief write-up of interesting games that I've come across on itch.io each week. In many cases these games will be unfinished or "in development," but I'm highlighting them because they promise something special and are well worth keeping on the radar.
Note: I also haven't played these games. I highlight them as interesting based on the itch.io description and concept. Where I find the time to do actual reviews or other coverage, I will compose separate articles on the game in question. These aren't so much an endorsement (or piece of criticism) as they are a head's up.
First up this week we have Skolios, an RPG Maker horror project. I know RPG Maker might not seem like the best platform for horror, but as we all know now, Corpse Party comprehensively proves that it's possible, so I'm always up to see what other developers can twist the platform to achieve. With no combat and the promise of a slow, creeping kind of horror, it does sound like my kind of thing.
According to the feature list, the game offers multiple changing perspectives (like you had with the early Resident Evil and Silent Hill), and a stalker horror system – if the enemy catches you it's an instant game over, so you need to run and hide from them to make progress. At points on the journey, you'll have choices that affect the game experience, and the game has some nice aesthetics and atmosphere to boot. Totally free to play, this was a hobby project and I do hope it encourages the developer to continue making games, because it does look like they have a genuine passion for it.
For fans of roguelikes and 1-bit-style visuals, 1 Bit Survivor is a free game that you're going to want to check out. The goal is simple: survive the randomly-generated nightmare for 28 days and hope to save your pet cat. A death means game over (it's a roguelike, after all), and because you've got limited resources, every decision that you make really matters.
There's replay value because you can unlock three additional classes, each with their own skills and capabilities, and of course, the random nature of levels is another incentive to keep on playing. The developers have made the game easy to get into, with simple controls to move and shoot, but actually mastering 1 Bit Survivor is going to take some work. There are even leaderboards and achievements on the Android version of the game.
It's a new game for my favourite platform! I do love the Game Boy and Game Boy Color so much, and while Last Crown Warriors looks very derivative, it also happens to be derivative of one of the very best games on the console. This game is a blatant "homage" to The Legend of Zelda: Link's Awakening, but rather than be a shameless ripoff, it does look like it's trying to be a real game in its own right. In fact, the developer's even running a Kickstarter to cover the cost of producing a physical edition. It seems like it has gone down well, since the Kickstarter campaign has already gone over its goal, with weeks of the campaign to go yet.
The game itself actually seems to be inspired by Koei Tecmo's Musou (Warriors) series, in that you'll actually be capturing bases across each level and squaring off against waves of enemies… and from the footage, you can see that by Game Boy standards, these hordes are actually huge. The itch.io listing is just a demo, but download it, whack it on your emulation console of choice and, if you enjoy it, be sure to get out there and secure yourself a copy of the full thing.
Last, but certainly not least, is this week's Playdate recommendation. Reversi is one of those all-time classic board games that just about anyone can learn and appreciate, while also having a learning curve that means it's something that will take a lifetime to master.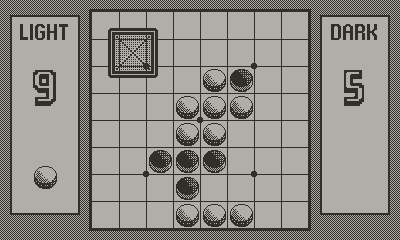 Reversi for Playdate has all the features that you might expect. Pass-N-Play means that you can play multiplayer whenever you have friends around, but for single-player action, there is an AI with two difficulty settings. You can save and restore mid-game, so you can pick up and play for a few turns at any point, and there's an original soundtrack for you to tune out to as you play. Otherwise, this is a clean and elegant take on Reversi, and that's all it needed to be. These kinds of games are the perfect things to have in the pocket via a console like the Playdate.