Welcome to Digitally Downloaded's weekly catch-up news feature, the catch-up coffee. With each issue we will bring you the best news that you may have missed. Grab the biggest mug you've got, fill it with your favourite brew, and catch up with us (and our favourite news anchor, Dee Dee)!
Dontnod changes its name… to basically the same thing
Dontnod turned 14 this year, and the Life is Strange developer decided to usher in a new era with a new name and look. A press release states, "As we have evolved consistently since inception, we have undergone a visual rebranding as part of our ongoing evolution to better reflect who we are as a company today." So what's the big name change? Instead of Dontnod, all one word, the new name is Don't Nod. A small change that will could make searching for the developer difficult unless you know what era you're looking for. Generally, though, it won't affect much.
The same press release mentioned above states, "we are reintroducing the apostrophe and the space between the words to truly embrace the meaning of Don't Nod. Don't Nod is two words to represent our tendency to be non-conventional as a company and in the games that we create – as in, we Don't Nod along to everyone else's tune. The D is shattered, and the N appears within it, signifying that we are not afraid to break the mold. This new logo links our games – meaningful, powerful stories – with who we are as a company."
Related reading: If you're interested in Life is Strange, check out Matt's academic look at the game.
The company has also launched a new website to meld with its new visual identity. The best part of the website is a user submission tool. Don't Nod has been posting fan art regularly on Twitter; it's actually one of the better reasons to follow it. Now players can submit art, testimonies, poetry, etc. inspired by Don't Nod games to have a chance at being featured on the website.
Session: Skate Sim launches this September
It's time for Session: Skate Sim to leave early access and fully launch! I'm sure I'm not the only fan of EA's Skate series that's been waiting… and waiting… and waiting… for a new Skate game, and while it has been announced (yay) it could still be some time until it sees the light of day (boo). Session scratches that itch a bit, and I'm excited to see how it's grown from its earliest early access time.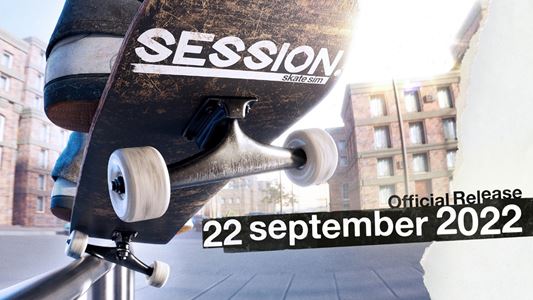 Session brings players back to the heyday of skateboarding: the 1990s! The game features gameplay that involves managing each foot independently instead of together (and this is why I will never be good at this game, but my excitement remains). The press release regarding the release date actually brags that is has a learning curve that is "just as demanding as in real life," so patience is a necessity. There is no scarring system, no judges, just pure fun skateboarding. Certain iconic locations are included in the game, such as Black Hubbas and Brooklyn Banks from New York City.
Developed by Crea-ture Studios and published by NACON, Session: Skate Sim will leave early access and fully be released for PC via Steam/Epic, PlayStation 5, PlayStation 4, Xbox Series, and Xbox One on September 22.
Monument Valley: Panoramic Collection coming to PC next month
It's nearly a decade since Monument Valley first appeared for iOS in April 2014, and half a decade since its sequel was released in June 2017. The iconic, Escher-style games are now set to come to PC via Steam, introducing the titles to a whole new audience. The first game has players following Ida on a journey of forgiveness through illusionary puzzles. Manipulate monuments to create evolving paths to explore. Don't be fooled: this is a difficult game. The developer calls it calming but nothing that hard is all that calming for me, but your mileage may vary.
Monument Valley II follows Ro and her Child through a similar world. The journey follows Ro's story of motherhood. Again, manipulate monuments to create new paths. Again, it's freaking hard. Despite being difficult, it's worth also noting that it's incredibly easy to pick up and play. The games feature new control schemes reimagined for PC, and are designed for Full HD and ultrawide displays.
Developed and published by ustwo games, Monument Valley: Panoramic Edition and Monument Valley II: Panoramic Edition will be released for PC via Steam on July 12. A bundle containing both games will be available as well.
Take a look at the newly-announced co-op roguelike RPG, Inkbound
Set in a world where stories come to life, Inkbound is a cooperative roguelike RPG about unknown forces in binding these stories and their contained worlds. It's up to the player (and friends!) to protect the stories. The magical Atheneum contains an infinite number of these other worlds. It's also possible to break free and unravel the "real" story.
The levels are procedurally-generated, and each successful run will unlock various new items to wear. But far more interesting than that is that the game is described as "living," with claims that no two days are the same and the combat changes monthly, weekly, and daily. It's really up to the player how they go at it, for example whether they briefer brute strength of switch attacks.
Developed and published by Shiny Shoe, Inkbound will be released for PC via Steam in Early Access sometime next year. Beta sign-ups are open now on the game's website.