I'm a big fan of itch.io for the freedom and open platform that it allows for developers to be creative, experimental, and directly canvas the audience for feedback for games that are not yet ready for primetime on Steam and its ilk. In addition, itch.io allows you to be transgressive, subversive, and downright dangerous. It's a true "art gallery" for game ideas and creative developers, and it should be celebrated for that.

What makes itch.io a little difficult at times is finding things that are interesting to play. Discovery is a real issue when great ideas are buried among high school projects and nasty little efforts to scam a quick buck from players. With that in mind, I thought what might be helpful to readers would be if I did a brief write-up of interesting games that I've come across on itch.io each week. In many cases these games will be unfinished or "in development," but I'm highlighting them because they promise something special and are well worth keeping on the radar.
Note: I also haven't played these games. I highlight them as interesting based on the itch.io description and concept. Where I find the time to do actual reviews or other coverage, I will compose separate articles on the game in question. These aren't so much an endorsement (or piece of criticism) as they are a head's up.
We start this week off with a collection of games that are sure to inspire nostalgia among certain players. Back when the Internet was a new and exciting thing, one of the first things that people did was explore how to put games on it for distribution and play. We're talking about well before Steam was a thing here. Epic Battle Fantasy is a collection of eight of these truly ancient games from yesteryear, and it is a loving package of almost forgotten classics.
The collection includes bullet hell SHMUP Bullet Heaven, turn-based RPGs, Epic Battle Fantast 1 and 2, arcade "simulation" Cat Cafe, and quick-draw twitch response game, Brawl Royale. The developer has gone as far as to implement quality of life improvements around difficulty and accessibility to help people play, as well as achievements, and as an added bonus, you get the 65-track soundtrack completely free. Amazing retro value for $8.
Dreamward is a university project with some really interesting ideas and ambition. For now, you're only getting a taste of what the young development team has in store, but it already looks incredibly mature and well thought out. Dreamworld takes place during the Tang dynasty in Chinese history (7th century – 10th century). It tells the story of two princesses that married emperors of Tubo (i.e. Tibet), and then need to use their position to maintain the peace between the two empires.
The game is a puzzle/adventure title, with some gorgeous art and the developers have clearly done their work in researching the aesthetics and cultures of the era. The students wanted to challenge themselves to turn the story of these two characters into a game, and it looks like it could become a very distinctive, interesting and original game indeed. Naturally, as it's just in the early concept stage, you can currently download it for free. Be sure to let the developers know what you think!
Xenospore takes the tile-based retro aesthetics of a Sim City, and turns it into a hardcore puzzle game that is all about preventing a malignant spore organism from taking over everything. The concept is simple – destroy tiles to isolated populated areas from the Xenospore organism. The challenge is, just as with every other puzzle game out there, just how you're going to be able to achieve that.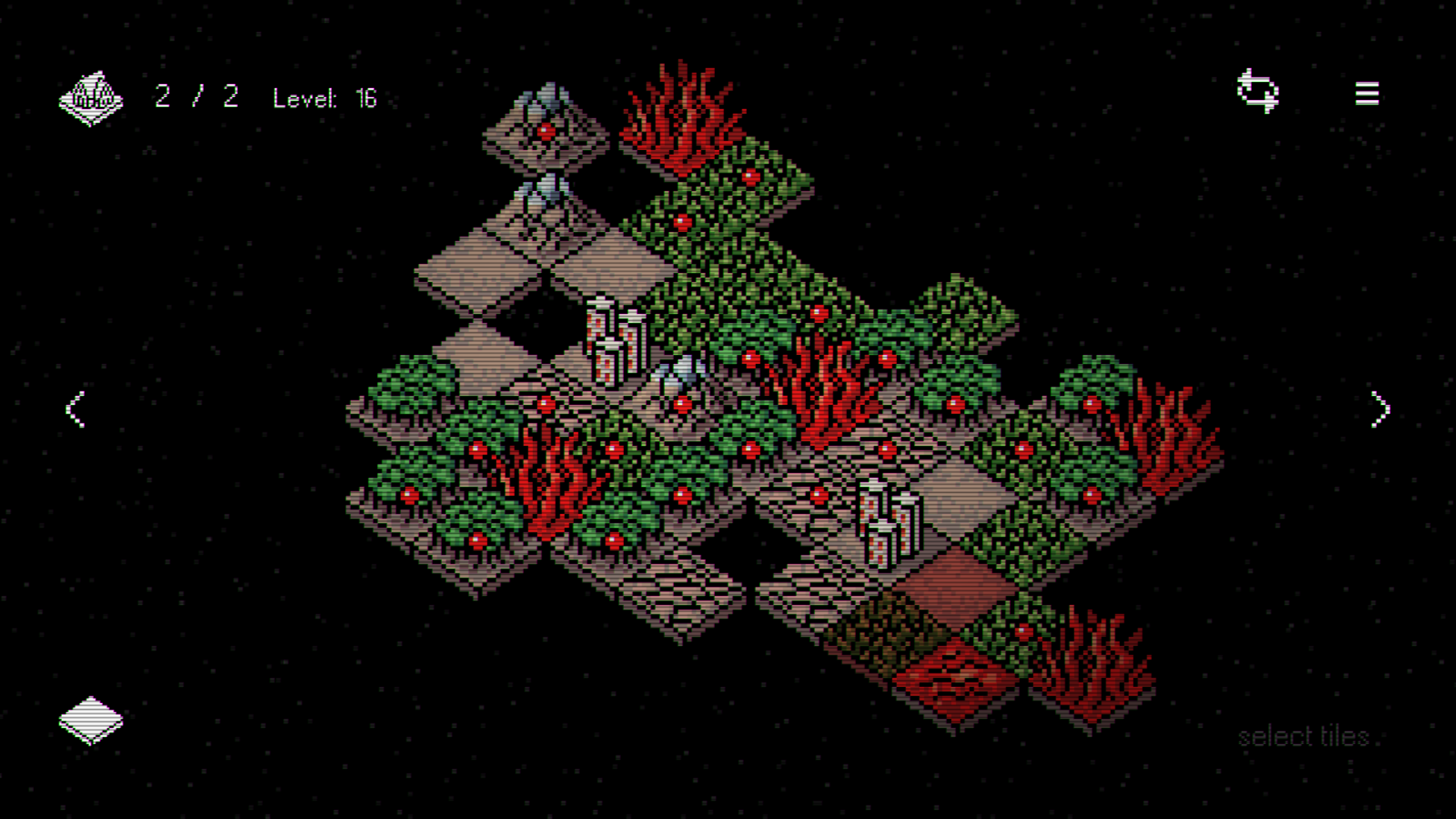 Xenospore is free (and really doesn't look like it should be, so kudos to the developers for that. Yes, the game has a simple concept that we've seen often enough in the past, but what catches my eye with this one is the gorgeous sprite art, and the challenging difficulty curve; I'm not bad at puzzle games and I was tested a bit with this one. It's even playable in-browser if you don't want to download it.
I know I've said this a couple of times in recent weeks, but I absolutely love what Playdate is doing for indie gaming – both for developers and players. Developers have a console that is, by all accounts, easy and playful to create for, and one that is entirely based around indie experiences, so they know the crowd they're pitching to. Players, meanwhile, get to enjoy a side (and growing) range of hugely playful games thanks to those developers. And we all benefit from aesthetics that are essentially "modern 1-bit".
Pulpergeist is a 2-3 hour point-and-click adventure game. You need to escape "dangerous traps and enemies," solve puzzles, and explore environments to learn the truth about a missing child. The black & white aesthetic really helps this theme, giving it a sinister and noirish atmosphere, and for $2, you can hardly complain about this one. Yet another win for the magnificent console that is almost as scarce and difficult to get a hold of as the PlayStation 5.