My Mad Scientist Roommate Turned Me Into Her Personal Robotic Battle Maiden?!? Is a ridiculously long name for a game. It fits, though, because My Mad Scientist… is also a ridiculous game, and I mean that in the most delightful sense. It's the latest release by Lachlan, of Lached Up Games, the Aussie developer behind the Max's Big Bust series. In keeping with form, it's a wildly eclectic blend of big boob anime fan service and Australiana.
Related reading: We feature an interview with Lachlan on this game in our December 2022 issue of the Dee Dee Zine. Check that out here.
Imagine, if you will, if someone made a gender-swapped Crocodile Dundee or Steve Irwin game. Or if Man Down Under were sung by Hatsune Miku and the video clip was Miku scoffing down a Vegemite sandwich. In other words, instead of ocker blokes filling our screens, exclaiming things like "blimey, that's a big croc" or "that's now a knife… this is a knife," it's now cute anime girls with extraordinary endowments saying those kinds of things. As I've said in the past regarding Lachlan's work, this juxtaposition is entirely unique to him. It gives his work a dryly surrealistic, oddball edge that is incredibly appealing.
Most Australian game developers that work on visual novels don't allow their work to be particularly Australian. You wouldn't know that Quantum Suicide or Corpse Factory were produced by Australians unless someone told you. There's nothing wrong with that approach, of course – Australians don't have to be Australian in their creative work. However, when Australia is done well, it's a unique and interesting aesthetic and tonal choice. Lached Up Games uses it for humour, and executes it beautifully.
My Mad Scientist… is a deviation from the Max's Big Bust series in that this is an RPG rather than a more traditional visual novel. There are extensive dialogue sequences, so it's a hybrid much as something like Utawarerumono is. You'll go for a long time reading narrative, and then have a flurry of RPG activity before the next story sequence. Where Utawarerumono is a tactics JRPG behind the visual novel, however, My Mad Scientist is a more traditional turn-based JRPG. In the past (it may have been on one of our podcasts), Lachlan mentioned that he was inspired by Persona, and while My Mad Scientist… is a very different kind of game, you do get a sense of that in playing this. The dynamics between the characters, the heavy focus on narrative and the way that days flow by based on the actions that you take are all very much like they came from someone who enjoyed Persona a lot.
This is not the first time that Lachlan has made something like this. My Mad Scientist… follows very closely the design behind Alluna and Brie from a few years ago. Lachlan will be the first to tell you he wasn't overly happy with that game (you're always your hardest critic… the game is actually great fun), on account of his need to outsource a lot of the development work. My Mad Scientist is the result of him teaching himself Unreal Engine, and everything from the coding to the UI design does come across as more confident and refined. As a game, it is his most mature work yet, and while it's in Early Access with more work to go, this is already a good starting point to get involved in the Lachlanverse. You do not need to have played the previous titles to be able to follow along with this one and "get" its humour, and it's the most accessible and comfortable to play title yet.
Lachlan has been doing work in other areas too, to slowly but steadily lift the scale of his work. There's voice acting this time around, for example, and the talent is of a high standard. There's a bigger range of art and it's also of a higher quality. Lachlan and I will always disagree on how many CGs you put in a visual novel (they do cost a premium to produce, and for context, I'm looking at a VN project where I've planned like 20 of the things, so we do have a very different approach), but the overall cohesiveness of the aesthetics and design elements in My Mad Scientist… is very impressive indeed. Time to look at console ports (especially since you developed this in Unreal), Lachlan…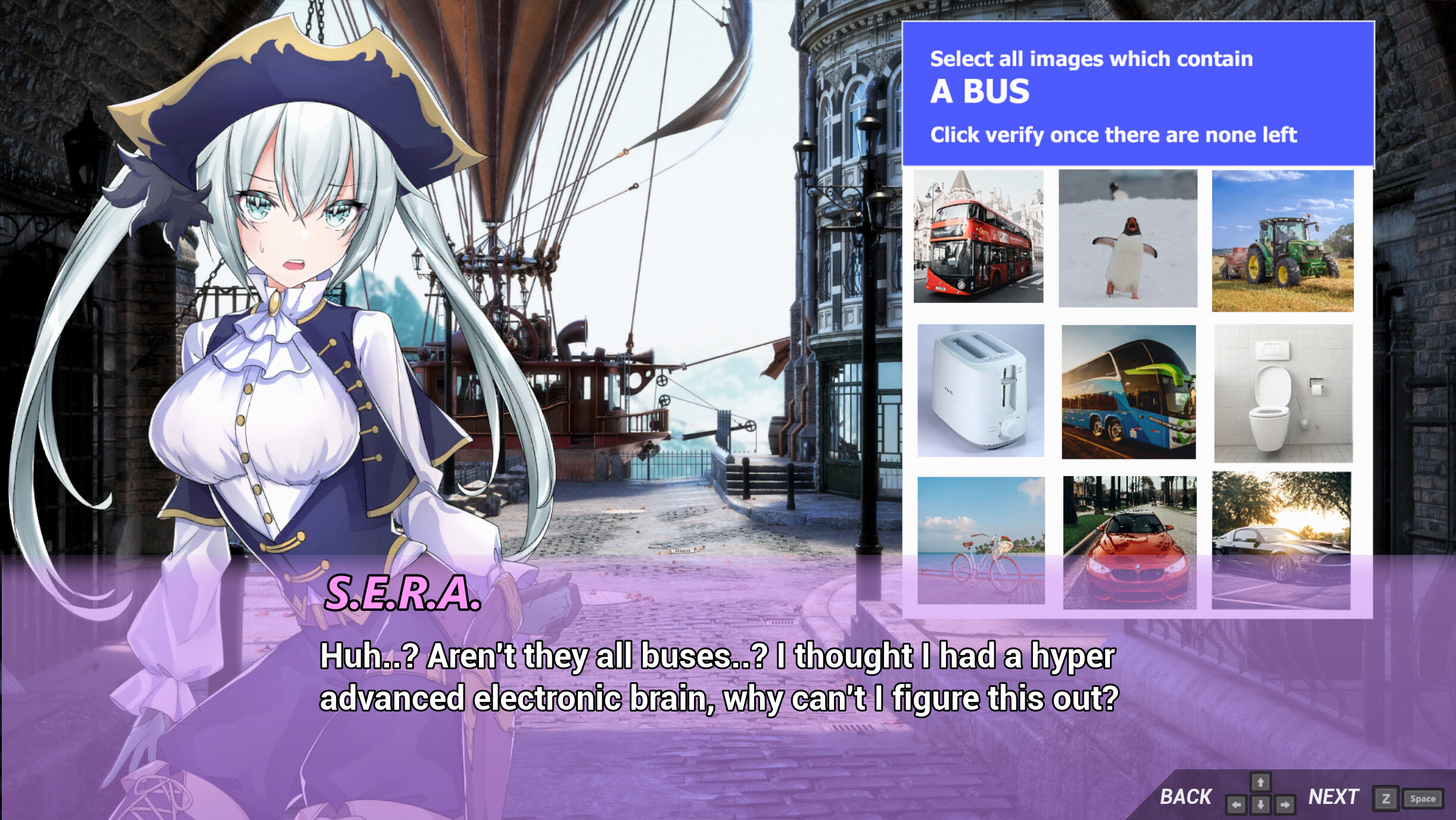 So far there are only the first two chapters available (the developer says that this will take around six hours in total, though that will depend on your reading speed). There are a further four planned, and if this goes like Max's Big Bust 2, those will all be free updates as they're ready.
Really, the only issue that I had with the game so far is the save system. You're not able to save during the entire intro and tutorial, meaning that you need to settle in for at least an hour's play before you hit the "hub" menu and save option. While this is genuinely an issue, once you're through that you're in for something that us truly entertaining and outrageous. Lachlan and the artists he works with aren't the most subtle storytellers, but they are some of the most eye-poppingly funny, and when the combat engine is this clean and enjoyable, My Mad Scientist Roommate Turned Me Into Her Personal Robotic Battle Maiden?!? is a game that a lot of people will enjoy more than they probably thought they world at first glance.
Also, I still want to know why Dee Dee hasn't been invited to be a guest in your games, Lachlan. She's clearly perfect for them!