I'm a big fan of itch.io for the freedom and open platform that it allows for developers to be creative, experimental, and directly canvas the audience for feedback for games that are not yet ready for primetime on Steam and its ilk. In addition, itch.io allows you to be transgressive, subversive, and downright dangerous. It's a true "art gallery" for game ideas and creative developers, and it should be celebrated for that.

What makes itch.io a little difficult at times is finding things that are interesting to play. Discovery is a real issue when great ideas are buried among high school projects and nasty little efforts to scam a quick buck from players. With that in mind, I thought what might be helpful to readers would be if I did a brief write-up of interesting games that I've come across on itch.io each week. In many cases these games will be unfinished or "in development," but I'm highlighting them because they promise something special and are well worth keeping on the radar.
Note: I also haven't played these games. I highlight them as interesting based on the itch.io description and concept. Where I find the time to do actual reviews or other coverage, I will compose separate articles on the game in question. These aren't so much an endorsement (or piece of criticism) as they are a head's up.
Naturally, if you want to pick up a couple of the Dee Dee visual novels while you're there on itch.io to support our work here, I would be eternally grateful! There's a demo for A Week on the Water – the new one – just out, and it is gorgeous!
First up we have a game that has been developed for NaNoRenO 2022. For those that couldn't immediately guess it, NaNoRenO is a play on NaNoWriMo – the annual celebration of writing that challenges everyone to write a book over the course of a month. NaNoRenO does the same, only it challenges people to start and complete the production of a visual novel in that month. Dual Chroma: Far Shore is one game created for this challenge.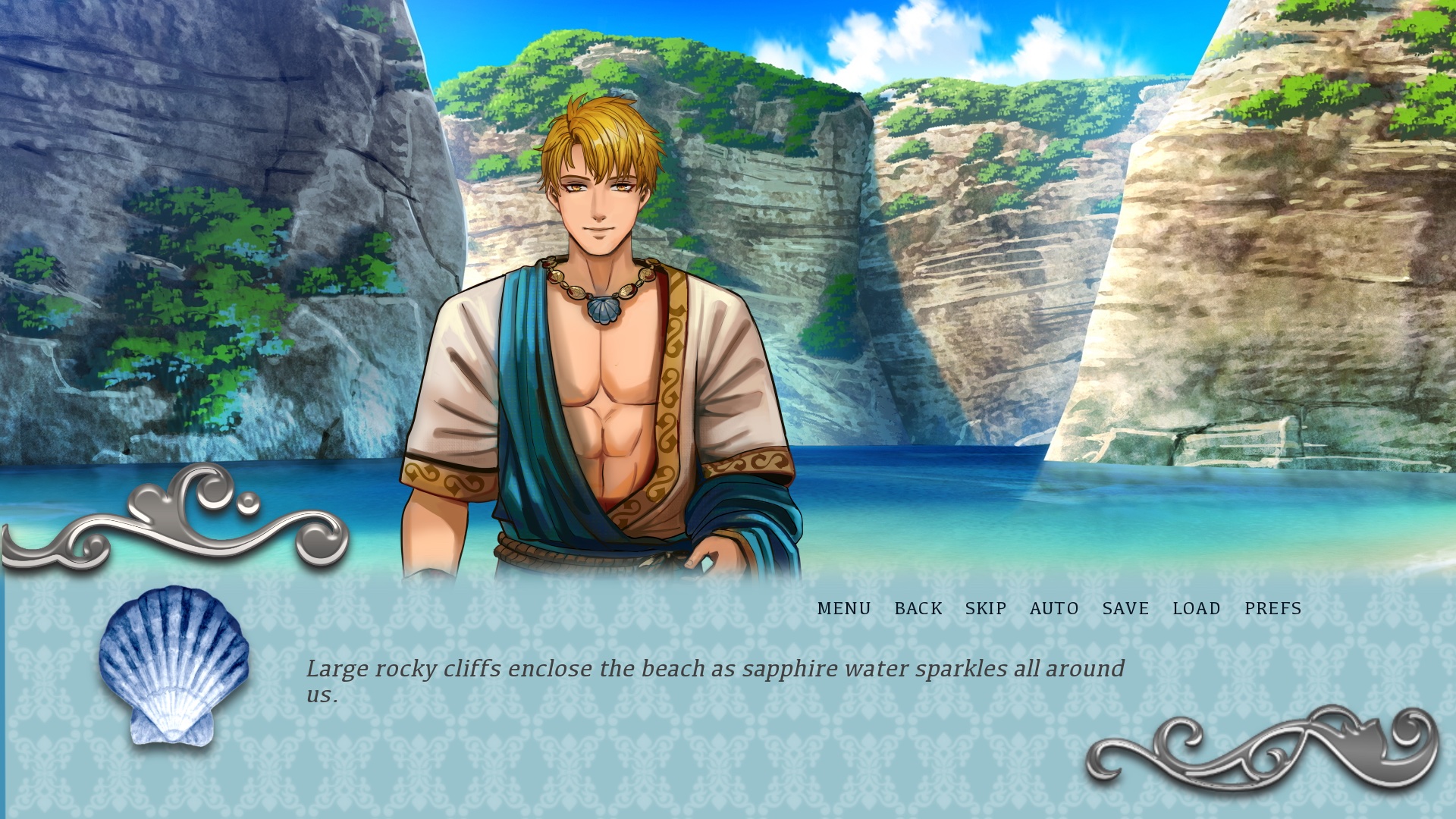 It is a 1-2 hour long short otome game that takes place in Aradal, a "rich land with a storied history that you can begin to explore." It's appropriately diverse (you can choose your pronouns for the protagonist), who then spends their time living at the edge of the world, enjoying a chill life on a beach with a handsome stranger. The decisions that you make over the game's run-time will determine how that stranger views you (and whether you get to romance them at the end). The developer has already confirmed that this is just the first entry into a setting that they will continue to use, and one would assume that the next game in the series will be more ambitious.
Stacklands looks like such a delightful little card game. It is a village builder thing, where you stack cards on top of one another to complete a wide range of actions, including collecting food, building structures, and fighting enemies. While the art is simple (deliberately and aesthetically pleasingly so), it does seem like there's a fully realised idea in here, with over 100 cards to collect, 50 quests to complete, and a typical game running for two-four hours.
This is the latest game from the Sokpop Collective, which is an enormously ambitious and creative developer. They create a new title every month (!), across a massive range of genres, always with the same sense of whimsy and creative delight to them. They're up to "Season #10" of the project, with each season containing eight games. Yes, that's right. if you buy the entire collection (including some games that might not be part of any season, as the math doesn't entirely match up), there are 90 Sokpop Collective games at this point. Talk about creative energy. Certainly, some will be duds in that… but it's almost shocking just how many of the games look excellent, too.
My wife really enjoyed the first couple of Rebuild games, and grabbed this one the moment I mentioned to her that it's available too. I've ever played them myself, to be frank, but that's more a time thing than anything else. I do think I'd enjoy them. Rebuild 3 is, like its predecessor, a casual-themed "4X" strategy game, focused on surviving the post-zombie apocalypse. You'll need to build hospitals, farmlands and fortifications, fight off raiders (and zombies, of course), and navigate your society through illness, madness and starvation.
Rebuild 3 boasts over 200,000 words word of event text (that's about what goes into two novels!), as well as 50 building types, 30 missions, and a full research tress. You can play in either real-time or turn-based modes, and each survivor has their own individual skills, relationships and stories. It is a full and complete game, in other words. One that the developers hope you'll be hooked on for some time to come.
Finally this week we have Chort's Tale. Chort's Tale is what would happen if you asked a developer to make "Hades, but Slavic folklore." If that isn't enough to convince you to give it a go on premise alone, I don't know what else to say to you. Slavic folklore is just perfect for a roguelike-slasher with a dark theme and edge.
So, just like in Hades, you'll need to fight back against ever-more-powerful hordes of enemies. With a gorgeous art aesthetic, and what looks like smooth, heavy-hitting combat (with a full skill tree to boot), there's an awful lot that you're potentially going to get out of this one. Most amazingly of all, the developers are letting you have this one for free if you want. Naturally, we highly recommend throwing them at least a couple of bones. Surely their work deserves that.