I was a bit late to the PowerWash Simulator party, buying it several weeks ago. That being said: the obsession is real. I pick it up daily to at least clean a couple bits, but often for much longer sessions. I think about it too much, looking at things and wondering how dirty they can get and how I'd go about cleaning them. With two updates so far (collaborations with Tomb Raider and Final Fantasy VII Remake), the rest of 2023 looks bright and shiny for the game. Paid DLC, free updates, and seasonal content is all expected alongside a physical release.
PowerWash Simulator is exactly what it sounds like: players take on seriously dirty jobs, to get anything from a bike to a house squeaky clean. Each level tracks things down to the detail, so you'll know what still needs doing; often I'm left thinking something is clean but I'm actually missing some bits of trim or something similar.
The first update, 1.2, launches on April 18. In the base game, players take on jobs in the Mauka Aitu Desert: things like cleaning an ancient statue, a monument, and an old steam train. Return to the area with this free update to clean a solar water plant and a huge satellite dish. The update also brings players back to Muckingham, where a filthy food truck is ruining the lush landscape.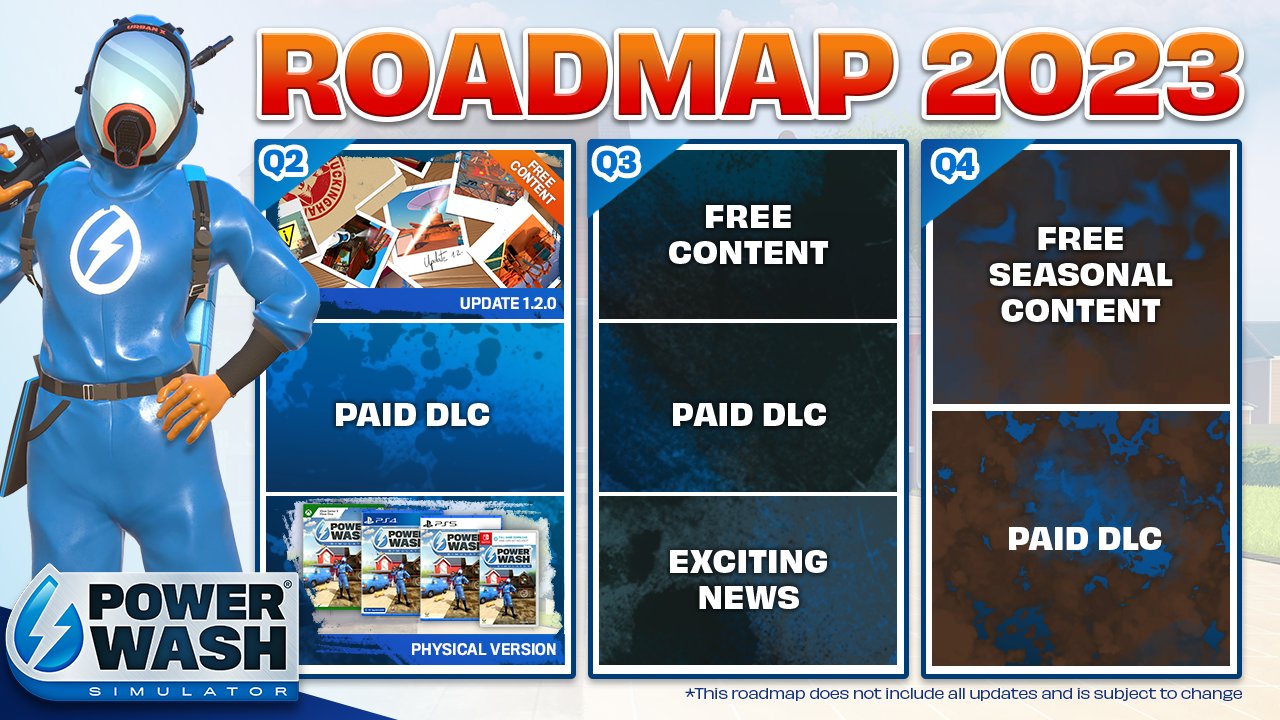 The roadmap is divided into three quarters: second, third, and fourth. The second quarter, AKA the current quarter, will bring Update 1.2, some unannounced paid DLC, and the physical release. Quarter Three brings more free content, paid DLC, and exciting news. Quarter Four promises free seasonal content and more paid DLC.
Developed by FuturLab and published by Square Enix Collective, PowerWash Simulator is currently available for PC via Steam, PlayStation 5, PlayStation 4, Nintendo Switch, Xbox Series, and Xbox One. Its physical release is set for June 13 for all platforms minus PC; the Nintendo Switch version, however, is just a boxed download code… don't even get me started on that.