Sometimes I wish that Stuff For Gamers (TM) had better aesthetics. The Corsair M65 RGB Ultra Wireless mouse is an ugly thing. But it is comfortable. And very, very good for games that require precision and speed. That is, ultimately, what everyone (not just The Gamers (TM)) needs.
This is a large, bulky, and quite heavy mouse, and if these things matter to you then the recently released (and, in fairness, more stylish) SteelSeries Aerox 9 will be a better choice for you out of the box. The Aerox also has a brace of programmable buttons while the M65 only has eight scattered around the mouse. The difference is, however, that Corsair have put a lot more thought into ergonomics, and this is an enormously comfortable mouse to use, and every one of those eight buttons is positioned perfectly.
The M65 case almost feels like it moulds into the hand, providing a perfect "cupping" effect, especially for people that prefer to rest their hands fairly flat on the mouse keys. People with a more "claw"-like technique might find their palm sliding off the back of the mouse body, but that's only for particularly large hands that play that way. A soft, textured surface both helps the user subtly maintain grip and simply feels nice under the palm, making it comfortable for extended periods of use. Finally, the main programable button (the big red one with the "bullseye" on its face), settles immediately under the thumb, and is so perfectly positioned that it's actually easier to press than the main two buttons on the mouse face.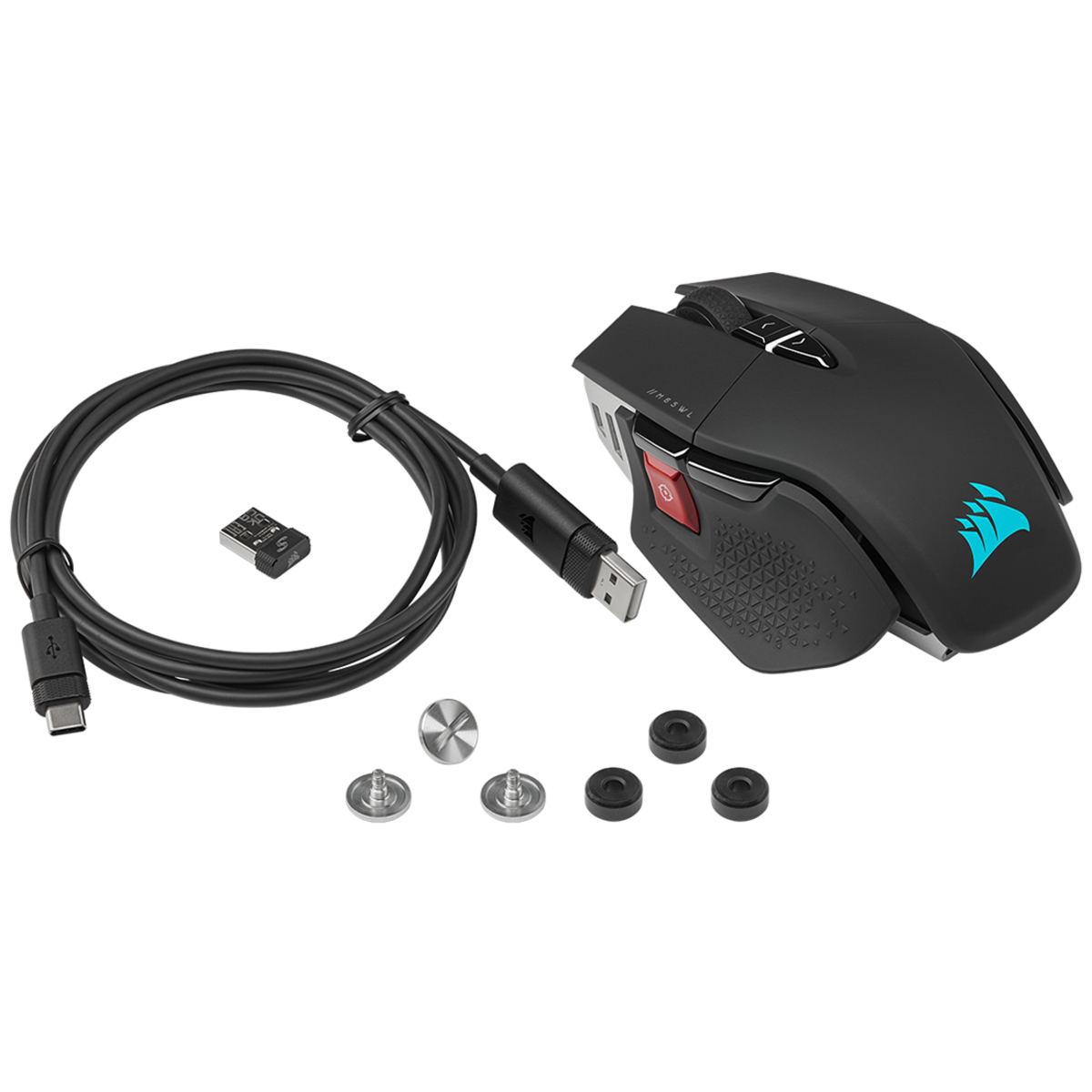 Just above the bullseye button there are two smaller, peripheral buttons, and an additional two just below the wheel on the mouse face. These are marginally harder to reach in the heat of a battle, and so will likely be programmed to secondary functions, but whatever configuration you plug into the software, the hand will travel comfortably and naturally around the mouse with just about any game you might be playing.
In terms of the tech specs, the mouse takes advantage of some patent-pending technology from Corsair (Corsair Quickstrike), which is a spring-loaded solution that minimises the gap between the mouse buttons and optical switches, meaning effectively no travel time in making a button press, and that level of responsiveness is felt. The mouse's optical sensor can deliver up to 50G acceleration, 650 IPS tracking speed, and 26,000 DPI. To be clear this is very fast and very accurate, and here the weight of the mouse actually helps, as in minimises the physical inertia effect that comes from a travelling mouse.
The mouse allows for both wired and wireless play, with a good battery life of around 100 hours via the USB receiver and slightly more than that over Bluetooth. If you're a serious gamer, then the wireless option will be the way to go, as Corsair has been able to achieve latency of less than 1ms with technology that it calls "Slipstream." Clearly a lot of R & D has been implemented into this device.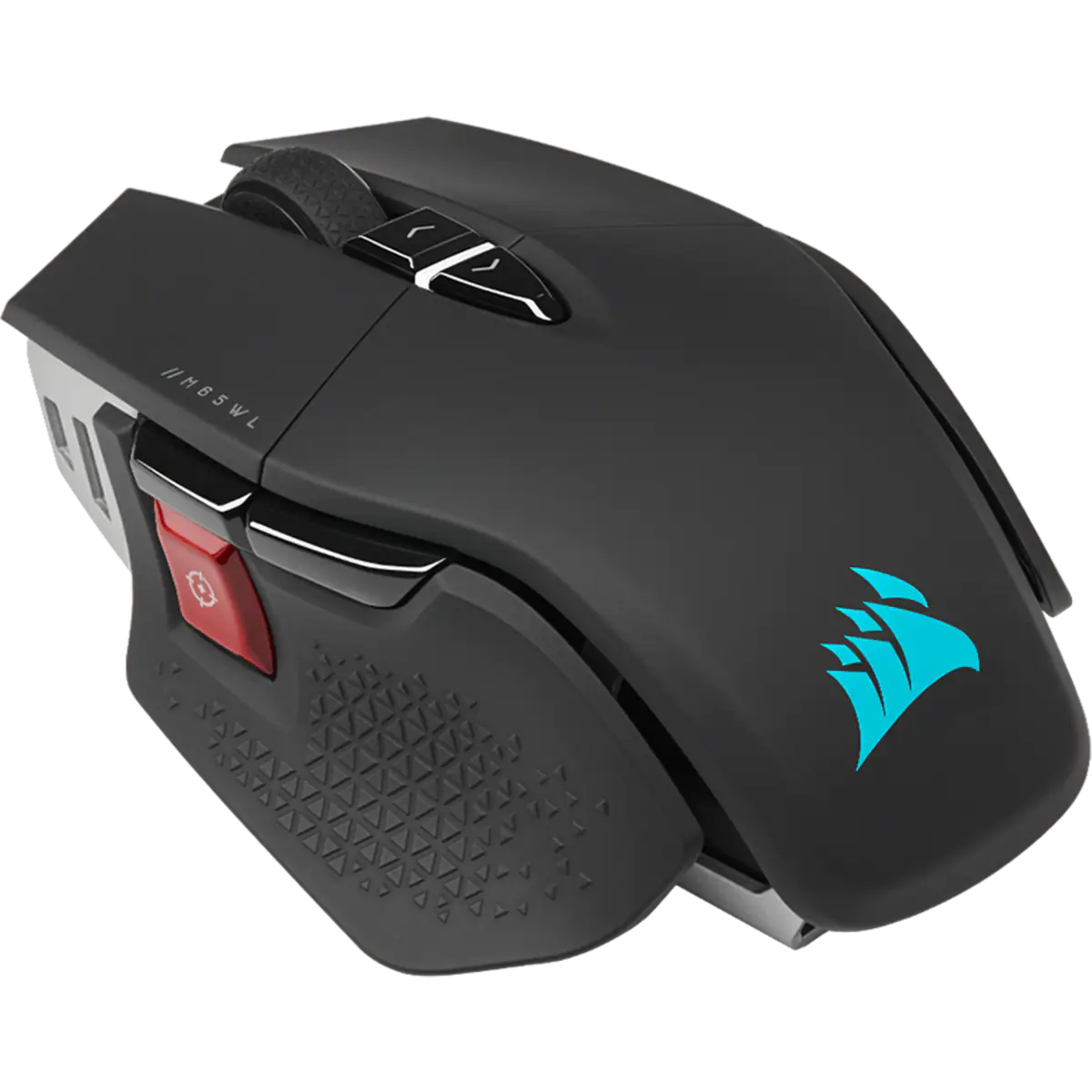 The thing that's a little unfortunate about a mouse like this, for a company like Corsair, is that in its efforts to make it clear that the device is good for the most demanding of FPS players, everyone else might well be left with the impression that there's nothing there for the less demanding player. The M65 is a good option for the serious FPSer fan that is looking to get an edge by having the right hardware.
However, just like with high-quality sporting equipment, more casual users do still get something out of it, even if they're not about to win whatever the equivalent of Wimbledon is as they play. I am by no means a FPS fan, however, whether it be for games like Armello (which a bunch of friends and I have recently rediscovered and it's killing our weekends), or even for the purposes of work, the additional comfort over long hours of use, and the additional speed and accuracy of the work, has made this mouse well worthwhile for me. I'm editing photos, images and video more quickly, flicking through tabs more efficiently, and my hands are nowhere near as tired at the end of the typical 12-14 hour day, in which I'll write around 20,000 words.
This is why the aesthetics matter. All this R & D work benefits everyone, not just the hardcore gamer, and yet way too many companies make these devices to appeal to one audience alone. Far be it for me to question the business implications of this – I'm sure the people are Corsair know exactly what they're doing – but I would love to have more options for devices that are measurably beneficial to how I game and use computers, without feeling like I needed to jump on servers and start abusing people because, in owning a device like this, I must now aspire to be a True Gamer (TM).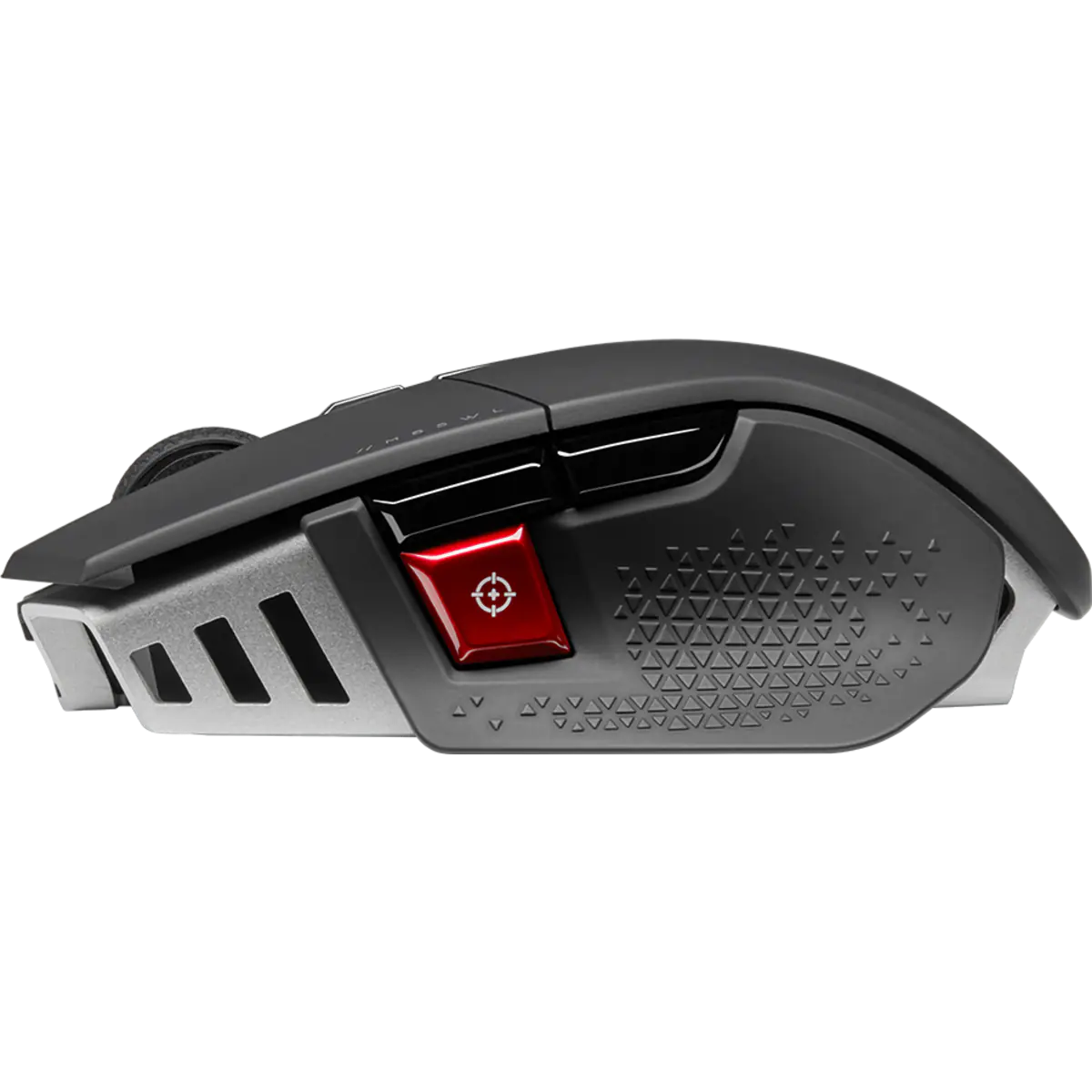 However, when the only criticism that I have of the Corsair M65 RGB Ultra Wireless mouse is its aesthetics, it's a pretty good sign that it's an excellent choice for almost anyone that has a reason to use computers, be that serious gaming or otherwise. The fact that it's a fraction of the cost of some of the other gaming mice out there – including the SteelSeries Aerox that I mentioned in this review – only further firms is as the device that I would recomment people in the market for a mouse to look at first.