I sat down to review the SteelSeries Aerox 9 Wireless with some trepidation: what do I really know, much less care, about mice? I understand the value of a good keyboard since I spend hours typing away at them daily. A good headset works for me because I like music and having good quality sound enhances just about every game you might play. But mice? Mice?!? The few PC games I play that aren't better suited to controllers are strategy games of such a slow pace that even the laptop's touchpad is enough for me. So what, exactly, do I say about the Aerox 9 Wireless?
This is going to be an unusual mouse review. I don't often do them (and even then, haven't for years and years), so I don't really have a frame of reference, and therefore the tech specs don't mean much to me. For those that do need to know, the sensitivity of the Aerox 9 Wireless, which I am led to believe is the thing that matters most with a mouse, is rated at 18,000 DPI with a tracking speed of 400 IPS.
It also has 2.4 GHz and Bluetooth connectivity. What I can say is that in testing both the Bluetooth and 2.4 GHz wireless connections the glide of the cursor across the screen was gorgeous. I've been playing a lot of Dune: Spice Wars, and while that isn't an action game that requires fast and precise hand-eye coordination, the level of control I had over travel was exceptional. Obviously, for serious action gaming, you'll want to stick to the 2.4 GHz setting, but if you're playing the kinds of games that I generally do, and want to preserve the mouse's 180-hour battery a little longer, then Bluetooth works just fine.
I imagine that modern action games, built with this kind of precision in mind, will benefit from that, but I must say, retro games are not so great. In trying to play Magic Carpet (which I'm getting right back into of late), a game designed back when mice had rollerballs in them, it's too twitchy. The same goes for Sim City 2000. I don't hold this against the mouse, of course, it's just a sign of the times, but this is definitely geared towards modern competitive gamers more than those of us that enjoy the video game equivalent of vinyl.
The Aerox 9 has also been designed with MMOs in mind. As you hold the mouse, sitting under the thumb, there are 12 small buttons that are programmable and obviously designed to map to your key abilities off the hotbar. There's a further four on the top – the two standard mice buttons, the (also standard) wheel, and a fourth button. That fourth button hich acts as a DPI button (and in writing this I realise I probably could have used that to adjust my Magic Carpet experience by dialling down the DPI), but if that function doesn't matter to you, it is also itself programmable.
Here's the real problem with the mouse though – it is a mouse designed for large hands, but those buttons are tiny and stiff to press. In the heat of the action, you're going to be floundering around trying to feel out the right button, and then get the thumb in the right position to press it, or you're going to press a whole bunch of buttons that you didn't mean to. I had no use for these, so I was glad that they were stiff enough that I didn't casually press them while doing other things with the mouse. However, even if I was into MMO gaming on PC, but even I imagine I would have stuck to keyboard controls as much as possible, and I suspect this is going to be a real dampener on the appeal of the mouse to the people that it is meant to appeal to.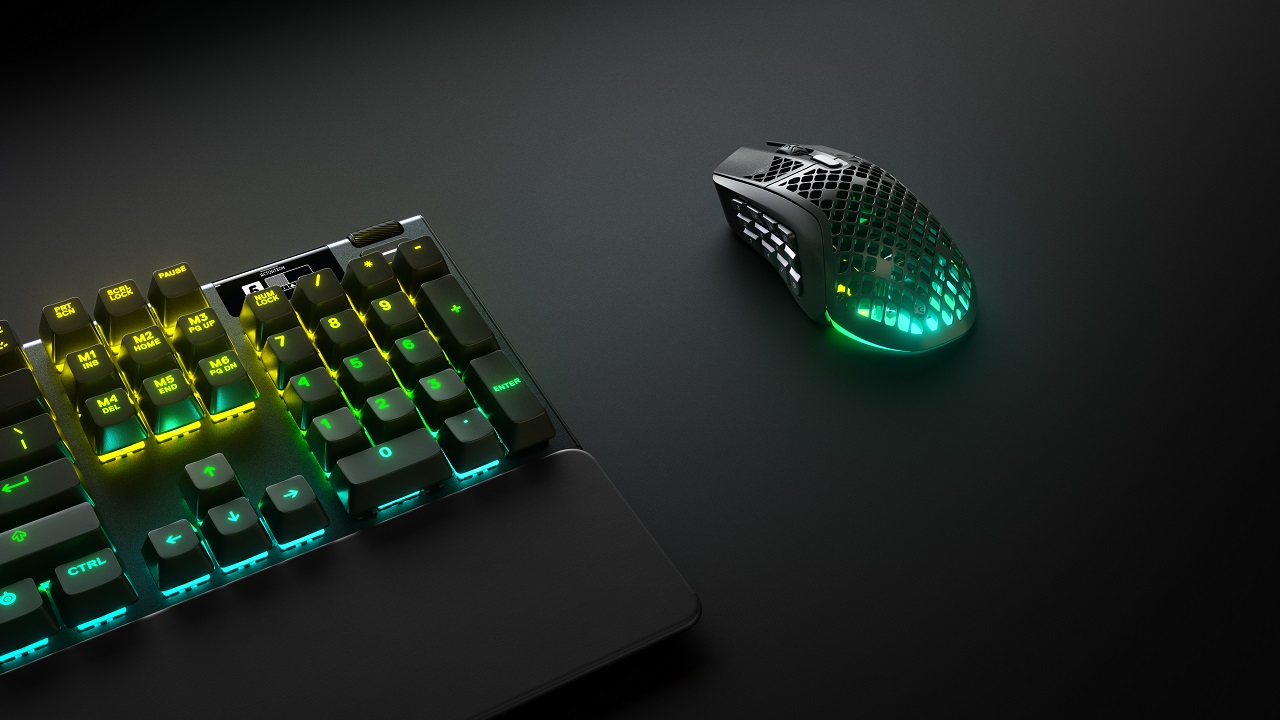 The main two buttons on the top of the mouse buttons are lovely to click. They click down quickly when activated, so there aren't wasted milliseconds in the press, but at the same time there's just enough resistance that a brush won't have you registering accidental clicks. To list the technical specs, they're mechanical Golden Micro IP54 switches, and rated at a durability of 80 million clicks, so you should get a couple of good years out of the mouse.
Speaking of durability, it's also water and dust resistant (not proof), which is good if you've got naturally sweaty hands, since the lightness of the mouse (89 grams) comes, in part, due to its open "mesh" casing. If it wasn't water-resistant, the wear down on the mouse's innards would have been rapid. To be honest, it almost feels too light to me, like it's something flimsy, but then I also appreciate that lightness over long sessions of work or play. I also must admit that I like the design of this mouse. Too many gaming mice look like giant, ugly nerd blocks, but this one is relatively understated and even elegant. The fact that my hand hides the glowing lights that come from within the casing means I can go and use it for work (or a quick session of the Sims) at my local café without broadcasting to the world that I use a mouse that only a gamer would pay for.
I'll apologise to anyone that came here looking for a deep-dive breakdown into the stats of the Aerox 9 Wireless. I've still got a bit to learn in that regard. What I can say, however, is that this is an exceptional mouse. The sensitivity is there, and competitive gamers much better at that kind of thing than me will get value out of that. It's also a good, comfortable, all-purpose mouse (especially if you have large hands), and it's among the lightest mice I've ever used, making it incredibly portable. In other words, I might not be the demographic to throw stats like "18,000 DPI" and terms like "Golden Micro IP54" at, but as someone for whom portability and a broad range of applications (everything from the precision of Photoshop to the long hours on Word/Excel, and the occasional unwinding bout of PC play) is of critical importance, I'm going to get a lot of the Aerox 9 Wireless.