Well, this review puts me in a bit of an odd position. Idol Manager seems to be one of the very few articles that we lost when we transferred from that old, Blogger-based DigitallyDownloaded.net (remember how ugly that site was by the end?) to this new host. And that's a real pity, because I wanted to link to that review, say "this game is really, really good", and then proceed to rip the console port to shreds. I can't do that now.
The irony here is that the one bit of that original review that still exists – my summary on Metacritic – actually calls for a console port: "Idol Manager really needs a console release – the scope and design of the game makes it perfect for the Nintendo Switch in particular – but in the meantime, I can see myself spending a lot of time playing this on the PC. I'm not the world's biggest fan of idols (at least, idols that aren't digital and with aquamarine twintail hair), but I do find the culture behind them fascinating to study. Idol Manager is a far more thoughtful take on all of this than I was expecting, and consequently, I've found the whole thing to be fascinating."
I just had no idea they'd get the potential for a console port this wrong, and that has everything to do with the controls, sadly.
Idol Manager on the PC was very much built around mouse control, but not in a way that shouldn't have been adaptable to console. As a point of reference, Project Highrise – another simulator built around direct input and with a similar presentation – worked beautifully on consoles. But the problem with Idol Manager starts almost immediately on loading it up. On the Switch, many of the actions are still designed around the virtual mouse pointer, but unfortunately, the speed of the cursor on the screen is glacial and some real dead zone issues make "clicking" on the tiny icons that you need to a pain. You can scroll through the menu using buttons, but it scrolls in one direction only, and then, if you want to cycle through a window that's bigger than a single screen, you need to press a button and use the control stick to simulate a mouse wheel action.
You can mess around with the speed of the cursor in the settings, but even turning it up to its maximum wasn't smooth or fast enough for me, and in general, I've never reached the point where I'm comfortable with how this game controls. As a final kick in the 'nads, you can't play this with touchscreen control in handheld mode. As people that read my reviews know, I just don't usually spend entire paragraphs complaining about this stuff. My over-arching philosophy is that so long as the game is interesting and playable, I'll sit through it. But this is too painfully clunky, and does test my definition of "playable."
That is a pity, because Idol Manager is interesting. As the name of the game suggests, it tasks you with building up an idol business – think AKB48  in Japan – and it's a surprisingly unflinching look at it. The first time I played I figured it would be uncritically fanservicesy and celebratory of a business model that is often terribly exploitative. Even people that love idols know it all goes a bit too far in the way it exploits a bunch of girls that want to be stars, but purely on perception, it seemed like this game was trying and wash over all that to be a simple, "fun" take on the industry.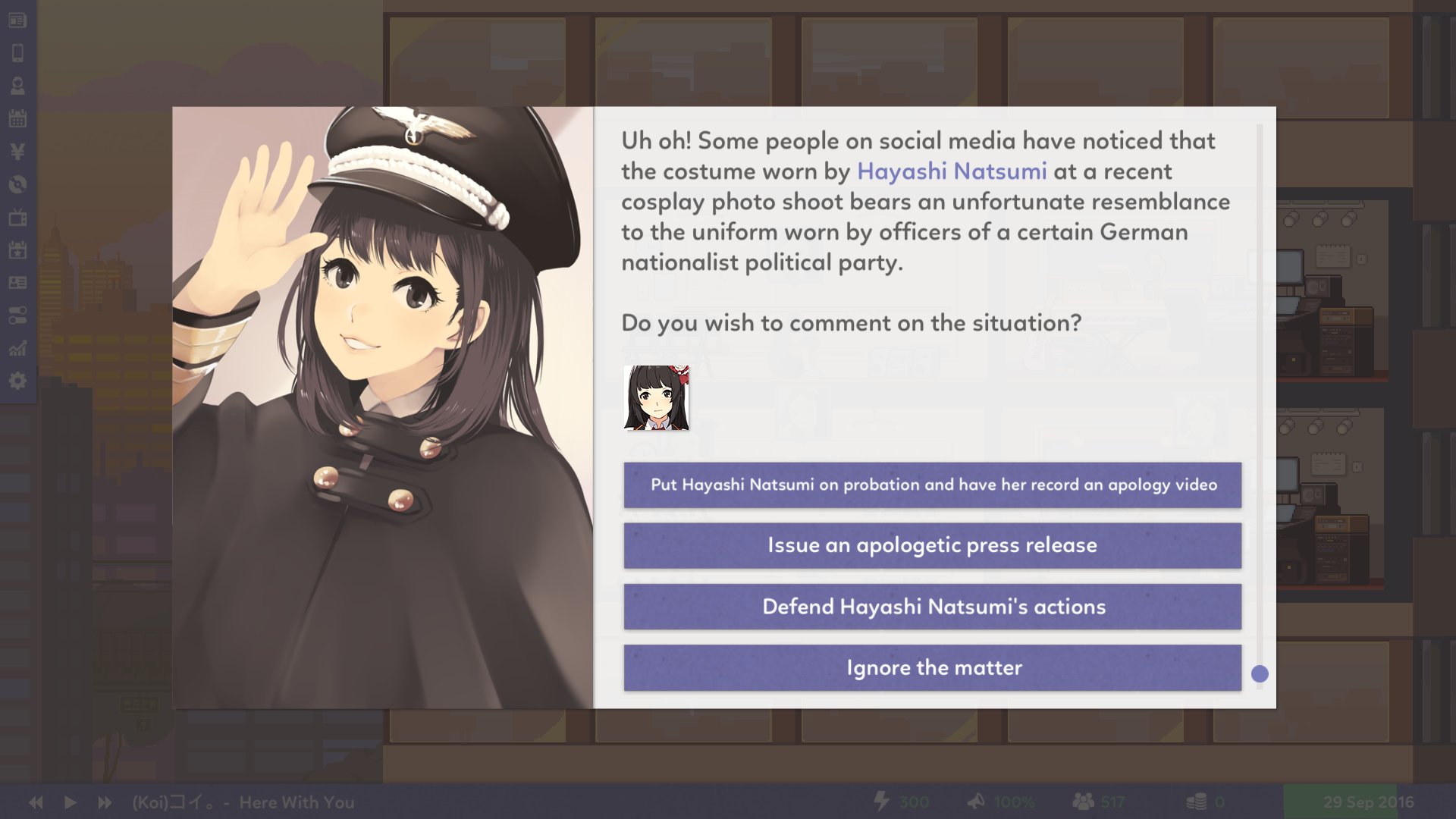 But Idol Manager is surprisingly unflinching about this. You will have to deal with everything from creepy fans to the bullying culture that can build up around the girls. You will be encouraged to see these girls as resources to be exploited and discarded, rather than artists and performers. You don't even get to hear the songs that the girls perform, or see them dance. I'm completely convinced that this is a thematic consideration rather than an indie developer's budget speaking: in idol culture, the quality of the music and performances is almost irrelevant. Instead, what you do is manufacture the right kind of music, cultivate the right image for the bands, and then just watch the spreadsheets of numbers go ballistic.
To do well at Idol Manager, you'll be recruiting girls (often young) based on stats that include "prettiness" and "sexiness" – this is the developers making a point, not supporting the practice that certainly happens in real life. Those stats drops rapidly with each of their in-game birthdays, and while some other stats like "intelligence" increase, it's much more marginal. Before a girl hits their mid-20s, you're meant to "graduate" them (kick them out of the group) to make room for the next crop of enthusiastic young hopefuls. So naturally you'll start looking for younger and younger recruits so you can use them for longer. Nothing about the game is fanservicey at all, but there's certainly a deliberately, scathingly creepy aura about it, and it's done so cleverly.
For all the reasons above, Idol Manager also has a good narrative, and I rarely bother with the narrative mode in simulations. The sheer number of events and depth it goes into comes across as having been done by people that have closely researched the subject, and it is appropriately critical of the thing it is depicting, while at the same time acknowledging that there is a lot about idols and idol culture that is fundamentally appealing and entertaining. Idols are a major part of the entertainment scene across not just Japan, but Korea, Taiwan, and even places like Indonesia and Thailand, so it's worth learning something about them if you have an interest in entertainment culture across Asia.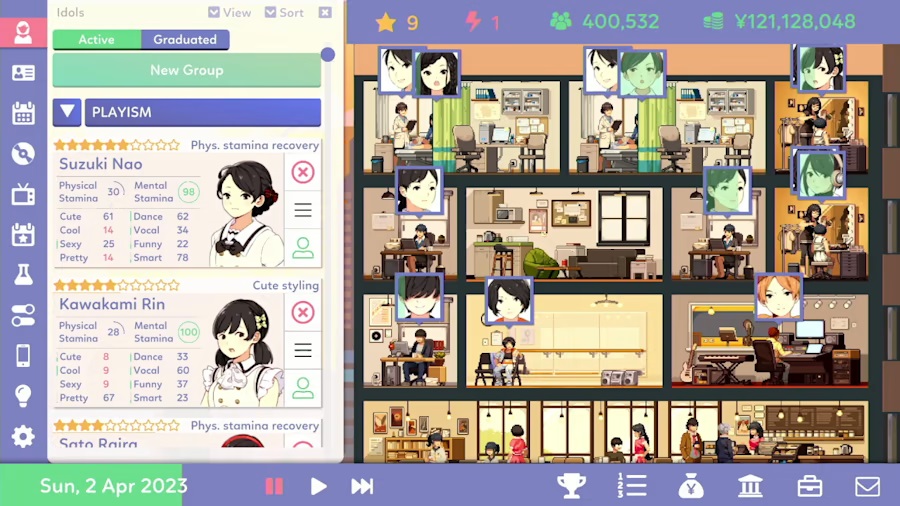 Idol Manager also manages to be an entertaining, if quite challenging, game. Playing it feels like you're in a constant race to scale – both as a business and the popularity of the girls, because the cost of running the business spirals endlessly, regardless of what you're doing. Idols and staff have salaries that constantly grow, and every time you feel like you're hitting a balance, suddenly the expenses scale up again, forcing you to push your girls harder, exhausting them just to keep the revenue ticking over. It causes some to burn out completely, but that's showbiz, and there are always more girls ready to audition. I'm not sure if this is entirely thematic or if it was just that the developers wanted to make a generally challenging game, but either way, it works. Frustrating as it can be to see all the wheels fall off, it works.
If only the game played well. While my review of the PC version has been lost to the Internet ether, I did give it 4/5 and if it played well on the Switch here I would have scored it higher. I firmly believe that in concept and theme, Idol Manager is one of the best simulations I've ever played. If only it was not so infuriating to play with a controller. This game deserved far better.