I'm a big fan of itch.io for the freedom and open platform that it allows for developers to be creative, experimental, and directly canvas the audience for feedback for games that are not yet ready for primetime on Steam and its ilk. In addition, itch.io allows you to be transgressive, subversive, and downright dangerous. It's a true "art gallery" for game ideas and creative developers, and it should be celebrated for that.
What makes itch.io a little difficult at times is finding things that are interesting to play. Discovery is a real issue when great ideas are buried among high school projects and nasty little efforts to scam a quick buck from players. With that in mind, I thought what might be helpful to readers would be if I did a brief write-up of interesting games that I've come across on itch.io each week. In many cases these games will be unfinished or "in development," but I'm highlighting them because they promise something special and are well worth keeping on the radar.
Note: I also haven't played these games. I highlight them as interesting based on the itch.io description and concept. Where I find the time to do actual reviews or other coverage, I will compose separate articles on the game in question. These aren't so much an endorsement (or piece of criticism) as they are a head's up.
First up this week is the latest from the ever-prolific Sokpop. Tuin is an "idle gardening game," where you basically just click things and watch them grow. Thanks to the gorgeous Sokpop aesthetic, though, this does look like the perfect way to idle away a few hours.
There are eight different crops to farm, 10 farm animals to collect, and more than 50 items to buy (using in-game cash) as you play. As you play on you can fully automate your form with irrigation systems and the like, meaning that you can make a maximum "profit" while being off doing other things. I'm not the world's biggest fan of idle games, but Sokpop so rarely lets me down, thanks to the charming spin the team puts on things, so I'll be checking this one out for sure.
Games that Tactics Ogre inspired are hardly uncommon. As one of the pioneers of the tactical JRPG format, we see them all the time, in fact. What we don't see anywhere near as frequently are games inspired by the other Ogre; Ogre Battle. But that's exactly what Eden War is pitching at, and while there's only a demo available on itch.io right now, this is a game you're going to want to pay attention to.
For those of you that haven't played Ogre Battle before (and fair enough, the last one was back on the Nintendo 64), it's a blend of RPG and pausable real-time strategy. You form small units of characters (around five per unit), and then direct them around a map. When they run into enemies, it's battle time, and as those units fight in battles they gain experience, level up, and can eventually become more powerful. Eden War promises all of that with a mature and dark narrative. The demo only features the first two battles, and is missing features like the experience system, so it's very early access, but then this is a big opportunity to give the devs early feedback and help to shape the game.
This week's obligatory Playdate highlight is Reach The Ocean, a charming-looking little arcade game about a turtle trying to reach the ocean and also collect loot (shells). It's not going to be easy though, as there are crabs and seagulls that are patrolling around and will try and grab you for a quick snack.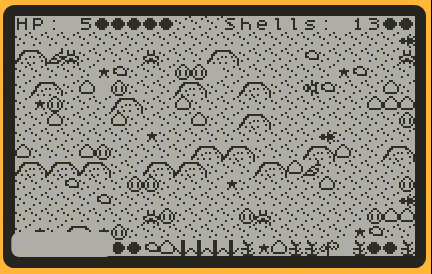 There are some interesting rules in this one that should add to the experience. For one, the seagulls will also attack the crabs, meaning that you can use them as an escape mechanism if you time your movements right. There are also hard-to-reach areas on the maps with big loot, and friendly turtles you can talk to along the way. With a nice art style that really plays to the Playdate's strengths, this could be another delightful way to spend a couple of hours on the little console that could.
To wrap things up this week we have a pinball game that a developer created for Comic Market 100 (Japan's really big nerd culture event), and has decided to also upload it to itch.io. This is a demo, rather than the full game, but it shows a lot of promise as a Pokemon Pinball clone.
That inspiration is really very obvious in this game, from the aesthetic to the physics, and even the table design, but then again, being inspired by one of the greatest console pinball experiences ever is nothing to be ashamed of. Tokyo Pinball aims to be a highly accessible pinball game – for people who have limited experience with these things while having all the features that experts expect to be able to master the game. Otherwise, though, it's just pinball, but with modern pinball games almost always aiming for realistic and authentic designs, it's nice to know there's a developer out there working on something cartoony like they used to make them.