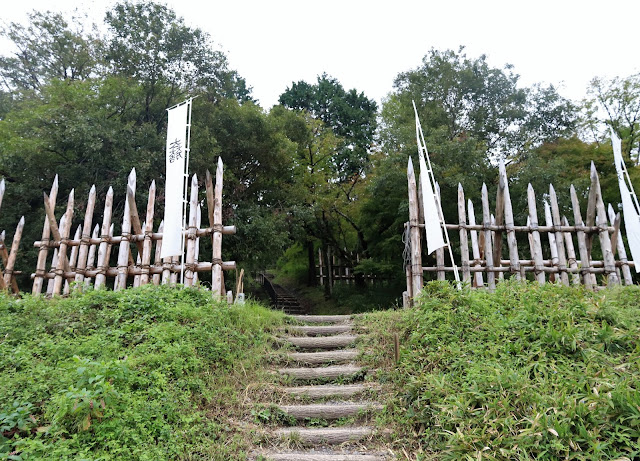 Travel by Matt S. 
As a very big fan of games based in Japanese history – Samurai Warriors, Nobunaga's Ambition, Hakuouki and the like – I've always used my trips to Japan for Tokyo Game Show and the like to indulge in some history tourism. Over the years, I've visited ten of the 47 castles that are dotted across the country, innumerable temples and shrines, and I have already been to one of the historical battle sites a few years ago; Kawanakajima in Nagano, where Shingen Takeda and Uesugi Kenshin clashed in one of their more epic conflicts.
But Sekigahara is something else entirely. This battlefield, and the sleepy little village that sits on it today, is one of the most amazing things I've done in all my trips to Japan to date.
Sekigahara should be familiar to Samurai Warriors fans. Depending on the character you're playing as, it's either the penultimate battle, or the very last one for most of the characters. That's as it was for the Sengoku period itself; there was one later battle of scale that formally concluded the warring states period (a siege of Osaka), but for all intents and purposes, the future of Japan was determined at Sekigahara, which was the largest land battle by a significant margin (around 200,000 soldiers were involved), and after six incredibly bloody hours of fighting, one warlord, Ieyasu Tokugawa, emerged as the de facto ruler of Japan. His family would go on to rule the country without major conflict for some 200 years, through its prolonged isolation from the rest of the world.
I'm not going to go into the story of Sekigahara itself. You can get a pretty good overview from any Samurai Warriors game, or if you want a more in-depth blow-by-blow of the battle, there's a good book you can read on the subject here. As a quick summary, it was a dramatic and decisive battle between Tokugawa and Mitsunari Ishida (the leader of the other side), which saw Tokugawa overcome an initial numbers disadvantage by convincing units on the unpopular Ishida's side to defect mid-battle. It was also a battle that had great little stories of heroism and military might, such as when one of Ishida's units was surrounded on all sides and decided to retreat via a wild charge straight through the front lines of the enemy (it worked, too). Sekigahara itself is a fairly small bit of flat land surrounded by mountains, but the scale of the battle was such that across that entire area, there's a sense that it witnessed real history.
The point is, this is a battlefield that has scale and strategic interest equivalent to Napoleon's Waterloo, or Gettysburg over in America. In fact, at the moment, the town's museum even has a special exhibition dedicated to comparing and contrasting those three battles as the "great" nation-shaking battles in pre-modern history.
The town of Sekigahara today has a population of just 7,250. It's about as small as Japanese villages get, and the entire town is clearly built around historical tourism. Getting off at the train station at the centre of town, the first thing you'll see is a stack of (free) guide maps of the area, showing visitors a number of different battlefield tours that you can take. The longest one will take you to every historical site in the area – there's around 20 of them dotted around the village and nearby mountains – and that one would take you around five hours to walk.
It's a gorgeous walk, too, taking you around the edge of town and up nearby mountains to get a view of the battlefield from the vantage point that various commanders held. You'll trek right through to the heart of town to memorials set up marking the location that various field commanders stood on, and you'll wander through traditional Japanese nature features, such as thick bamboo grooves. There's an impressive series of signs positioned all through town to make sure you never get lost, and at every site, there is well-translated plaques in English, explaining the significance of that spot. These also seemed quite new, so perhaps this is the town's effort to get a cut of the 2020 Olympics money from curious tourists.
Right at the end of the walk there's a surprisingly large museum that goes into even further depth about the battle and how everything played out. However much you think you know about Sekigahara (and I knew a lot going in, I can assure you), you'll come out knowing even more.
I can't describe just how impressively the town has maintained its battlefield sites, too. At most of the locations, it's possible to look right out over the fields and just imagine what it must have been liked standing there on the day of the battle, staring down enemy forces arrayed on the other site. The site where the very first attack happened is, today, a series of rice fields, and that's appropriate, since rice needs a lot of water to grow, so rice fields are muddy, messy affairs. The day of the battle of Sekigahara, there had been heavy rains the night before, and that first melee was notable for being a sloshing, gritty slaughterhouse.
You can hire a taxi to drive you around the Sekigahara locations, but it's so much better to do the walk if you can. By walking around the entire battlefield, you get a real sense of scale, and can marvel at the logistics of getting armies to move around what were often very steep and heavily forested slopes. Another option would be to hire a bike to ride around, and that would be a lovely way to do Sekigahara, because it really is a beautiful and old-looking village.
The battlefield's not even the only point of interest in Sekigahara. The village also has a "war park" in which hundreds and hundreds of concrete statues are posed to re-enact the battle. And for a change of pace, there's also some of Japan's most attractive caves to explore in the nearby mountains. One town across, at Ogaki (an otherwise deeply unpleasant town, sadly), there's also the castle that Ishida marched his troops out of the night before the battle. It's two train stops away, not more than 15 minutes.
Sekigahara also has its own food culture, and across the dozen or so restaurants that dot the village, you'll find a number of dishes that you won't anywhere else. So the town's well worth spending a couple of days in, if you can spare it.
Sekigahara might not have a hotel or inn – I don't remember seeing one – but it's a short, 30-minute train ride from the regional city of Gifu, and that city has all the modern conveniences that you'll need. So base yourself there for a couple of days, and explore Sekigahara! You'll find the video games so much more interesting once you've seen it all for yourself.
– Matt S.
Editor-in-Chief
Find me on Twitter: @digitallydownld


Please help keep DDNet running: Running an online publication isn't cheap, and it's highly time consuming. Please help me keep the site running and providing interviews, reviews, and features like this by supporting me on Patreon. Even $1/ month would be a hugely appreciated vote of confidence in the kind of work we're doing. Please click here to be taken to my Patreon, and thank you for reading and your support!