"505 Games lays off 30% of staff, will focus on sequels and "previously successful" games because that's what works." It's the latest headline in what has been a bloodbath year in the games industry as developers and publishers, large and small, have hemorrhaged staff and slashed their plans.
Earlier this week, Amazon cut stuff. Bungie announced their own cuts a few weeks ago. Epic games has slashed staff. Niantic, EA, and Unity have all cut big. Ubisoft got rid of a few dozen. And, of course, Embracer Group, after acquiring so many developers and publishers, announced it would be closing an absolute boatload of those.
It's hit the indies, too. Aussie developer and local hero, Samurai Punk (the developer behind Screencheat) recently announced it was closing up. At all ends of the games industry, closures have been happening at such a rate that you wonder whether this industry is fundamentally sustainable.
The thing is, it's probably not. And the industry execs only have themselves to blame.
Here's my theory for what's been going on. You may remember that back in 2020, we suddenly found ourselves stuck indoors. There was some virus or other that was doing the rounds, and many of the governments around the world figured that the best way to manage it, in the absence of vaccines and understanding of the disease, was to lock down and require people stay at home.
Suddenly people weren't able to go play their sports, enjoy the sun at the beach, hang out at pubs or travel on holidays. People suddenly had time and, if they were fortunate enough to be able to work from home without losing their jobs, they also had money.
Game sales boomed. Here's a graph to show it from Statista: As you can see, from 2019 to 2020, and then 2021 to 2022 there were big gains in the market. Overall it went from $265.21 billion to $369.93 billion in just two years. The industry added $100 billion, or more than ¼ of its entire worth, in just two years.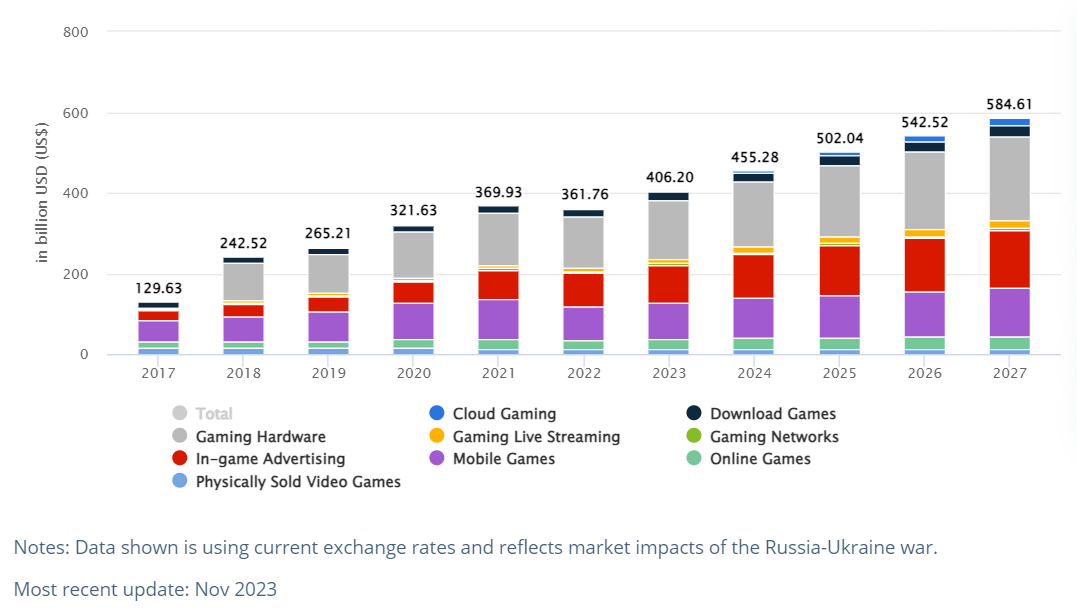 And the game industry executives were idiots about this.
A bunch of suit-wearing geniuses with MBAs and venture capitalists throwing money at them decided to spend money like this growth was going to be perpetual. They bought studios, went on hiring sprees, announced massively ambitious projects, all with the expectation that suddenly there were a lot more customers for them, so they could expand, and expand and expand.
The problem is, of course, the problem with capitalism as a whole. When the entire model is based around endless growth, when the growth stops, catastrophe hits. The moment an economy goes into recession it crashes, hard. The moment people stop buying so many games, the industry goes into its own recession.
That's what happened in 2022. People got their lives back. The need for games wasn't as pressing any more. Sure, many of them continued to play games, but not as many, for not as long. It was harder to monetise the consumer. The games industry contracted.
What we've seen in 2023 is the response to that contraction. As projects that were started in 2021 and 2022, when the investments were good, are being wound up, it's become an opportunity for those suit-wearing capitalists to do the sociopathic thing that they're so good at and sack hundreds if not thousands of people. Right before Christmas.
Yes, overall market sales have picked back up again – though if you look closely at the graph that has to do more with hardware sales than any game-related product category. The projections for 2024 and beyond are just that, projections. If you are heading up a game publisher or developer, right now you're realising that your assumption that people would continue to buy games like they're locked in their homes is not playing out.
And if you are that exec, you're going to ruin lives (but not your own, of course) with your response.
This irresponsible growth affects all corners of the market. Indies no longer have the kind of contract work coming in that they relied on to keep the lights on while they worked on their next project, so their businesses run out of steam. The industry's artists suddenly find that no one has money for their ideas, because another franchise game is a safer bet.
Capitalism eventually destroys everything it touches. It's an inherently unstable and dehumanising model to organise our lives around and if we don't have a society-wide solution for that soon it's going to start to break down. But the thing that capitalism damages the most is the arts.
I feel deeply sorry for all the game developers who are now having to explain to their families why Christmas might be off the table this year. I have nothing but contempt for the CEOs and other executive decision-makers that, in the pursuit of endless growth, failed to recognise the dynamics behind the sudden uptick in the games industry, and then allowed themselves to be pulled into an unsustainable position, chasing the white rabbit down the rabbit hole.
That or they knew what was going on but in the hunt for short-term profit didn't care what they would be doing to the employees when the mini-bubble burst. I have even less than contempt for those CEOs.