Most annual sporting properties have a reputation for each year's edition offering little more than a new roster over the top of the base game. Sometimes that's fair. Often it is not. Football Manager is the one series where "roster update" is actually one of the critical features that you want to see, since the entire experience has everything to do with managing your team's roster. However, Football Manager 2024 actually has a really special feature that goes beyond a simple roster update. Something new that made the game an absolute must-have.
I'm going to claim credit for that. For year after year with my reviews of the Football Manager Switch games I have been lobbying SEGA and Sports Interactive to pick up that license. The J-League is, arguably, the most prestigious and competitive in Asia, and has the genuine potential to become the region's equivalent to the EPL, given that it features multiple divisions and the lower divisions are, themselves, highly competitive.
So the J-League should have been in the game all this time, given how far lesser leagues like the Singaporean league have been. Being able to secure the licensing was obviously the challenge, and the developers have finally managed to overcome that hurdle. Not only that, but the top three divisions are all fully recreated in the game. So, if you want to help guide FC Gifu from struggling in J3 to promotion, and ultimately to challenge for the J1 title, then you can do that.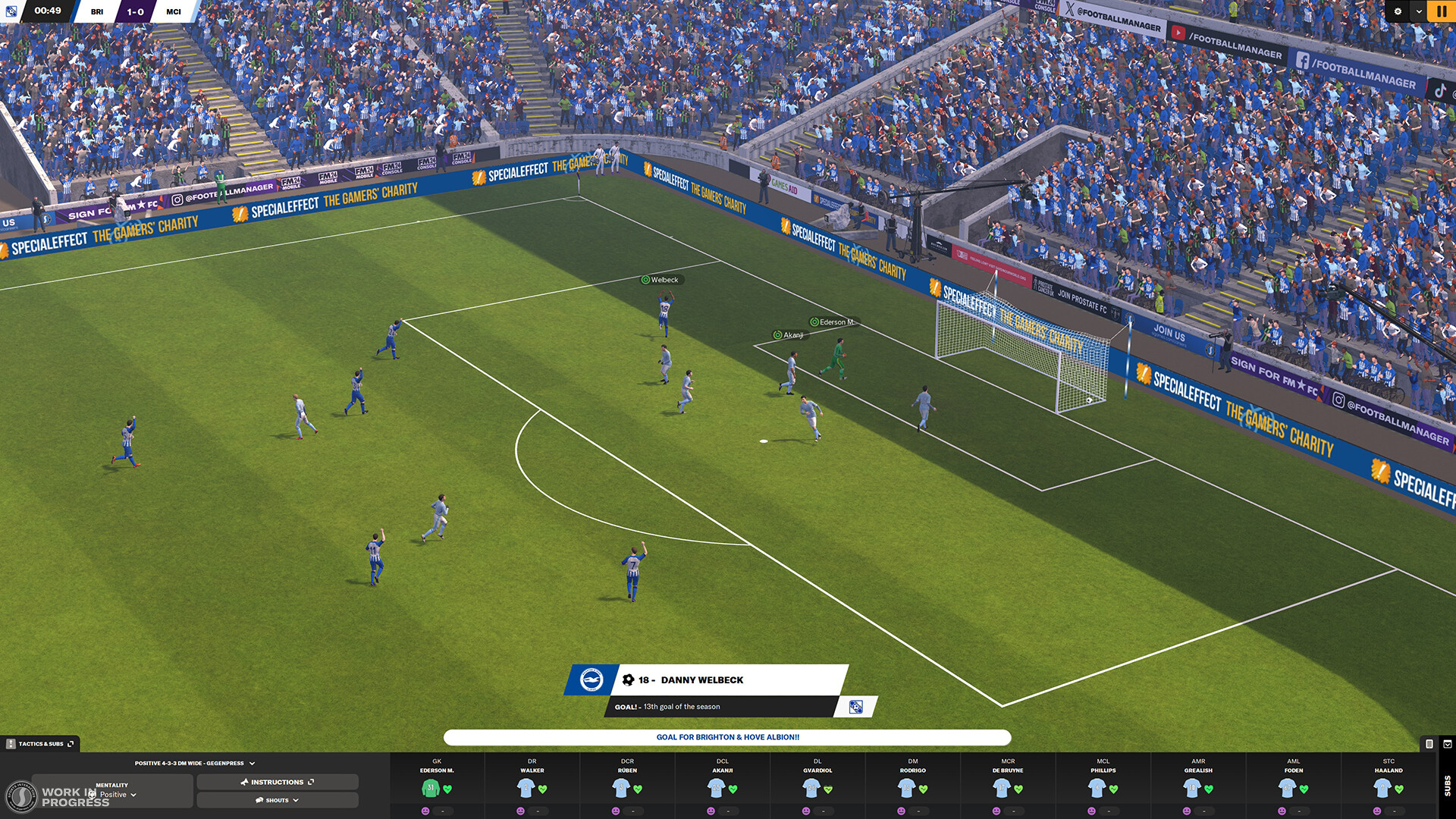 The J-League's inclusion meant that it was time for me to wave goodbye to Crystal Palace and embark on a journey as the manager of my real team, Kawasaki Frontale. Sorry, Palace, it's been fun, but you were always a placeholder team.
Playing through the J-League isn't mechanically that much different to any of the other competitions. Football is football, and the rules and structure of the sport from one league to the next is consistent. You're managing different budgets and the dates of competitions are a bit different, but the base experience remains the same. And yet, I see my carefully curated team on the field, wearing the Kawasaki colours and enacting my tactics and strategies, and I can't help but see this as a very different experience. An experience I can be proud of. I'm taking ownership of my team.
What Football Manager has always been good at is emergent storytelling. People that play it realise that while it might only look like a somewhat prettier version of Excel, in practice the game has an almost surreal habit of making you care. From scouting to set-piece design there's nothing you can't contribute to the development of your team, affecting everything from team morale to fan support, finances and, ultimately, your ability to hold on to your tenure.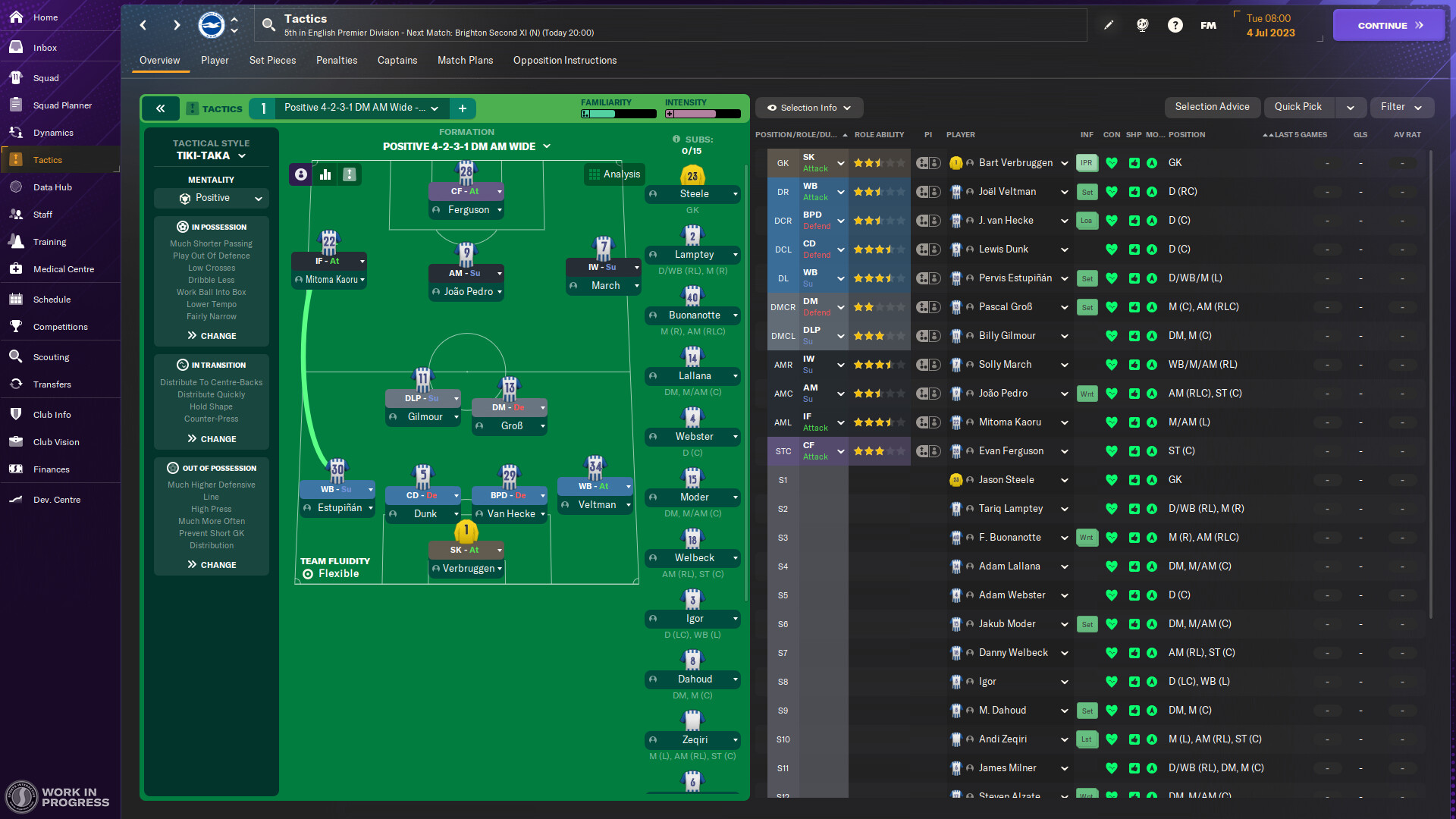 With such ownership, it becomes quickly apparent that every failure sits on you. Perhaps your striker got injured and you neglected to make sure you had a backup that was match ready. Perhaps, in trying to deal with a poorly-disciplined team, you've set penalties for red cards and missed training too high and now, with contract negotiations up, you face a mutiny from your best players.
Perhaps you wanted to fill a gap on the roster that the fans really did not appreciate (and they let you know about it). Or perhaps you just said the wrong thing in a press conference. I just know that if I was ever given the role that would be my downfall…
For players that are new to Football Manager, expect to feel like a failure a lot. The game is ridiculously complex, and while it does do a good job of explaining the various menus and how the game works, you're almost certainly going to blunder from catastrophic error to catastrophic error while you learn how to actually manage a team. There are a billion different approaches there, and the game's not prescriptive on how you go about the job, so you're going to need to simply learn from failure, and more than a few prematurely ended careers early on.
With patience for learning the finer points of tactics and management in football, you'll start seeing improved results, and there's nothing more satisfying than watching your team fend of a superior opponent or reverse a run of poor form. The developers claim that they've improved the aesthetics of the in-match engine, so you can watch more cinematic highlights of matches, but to be honest it still doesn't look great. The pride and connection to the team comes from monitoring their stats rather than seeing them kick a football around.
For returning players, the big new feature is the J-League, but as with every other edition of Football Manager, the developers have taken the time to make important tweaks to deliver an authentic experience. For my mind the best of these tweaks was the deeper AI with the transfers. In previous editions it had been hard to shake the feeling that the transfer market is either passive in Football Manager, and largely waiting to see what you do before assigning the talent available to the other teams… or too predictable and even, after a while, possible to exploit it in a very inauthentic manner. This time around the AI feels more proactive and the star players are much harder to win over to your time.
Or perhaps that's just my perception and what's actually happening is that people just don't want to come and play for Kawasaki. You'd think not because even with my uneven management, they are a top-flight J-League team (this season has been a disaster though). But you never know. It's difficult not to take some of the player rejections personally when you're basically begging them to come join your team.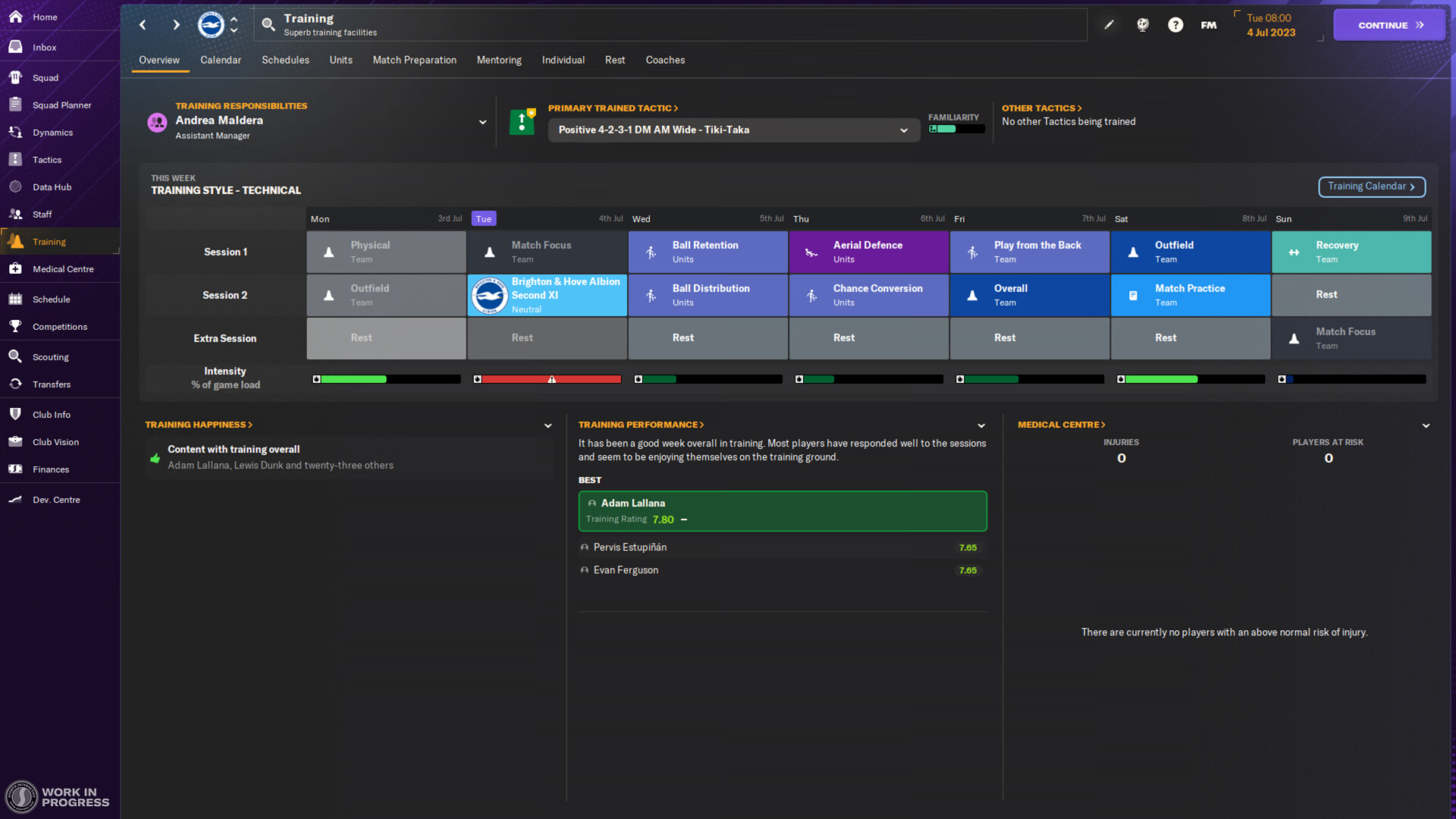 There's not much else to say in this review. The big feature in Football Manager 2024 is the inclusion of Japanese football. That alone makes this version of the game the definitive edition. Putting that aside the rest of the game is another decent refinement to the best sporting management game of all time, and while it sometimes feels like Sports Interactive rests on its laurels, as no one else is ever going to have the engine or data to compete in this particular niche, the reality is that when the base game is this good, tweaks from one year to the next are enough.