This happens every year. As the Christmas season arrives, and I finally knock out all the major game release reviews that I need to, I look forward to things easing back a bit and that I can spend a bit of time doing other things (this year in partar I have a game of my own to finish writing). But then the annual Football Manager lands, and there goes my chill down time again. Every. Single. Time. It's not the game's fault. It's my own and I know it. I just can't stop finding these things compelling. Addictive, if you will. I have a problem, folks.

I will say upfront, though, that Football Manager 2022 Touch on the Switch is the weakest effort we've seen from this series on this console yet. The big new feature was supposedly all-new controller navigation, to enhance play when the console is docked and therefore the touch controls are out, and yet I found myself defaulting back to the virtual mouse pointer almost immediately. That mouse pointer is itself clunky, but manageable. The navigation through menus to make even basic actions happen using this other interface option is less entertaining than pulling your own teeth out. Beyond that, the other problem that this year's iteration throws up is that very little has been done over the previous edition. The rosters have been updated, but not the leagues, and I'm at the point now where I really need to vent: why is the J-League not part of this game? I understand that it's always a nightmare to license stuff out of Japan, but it's ridiculous that the leading Asian football league is not in the same game that features nonsense minnow leagues that very few people (even in their own nations) pay attention to – like Singapore and India. It's not that I'm bitter as I'm a big-time Kawasaki Frontale fan and I just want to be able to have the same experience as the three people in the world that support Hougang United… it's that I'm really bitter about this.
Putting aside those issues, however, Football Manager remains Football Manager, and that's a fundamentally compelling experience. I can't usually stand spreadsheets, but put them in the context of this game and I end up pouring over the mountains of data, making the tweaks that I need to my team, sweating over the results of the transfers and auctions, and begging my star player to renew their contract for another year. All of that is done through data-driven spreadsheets, and while it sounds tremendously dull to anyone who hasn't played a Football Manager, once you do, it all clicks very quickly, because you have such intense granular control over your team that you do feel responsible for them.
We talk about emergent narrative a bit in video games – the idea that games have stories that aren't written down, as such, but emerge through the player's interactions with the game. An easy example of an emergent narrative is when you're playing a fighting game like Dead or Alive, and you've spent so much time admiring Marie Rose that the opponent gets the drop on you and knocks you down to a slither of health. Then you wake up, snap to attention, and somehow turn the fight around. That "come from behind win" is an emergent narrative. Football Manager 2022 has this in spades. There's very little
story
written into the game. There's newspaper reports, social media feeds, and board meetings that respond to your team's results, but there aren't cut scenes or dialogue choices,
per se
.
But you'll find yourself writing little stories in your head as your campaign as manager pushes on. When your star striker finally breaks a run of bad form you'll feel relieved for him. When you let a new kid off the bench for his first game in the pro league, and he contributes an all-important pass that results in a goal, even if it's not counted as an assist you'll find yourself happy for him. When your team gets promoted to the next level of competition, you'll be temporarily over-the-moon, before suddenly stressed that you now need to figure out a way to make this under-funded team, with lower-grade skills, competitive against much tougher opposition. None of this narrative and emotion has nothing to do with the visuals, and indeed the in-match graphics are functional (and that's being generous). It's because spending hours carefully cultivating a team and watching your plans play out connects you in a very intense way to those results. Emergent narrative.
Football Manager is as unforgiving as it always is, and if you are new to the game, expect to somehow get Chelsea relegated within a season. The game does a reasonable job of explaining the dozens of different tabs and data streams that you have access to, but is utterly uninterested in teaching you how to interpret all that stuff, and you're not going to get a single tip on being a good manager out of the tutorials. The best option is to leave as much as possible to the assistant coach at first (they'll do a below-average, but not a catastrophic job), before slowly adding more and more responsibilities to your own plate as you become more comfortable with what's going on. Otherwise, just settle in and expect to fail in a few careers before you start delivering results to your virtual teams and boards. Just like actual team management, this is a skill that is acquired and developed. Sir Alex Ferguson didn't just rock up on day one and start winning the cups, after all.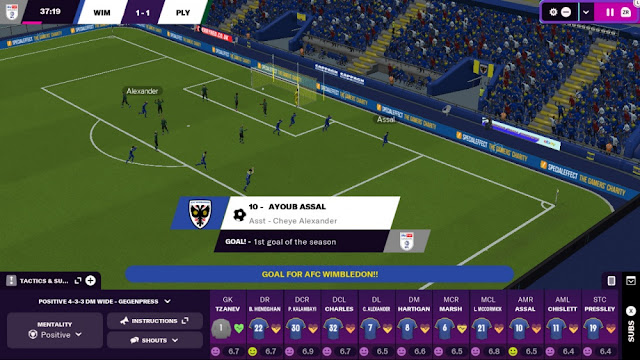 Football Manager is work, and there's no other way to describe it. Most games conceal work-like routines and elements beneath the play, but Football Manager ignores the pretence; you're given spreadsheets and actual KPIs to deliver, and if you fail, your virtual club will fire you. It is so difficult to articulate how something like this can be so compelling, but remember, video games are there to allow us the escapism of being someone who we're never going to be, and I'm never going to be the real-life manager of Crystal Palace (and even if I was given that opportunity, I reckon we should let Vieira hold on a while yet). Football Manager 2022 Touch is a wholly inadequate release, given it costs the same amount as last year's edition while also being last year's edition… and yet I won't be able to drag myself away from it for many months ahead.

– Matt S. 
Editor-in-Chief
Find me on Twitter: @mattsainsb