Back in late 2021 Matt reviewed Asterix & Obelix: Slap Them All, a brawler that's at home with its source material. He was quite familiar with the characters, despite them being French; for me, as a child in Canada, they were effectively everywhere at the time (granted, I was in French immersion). Today, Microids announced a sequel with Asterix & Obelix: Slap Them All 2! It's still a bit of a ways off (it doesn't launch until late this year) but it promises to deliver a fast-paced 2D beat'em up experience that drops players right into the world created by René Goscinny and Albert Uderzo.
A precious gold emblem of the Roman legions – the Aquila of Lutetia – has been stolen, and an innocent man thrown into prison. That man's son, Goudurix, comes to Asterix and Obelix to ask for help. As Goudurix stays safely in the village, the two Gallic warriors travel to Lutetia to find out more from an acquaintance said to be well-versed in the city's rumours. Obviously, it's only with slaps in the face that they can find answers!
Explore captivating locations, from mysterious ruins at the heart of a forest to an imposing Roman camp to the majestic Lutetia. Each stage features new environments, taking players to far-off lands to face thrilling encounters. There will be sketches throughout the journey, adding a dose of humour and emotion while also advancing the plot.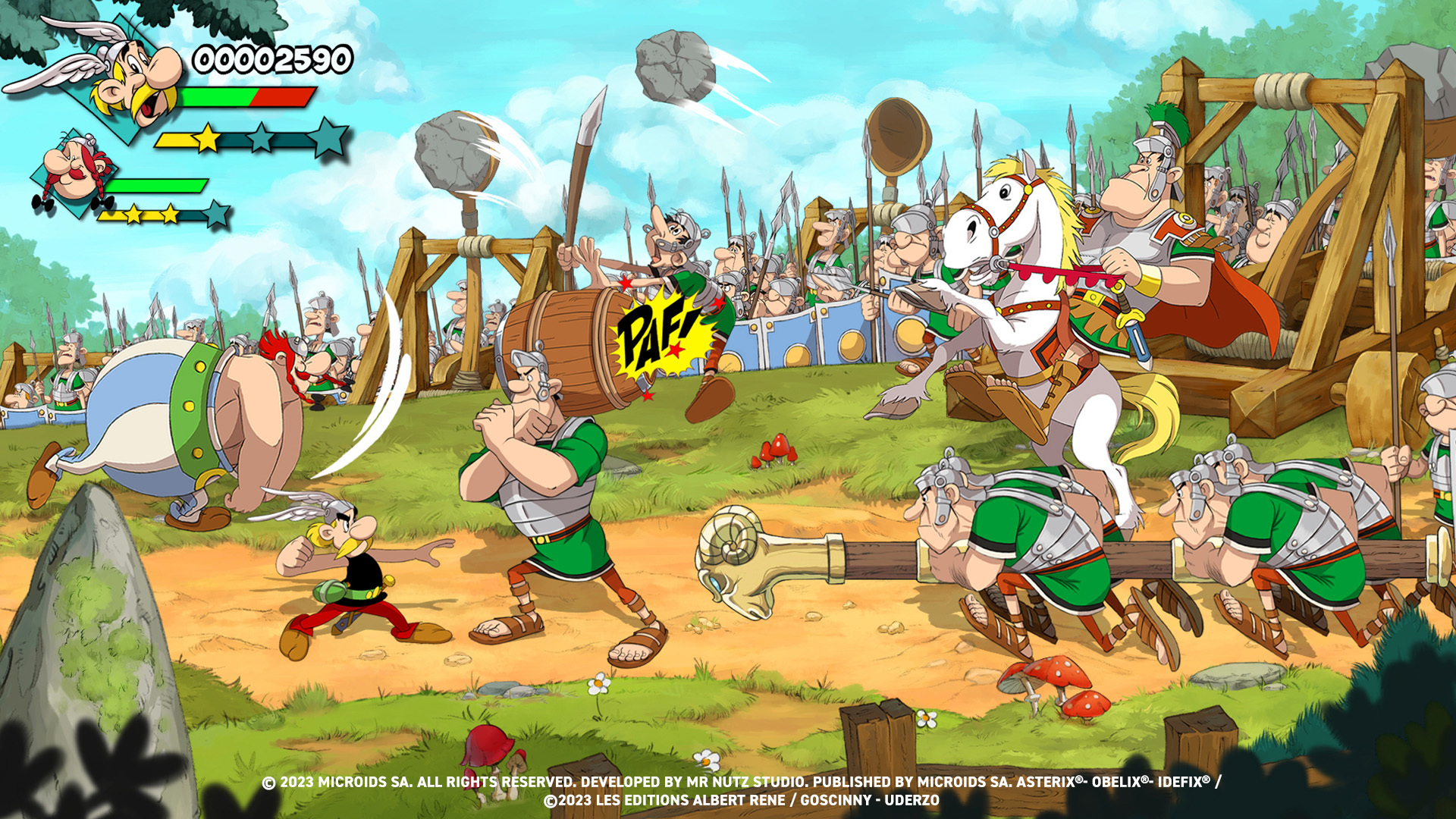 Compared to the original, Asterix & Obelix: Slap Them All 2! has more fearsome enemies and bosses. There's also new features and gameplay improvements. Gauls, Asterix, and Obelix each have new moves that can be charged for more powerful attacks. Battles are more dynamic, and the heroes can trigger Fury mode to increase their strength and unleash a devastating Ultimate attack. They can also destroy some environmental elements to create chaos, as well as through barrels and menhirs at opponents.
The developer made the artistic choice to create the characters, backgrounds, and animations by hand with respect for the style of 2D animation. This brings a lot of nostalgia to the game that should appeal to both fans or the franchise and fans of retro games. The universe has been faithfully recreated, reminiscent of the illustrations in the comic books.
Developed by Mr Nutz Studio and published by Microids, Asterix & Obelix: Slap Them All 2! will be released for PC, PlayStation 5, PlayStation 4, Nintendo Switch, Xbox Series, and Xbox One in November 2023.