I'm a big fan of itch.io for the freedom and open platform that it allows for developers to be creative, experimental, and directly canvas the audience for feedback for games that are not yet ready for primetime on Steam and its ilk. In addition, itch.io allows you to be transgressive, subversive, and downright dangerous. It's a true "art gallery" for game ideas and creative developers, and it should be celebrated for that.
What makes itch.io a little difficult at times is finding things that are interesting to play. Discovery is a real issue when great ideas are buried among high school projects and nasty little efforts to scam a quick buck from players. With that in mind, I thought what might be helpful to readers would be if I did a brief write-up of interesting games that I've come across on itch.io each week. In many cases these games will be unfinished or "in development," but I'm highlighting them because they promise something special and are well worth keeping on the radar.
Note: I also haven't played these games. I highlight them as interesting based on the itch.io description and concept. Where I find the time to do actual reviews or other coverage, I will compose separate articles on the game in question. These aren't so much an endorsement (or piece of criticism) as they are a head's up.
Indiepocalypse remains the highlight of itch.io, and the perfect representation of everything that this platform stands for. For those of you that haven't come across it before, Indiepocalypse brings together ten games from indie developers that you simply would not have heard about otherwise – the most indie and experimental of all – and bundles them together into a package that could only be called "eclectic". In addition, you get a Zine, which features interviews, comics and more, as well as the Zine creator software that was used to make it.
This month's Indiepocalypse includes a Game Boy adventure game (Sleep at Night), a visual novel about "the horror of having a body", a hard-hitting game about the "attack on the labour rights of Ukrainians and the draft of the new anti-labour law" (because they weren't going through enough already), a story about the "ritual of the everyday" for school teachers, and a game called "Businessmen", which has been commissioned by Indiepocalypse specifically for this month's release, and seems to be rather vocally anti-capitalist. An eclectic mix indeed!
What fortuitous timing! Knives Out: Glass Onion gets released, and blows us all away with how intelligent, humourous, and fun it is, as a take on the "death at a dinner party" style murder mystery, and here comes Detective Rosie Morgan to offer its own take on the genre, only in visual novel form.
Detective Rosie Morgan is a yuri dating sim as well (yay), with Rosie looking for romance even as she investigates the mysterious death of a famous human rights lawyer. The game features 50,000 words (about four hours to play through) with multiple endings to encourage replay value. In terms of production values there's a lovely anime art style to enjoy, and a really neat jazzy soundtrack, that perfectly pairs with the sleuthing. More than anything else, Detective Rosie looks like a highly refined project for an indie little visual novel.
Here we have a wildly (wildly) different-looking visual novel to Detective Rosie, above. Basically, in this game, you're looking to make trouble. You play as Roxanne, the leader of a group of "super elites" that have devised a plan to throw a party at your rival's campus. Now, this is illegal, since that campus is in a neighbouring city and it's illegal for the two cities to mingle. But… is it illegal if you're never caught? I think it's safe to say that you can expect humour, silliness, and hijinks from this one.
There are more than 20 folks to meet in this game, and five endings. What's more, the developer has packed the game with CGs (more than 35, which is incredible), and also alternative costumes. The main character has seven, and all the love interests have at least three each. That is a lot of work, I assure you. It all looks pretty good, too, and there are demos if you want to try before you buy.
It seems like it was a visual novel kind of week for itch.io. Not only did the Indiepocalypse have a fair few of them, but the other three entries in our wrap all belong to the genre. Bewitching Sinners is another really good-looking VN, though. In this one, you're playing as a girl that finds herself summoned to a land of "witches," with all of them out to get your blood. At least there are some hot guys around to make up for that.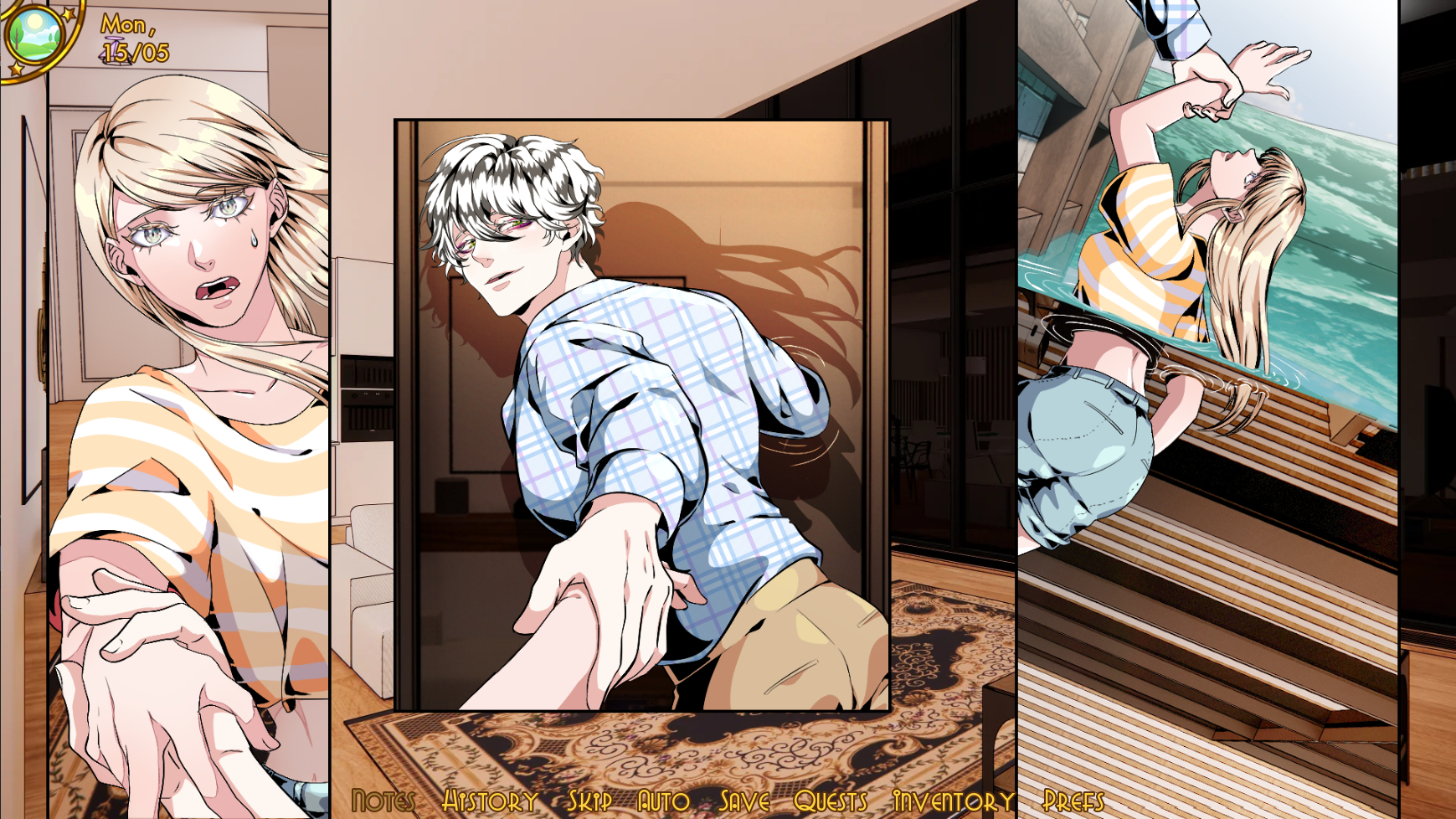 There are four datable characters in Bewitching Sinners, and to seduce them you actually need to play a dating minigame, which involves going on dates and giving them gifts. There are also quests, a map system, and in general it does look like this developer is pushing for their VN to be significantly more than a standard VN. This itch.io listing is a demo, and if you enjoy it, you can support the developers in their ongoing work via a Patreon.