Clap Hanz Golf is not a game you stealth launch on a console! Clap Hanz Golf is a game you make a big deal about, especially since Nintendo has really lost its way with Mario Golf and fans of that series desperately want something like this on their consoles too. And yet, that's exactly what has happened here. Clap Hanz has taken its brilliant Apple Arcade game, Clap Hanz Golf, and stealth released it on the Switch as Easy Come, Easy Golf. It's the same game as it is on Apple Arcade in every way, and because this is a game that has been in ongoing development since it released over a year ago on Apple Arcade, it is massive now. Having spent dozens of hours playing Clap Hanz Golf on my Apple TV and iPhone, I couldn't resist giving this another spin and picking it up for my Switch gaming sessions too.
Related reading: Where we review a bunch of Apple Arcade titles, including Clap Hanz Golf.
The basic take on the game is exactly the same as Clap Hanz's long-running Everybody's Golf series, in that it offers an arcade-ish take on golf, with simplified and elegant physics. Superficially, that means it is like the Mario Golf series, but unlike more recent Mario Golf titles, it also doesn't have stupid gimmicks that distract from the core appeal of playing a round on the greens. Clap Hanz keeps it simple: you choose a team of your favourite characters to take onto the course, and compete in either single-player challenges or world championships. As you use the characters more, they level up and become better at hitting the ball around. That's it. That's the loop. No tornadoes and warp pipes on these courses.
Easy Come, Easy Golf is very heavily character-driven. Most of the time you can only play each hole with a single character, so in a nine-hole course, you are forced to use nine different characters. There are a lot to unlock, and they all naturally have their own personalities. You can also earn increasingly outlandish costumes for them by completing special challenges, and not only does that give you the chance to play dress-up, it also extends their level cap, so you can continue to power them up.
This system is, admittedly, designed around a grind, though thanks to the base Clap Hanz Golf being an Apple Arcade title, there are no microtransactions to worry about. It's a grind as a gameplay loop, rather than a monetisation model. It's a fun, easy-playing grind, too. It's easy to pick up and play for short bursts, and offers enough variety in the courses to maintain interest over the long term. Characters level up with a good enough frequency for the dopamine hit to kick in, and the game is ultimately designed to be positive reinforcement, rather than a hardcore challenge. It's a little too easy, yes, and I don't think I've lost a single single-player match yet. But it's also hard to criticise the game for that when it's such a joy to win, level up, and unlock stuff.
For those looking for a challenge, there are always competitive modes, anyway. There's an online tournament that occurs regularly. There you'll play a set course, submit a high score, and see how you compare with other players around the world. If you thought you were nailing the courses against the AI, that mode will bring you back to earth pretty quickly.
Then there's the ability to play in local or online multiplayer with a set group of people. You can get a password-protected room going so you can play with friends, or jump online to take on anyone in the world. Thanks to the gameplay being nicely streamlined, no one is going to feel overwhelmed by the competition in Easy Come, Easy Golf. At the same time, the better players will generally will in the end, so it does feel like a nicely balanced, skill-based multiplayer experience.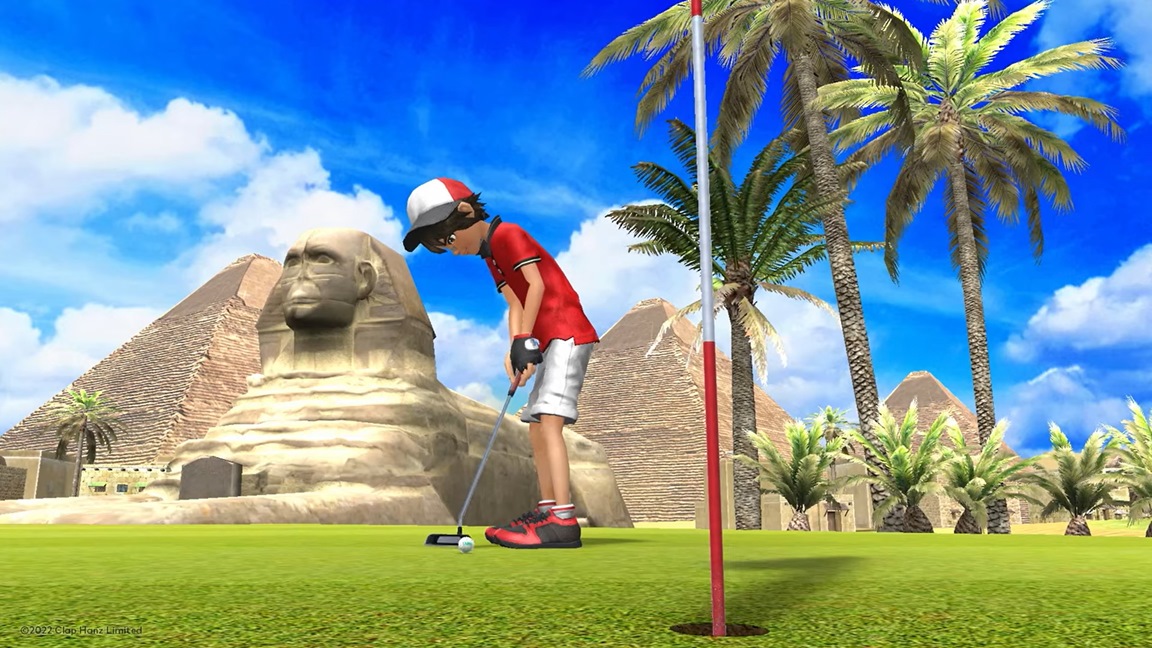 It's nice to have something this clean, simple, and yet well-made. I've been more patient with how Nintendo and Camelot have handled Mario Golf than most, but the silly gimmicks, powerups, and themed courses get to the point where you barely feel like you're playing golf anymore. It's more akin to a party game free-for-all. There's a place for that, and at times, in small doses, it can be fun. However, on the Switch, I have found myself returning to Mario Golf on the Nintendo 64 Classic app, rather than the recent Switch release. Long term, I just want to play light, fun, charming golf.
Easy Come, Easy Golf gives me that. Now, there's no particular reason to buy into the Switch version if you already have it on Apple Arcade. The game's played with a controller on TV, and playable offline on the iPhone (and thanks to the cloud the save is maintained across both platforms), so the Switch version doesn't have any particular features or benefits to make a purchase worthwhile, unless you really prefer playing games on that console.
However, regardless of the platform you play it on, you should play it. Whether it's called Clap Hanz Golf or Easy Come, Easy Golf, it's one of the finest efforts from this highly specialised, legendary development team. The Switch lets you enjoy the game without the subscription model attached (which is an inherent plus), and the price is more than reasonable for something that is this big. Grindy, yes, but once you fall in the habit of playing once or twice per week to check in, unlock a few things, and participate in a tournament or two, you'll realise that you just never stop playing it. Over a year later, you'll realise that you've chalked up dozens of hours and that this is one of the most fundamentally enjoyable sports games you've ever played.