I'm a big fan of itch.io for the freedom and open platform that it allows for developers to be creative, experimental, and directly canvas the audience for feedback for games that are not yet ready for primetime on Steam and its ilk. In addition, itch.io allows you to be transgressive, subversive, and downright dangerous. It's a true "art gallery" for game ideas and creative developers, and it should be celebrated for that.
What makes itch.io a little difficult at times is finding things that are interesting to play. Discovery is a real issue when great ideas are buried among high school projects and nasty little efforts to scam a quick buck from players. With that in mind, I thought what might be helpful to readers would be if I did a brief write-up of interesting games that I've come across on itch.io each week. In many cases these games will be unfinished or "in development," but I'm highlighting them because they promise something special and are well worth keeping on the radar.
Note: I also haven't played these games. I highlight them as interesting based on the itch.io description and concept. Where I find the time to do actual reviews or other coverage, I will compose separate articles on the game in question. These aren't so much an endorsement (or piece of criticism) as they are a head's up.
Sekai Project's latest is a rather good-looking yuri game with a strong emphasis on zodiac magic. With well-known manga artists, Hakuishi Aoi, tokeshi, and Ukani Uka working on it, the Live 2D presentation has  a truly deluxe presence to it – gorgeous girls, gorgeous costumes, gorgeous settings. Furthermore, Sekai Project is pretty reliable with the stories that it publishes, so the odds are on that this will be a good time.
With six characters in the story to follow, and a special "yuri-focued UI" that will actively display the feelings that two characters have for one another, this one does look like it's going to be very heavily focused on recreating the appeal of reading a yuri manga. This is only volume one, too, so if you like it there's plenty more to look forward to coming.
As for the story, from the game's itch.io listing: "Hoshino Hikari is a new transfer student to the prestigious St. Leanne Girl's Academy. While her transferring in is quite extraordinary, everyone is more interested in the ritual that takes place before the opening ceremonies. During this ritual, some students manifest signs of the zodiac, and then are given an angelic title and a blessing. These students are known as the Angels of the Zodiac, and are given the role of bringing fortune to the student body." Sounds good to me!
Have I said often enough how much I love developers that make new Game Boy games in 2022? Because I do love anyone that sets themselves the challenge of creating something so limited with the tools that game developers have today. It's hard. Like writing a haiku or painting a miniature-sized painting. Working with limitations often brings out the strongest creativity.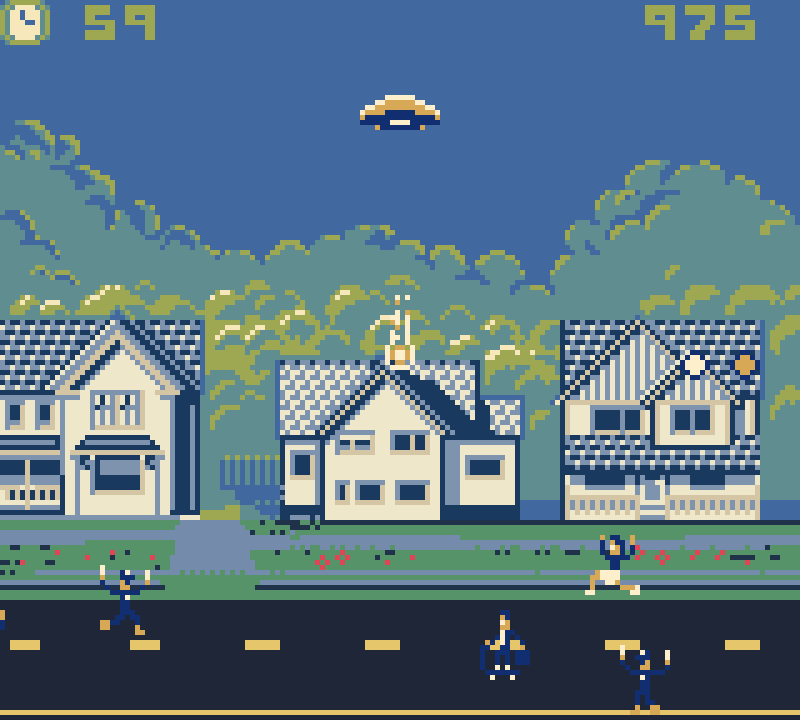 All Humans Must Die is a fast-and-furious arcade game, where you play as the pilot of a UFO and need to kill as many humans as possible in 60 seconds. Of course, they can fire back, which complicates the challenge somewhat. With an aesthetic and vibe that is reminiscent of the classic, Rampage, All Humans Must Die! is surely going to appeal to those of us that have fond memories of hunching over a monochrome screen to lose ourselves within what would today be considered as barely a minigame.
There's even a physical edition available, with box art and a manual and the cartridge. Remember game manuals? What a delightful retro celebration and rush of nostalgia!
One of the indie games that has been enormously influential but also low-key about it is Cultist Simulator. Everyone knows of Reigns and Darkest Dungeon, but not so many note just how many games have been inspired by that original concept. Stacks:Space is the latest, and it looks really good.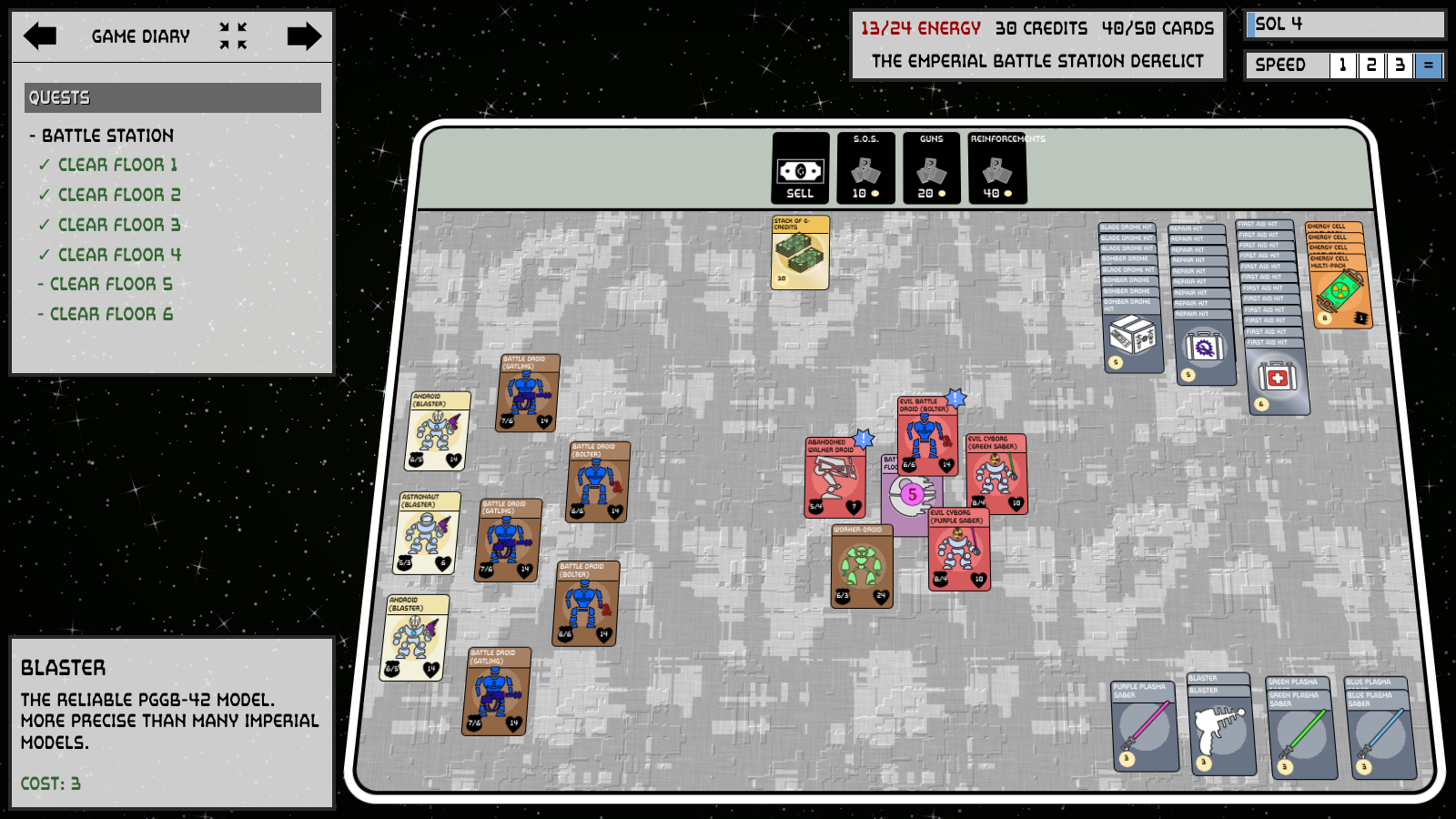 In Stacks:Space you need to build a deck of cards, use those cards to build structures, manufacture tools and collect resources, and defend your base from enemy attacks. This is a full-featured game. There are 200 distinct cards to collect and use, as well as multiple scenarios, each with its own starting conditions and end-game goals. There's even a daily challenge to keep you coming back, and full modding support, which will potentially extend the life of this game indefinitely.
You'll also be able to play this on Android (though they recommend a fairly large screen to do so). And if science fiction isn't your thing? Don't worry, the developers have you covered there too, as the game includes a built-in mod to make it Stacks:Fantasy Village instead.
To wrap things up this week we have De'Vine: Heavenly Acres. This game was released back in July on Steam, but did not take off at all – it has just 21 user reviews. However, 90 per cent of those are positive, suggesting that the game's a bit of a hidden gem for those that discover it.
The game is a Rune Factory-like, with a combination of combat and rural farming life (why are we getting so many of these at the moment?). This one has some interesting dynamics going for it though. Rather than the action combat system that is common for the genre, De'Vine has a Pokemon-like collection and turn-based combat system. There are also over 40 crops to grow, ores to mine, crafting systems at play and, of course, a romance system.
It might look like a glorified RPG Maker title, but De'Vine might just have the right depth of systems and open-naturedness to do this wonderful little genre justice. You may have missed it on its original release. Don't miss it now that it's on itch.io.