SongPop Party is, without a shadow of a doubt, one of the finest party games in existence. It takes something that is fundamentally compelling – music trivia – and gives people a no-frills way of playing that and, importantly, doing so with the music that they actually like. Now the game has moved off mobile devices and Apple Arcade to land on the Nintendo Switch, the perfect party console, and it's a whole lot less messy to deal with for multiplayer fun than on iPhone or Apple TV.
It's the perfect version of the perfect party game.
SongPop Party is this simple: Everyone sets themselves up with a little avatar, and then you pick the genre and category of music that you want. This ranges from 50's and older music right through to the current hits, and allows you to tailor the competition down into some pretty amazing niches. New Wave music from the 80's? Yup. Film themes from the 00's? You betya. The kind of absolutely terrible music that teenagers would always pick for their school dances in the 90's? No, seriously, that's a category.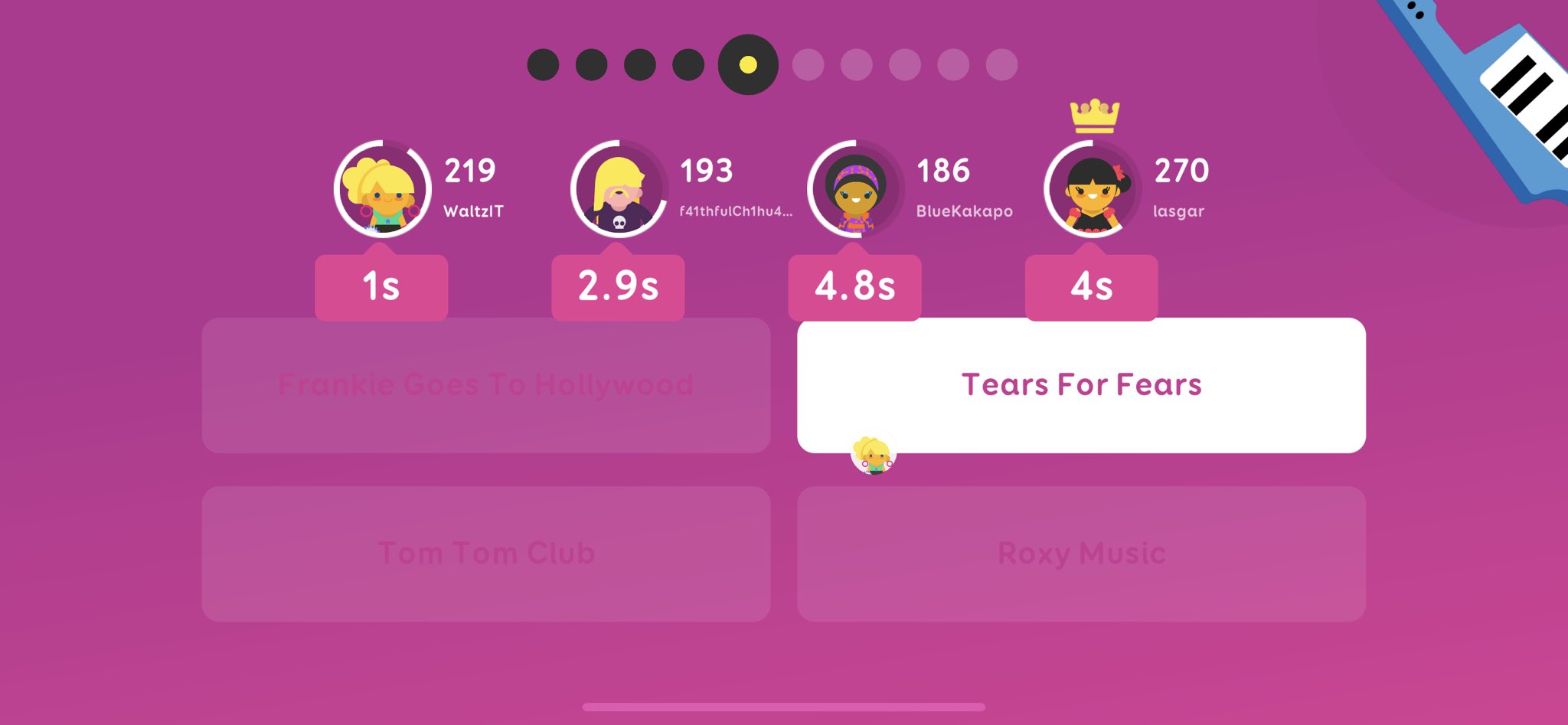 This kind of granular control is actually pretty important, because not everyone has the same experience or expertise in music, and far too many music trivia games leave people feeling left out. My parents and I can have great fun competing over our knowledge of 80's music, but with almost any of the categories from the 2020's, we'd be taking wild stabs in the dark. Other people wouldn't have a clue what a Duran Duran is, but know Billie Eilish's music beyond that one song, and that's totally fine. Everyone is fully entitled to like the music they like, of course, but very few trivia games get that. SongPop Party accommodates almost everyone, and you can always take turns selecting categories to make sure that everyone gets their moment to dominate. The only downside is that, as comprehensive as it is, it does lack "foreign" music. Where's the classic JPop, Enka, and Latin music, folks? There's one KPop playlist, but it doesn't seem to realise that Koreans had music before Americans decided it was cool. I realise that these categories wouldn't mean much to most people but my wife forever feels left out with trivia games because they are so Western-focused, and it would be nice to see any of the developers of these things acknowledge that other cultures exist.
Each game of SongPop party lasts 10 questions, and each question plays out the same way – a small sample of the music track is played, and you've got four possible answers, with a maximum of ten seconds to figure out which piece of music it is (or take a random guess). Including setup time, the time between music, and the results screen, an entire game of SongPop Party is done in two minutes. The perfect length of time between beers in a party situation.
That really is all there is to SongPop Party. There are no negative points rounds, no ability to troll one another, no power-ups, and no board game structures that get in the way of the trivia. The screen is minimalist as anything (it's just a coloured background and the questions), and there is also no long-term stat keeping for player profiles that could encourage things to get a little too serious. You are not meant to take your time playing SongPop Party seriously, and it has been carefully designed so that you won't.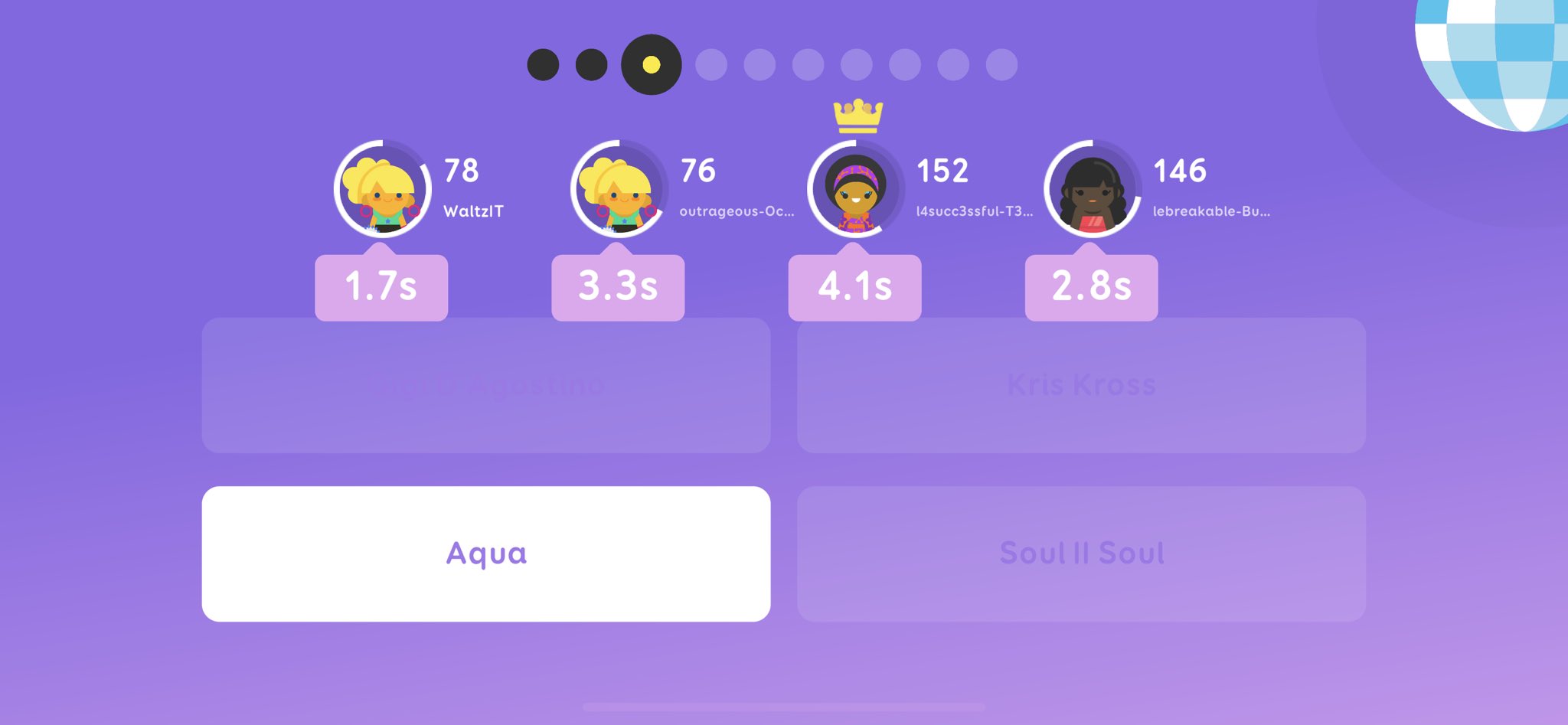 SongPop Party relies entirely on the idea that guessing music quicker than your friends makes for entertaining times. And it was a good guess by the developers because that is wildly entertaining. Seeing people try and beat me to the buzzer to pick a song from New Order/Joy Division is just plain funny (that'll never happen – I can pick almost any song from that band, from any part of the song, within a note or two). Because you can play via your phones, little Bluetooth controllers like the 8BitDo minis, or the Switch's own JoyCons, it's likely you've got enough "controllers" around the house, and on the Switch up to eight people can play simultaneously for a particularly loud party experience.
It's great value, too. With a total track list that runs into the hundreds of thousands, the depth is there for repeat play. It takes a long time to memorise the full tracklist for any given playlist, and even when you do, the "fastest to the buzzer"-style experience still means you don't have that much of an advantage anyway, even over someone playing the game for the first time. About the only problem with the game is that sometimes the laughter can be so loud that you struggle to hear the next song. Or perhaps that's just a me problem.
There is single player too, allowing you to compete with up to three other random people online for max cred. It works fine on Switch, though in this regard you're better off playing on your phones. If you're going to compete with the world, having online leaderboards with some weight behind them matter (and being able to play off your phone's data is a lot more convenient than trying to find a hotspot when out and about). Putting that aside, SongPop Party is surprisingly good fun as a single-player "party" game, and tends to be what I reach for when it's 2am and I've still got a six-pack of peer to wash down.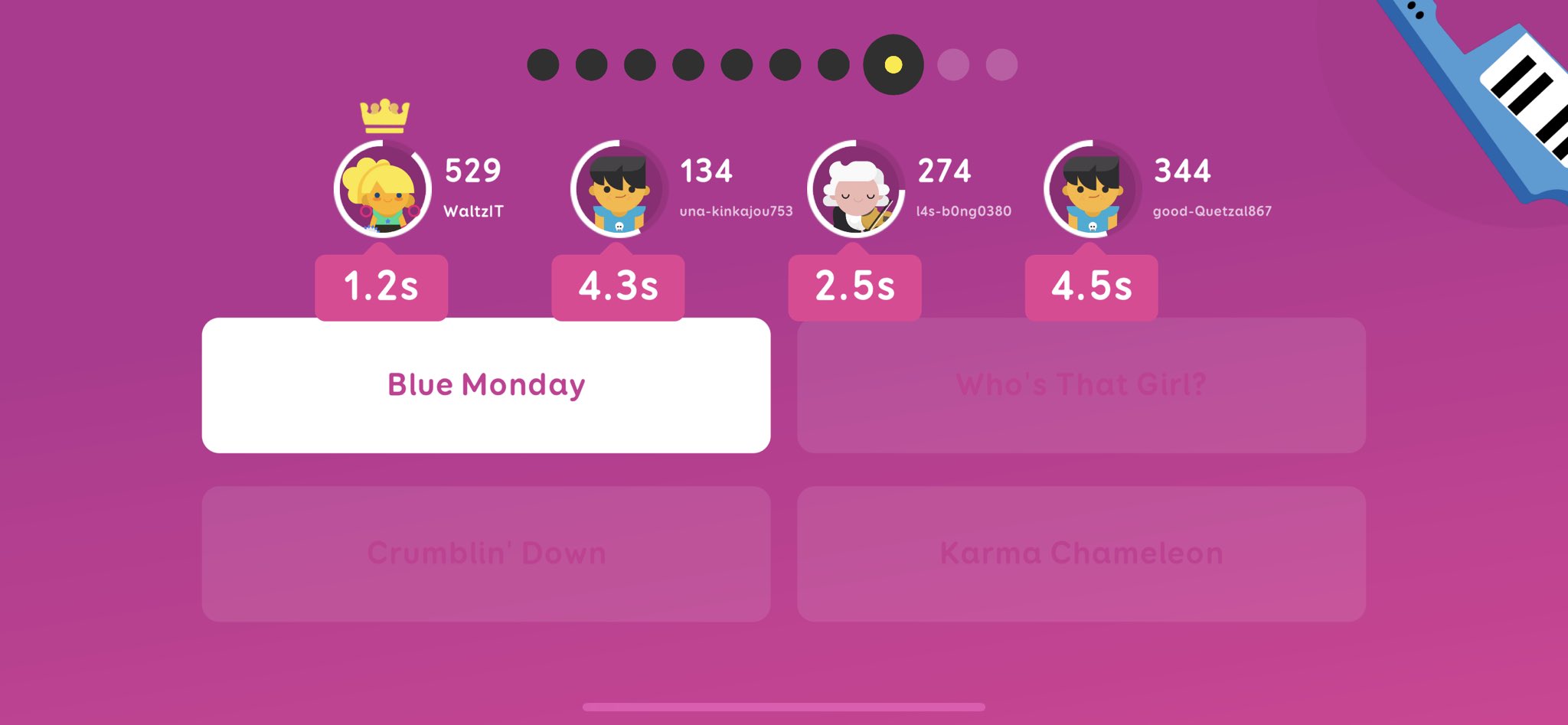 There's nothing else that needs to be said about SongPop Party. It's the height of minimalistic perfection. Because the developers gave you so much control over the type of music that you're going to be quizzed on, it really is a music trivia game for anyone, and with no video game-like elements to learn, anyone, regardless of their skill with games, can immediately pick up and play this one.
Anyone who doesn't have this on their Switches for the Christmas party season is doing themselves – and frankly, everyone around them – a disservice.