Side-scrolling RPG Worth Life first launched in Japan last week, and it's already set to come to western players next month! Created by two longtime farming/life sim professionals, producer Yoshifumi Hashimoto (Story of Seasons, Rune Factory) and artist Igusa Matsuyama (Story of Seasons), the game has players setting off on a journey to save the kingdom. There's also farming, building, and fighting.
Thirty individuals have been summoned by the king to prevent the kingdom from suffering a terrible fate. It all starts off by choosing how the main character looks, though you can change that up at any time. Then, as players journey through the kingdom, they're able to raise crops o vacant lots, build houses for people in need, and face off against monsters. Restore prosperity and happiness to the area.
There are three difficulty levels to choose from when starting the game: Normal, Hard, and Master. If normal mode seems a bit lacking in challenge, you can always up the game difficulty to Hard or Master to make your opponents more formidable. Monsters will have significantly higher HP and attack power in both of the more difficult modes. I'm a bit sad there's no easy option – for me, an ideal scenario is closer to a leisurely stroll in the park.
Related reading: Here's Matt's review of the latest Story of Seasons game, Pioneers of Olive Town.
The game features a "Spark" system. As players traverse the land, they'll come across colourful characters and unique experiences. When something catches their eye, it triggers a Spark and unlocks a new skill. There are various handy types of spark skills.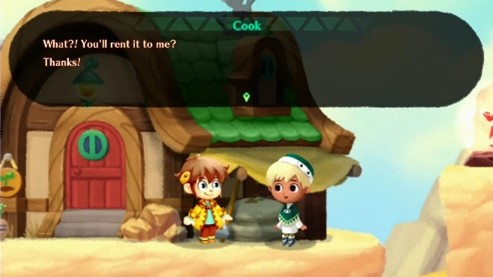 As for the land, well, some of it is available! Acquire unused lots and then choose how to use them. Till the land and grow crops, dig out a pond to fish in, or build a house to rent. If you rent a house to someone, they may reward you for your help.
Developed by Hakama, Worth Life will be released digitally for Nintendo Switch on July 14. Pre-orders will be available starting July 7.