I think this is finally it: the last showcase of what a lot of us have dubbed Not-E3. Capcom's a great one to end with, and the company has promised we'll see more of Monster Hunter Rise: Sunbreak, Exoprimal, and Resident Evil 4. There may be a surprise or two, but I wouldn't expect anything to appear out of thin air.

Monster Hunter Rise: Sunbreak
Monster Hunter Rise: Sunbreak is an upcoming (massive) paid expansion for Monster Hunter Rise. We wrote a little about some of its new features last month, which you can find here. This new trailer shows off a new locale, as well as a couple new monsters. The jungle, which hasn't been seen in some time, will return. Its appearance changes over time. It's been updated with new elements and new life. Players can explore ruins around the coastal area. One new monster shown off is Espinas, from Monster Hunter Frontier. Its name comes from the Spanish word for "thorns," as it's absolutely covered in them. It explodes into a violent rampage when it senses danger is near. We also see Gore Magal, the flagship monster of Monster Hunter 4. It is a sightless creature covered in black scales, and it has sensitive wing membranes. Its horns change shape as it enters into a frenzy state, when it breaks the ground and uses its claws as anchors. Finally, we have Daimyo Hermitaur and Pyre Rakna-Kadaki, both with fiery explosive elements. Monster Hunter Rise: Sunbreak will be released on June 30 for PC via Steam and Nintendo Switch.
A demo for Monster Hunter Rise: Sunbreak will be released on June 14 for both PC and Nintendo Switch. It shows off the new jungle locale, as well as Switch Skill Swap and Silkbind Attacks. There are new tutorial quests, and also an advanced quest for veteran players. The demo supports 4-person multiplayer.
Finally, we have some news regarding free updates to Monster Hunter Rise. They will come post-Sunbreak. The first update is set for August and includes Lucent Nargacuga and a new area, the Forlorn Arena. The second update will be released towards the end of the year, and the third next year. These two updates will include new monsters and other elements, but specifics haven't been released yet.
Capcom Spotlight Corner
Street Fighter 6 is coming next year to PC, PlayStation 5, PlayStation 4, Xbox Series, and Xbox One.
Capcom Fighting Collection (10 games, all playable online) will be released on June 24 for PC, PlayStation 4, Nintendo Switch, and Xbox One.
Capcom Arcade 2nd Stadium (32 titles, also available individually) will be released on July 22 PC, PlayStation 4, Nintendo Switch, and Xbox One.
Exoprimal
Exoprimal is a new team-based action game about fighting hordes of dinosaurs sent by a next-gen AI system named Leviathan. The player is deemed a suitable specimen to join the experiment on Bikitoa Island. You've been selected for a live combat test. In the game's story mode, Dino Survival, two squads of five race to complete objects based on Leviathan's directives. There is a story here, some sort of mystery. There are various missions types. The missions change based on player progression. Dino Survival unlocks story sequences and rewards (including experience points). The player will need to use exosuits to survive, include Barrage (an assault suit that uses explosives) and Vigillant (which wields a destructive rail gun). There will be more suits available in-game, that's just what's being announced right now.
Exoprimal will be released in 2023 for PC, PlayStation 5, PlayStation 4, Xbox Series, and Xbox One.
Dragon's Dogma
Dragon's Dogma celebrated its tenth anniversary a few weeks ago. The world it created spans popular media including games, digital comics, and an animated Netflix original series. A live stream is set to celebrate; see the image below for info. Also, expect a celebration video in the coming days.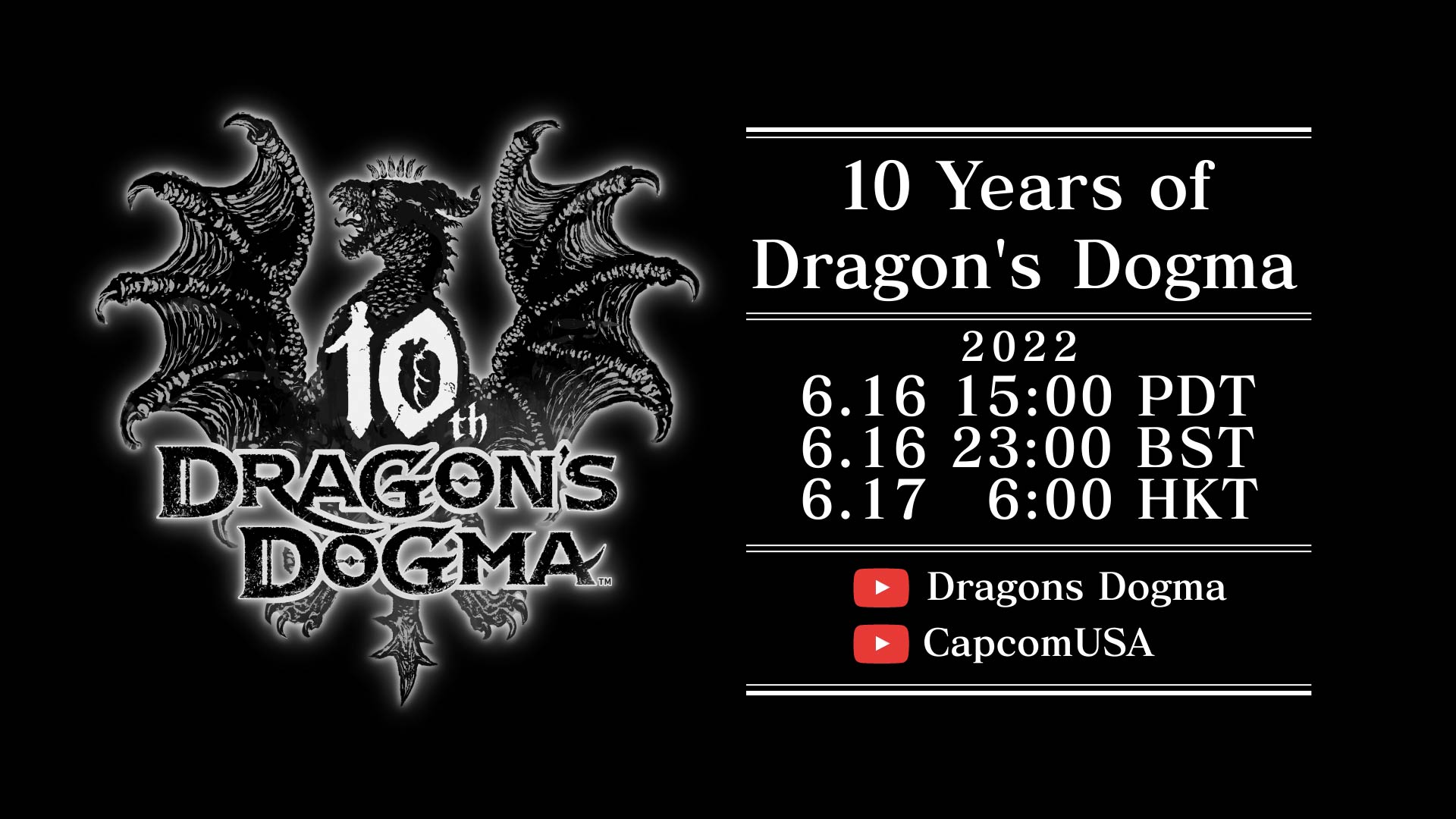 Resident Evil Village
Resident Evil Village has sold over six million units worldwide, so I'm willing to bet players have been begging for more. And there will be DLC coming! First is Shadows of Rose, AKA Ethan's daughter. This is a sequel story to Village. Rose is not normal, and others don't approve. She travels to the Realm of Consciousness, where she meets a girl identical to herself. Time and space is warped here, even the world attacks. Rose is guided by a being who identifies itself as Michael. How will she find freedom from her powers? There is also an expansion coming to The Mercenaries, titled Additional Orders. It includes an arcade-style action game about fighting hordes of enemies, as well as new characters (and familiar faces) Also coming to Resident Evil Village is third-person mode. Yes, you can finally see Ethan's lovely face while playing.
The DLC is available separate from the game, or bundled with it in a Gold Edition. It will all launch on October 28 for PC, PlayStation 5, PlayStation 4, Xbox Series, and Xbox One.
Resident Evil 4
Does Resident Evil 4 need a remake? No. Is it getting one anyway? Yes. Matt wrote an interesting opinion piece on the matter, which you can read here. The enemy in the game, the genado, control people using madness; they have been redesigned. The over-the-camera shoulder camera returns. The tension is meant to be palpable. Capcom claims this is a "reimagining" of Resident Evil 4, preserving what keeps it special while updating it with modern flourishes. Resident Evil 4 will be released on March 24, 2023 for PC, PlayStation 5, and Xbox Series.
Resident Evil for the current generation
Resident Evil VII: Biohazard, Resident Evil 2 (remake), and Resident Evil 3 (remake) are coming to PlayStation 5 and Xbox Series, featuring 4K support, a high frame rate, ray tracing, and 3D audio. Each is available today. PlayStation 4 and Xbox One players, a free digital upgrade to the current-gen is available for free now; there is also a PC update patch.
Watch the showcase