Nakano Broadway is not a place you want to go if you have residual concerns about large numbers of people in enclosed spaces. As amusing as it is that there are signs up all over the place recommending "social distancing," and while the Japanese tend to be better sports about wearing masks than Australians, Nakano Broadway's a place where you'll be exposed to things.
If that doesn't concern you too much, though, then this busy little shopping mall is a delight for treasure hunting… and it gets better and better at it every time I visit.
Just as with the local shopping street that I explored yesterday, I was delighted to see that COVID-19 hasn't decimated the place. Most of the same shops remain open that I remember from the last time I was here (2019). The one notable casualty that I did notice had left was a store for high-end, professional photography equipment, lights, and so on. That's either relocated elsewhere or shut down, but there are more very high-end jewellery shops instead, so it seems to be a fairly like-for-like replacement in terms of the shopping mall being able to bring in high-end dollars.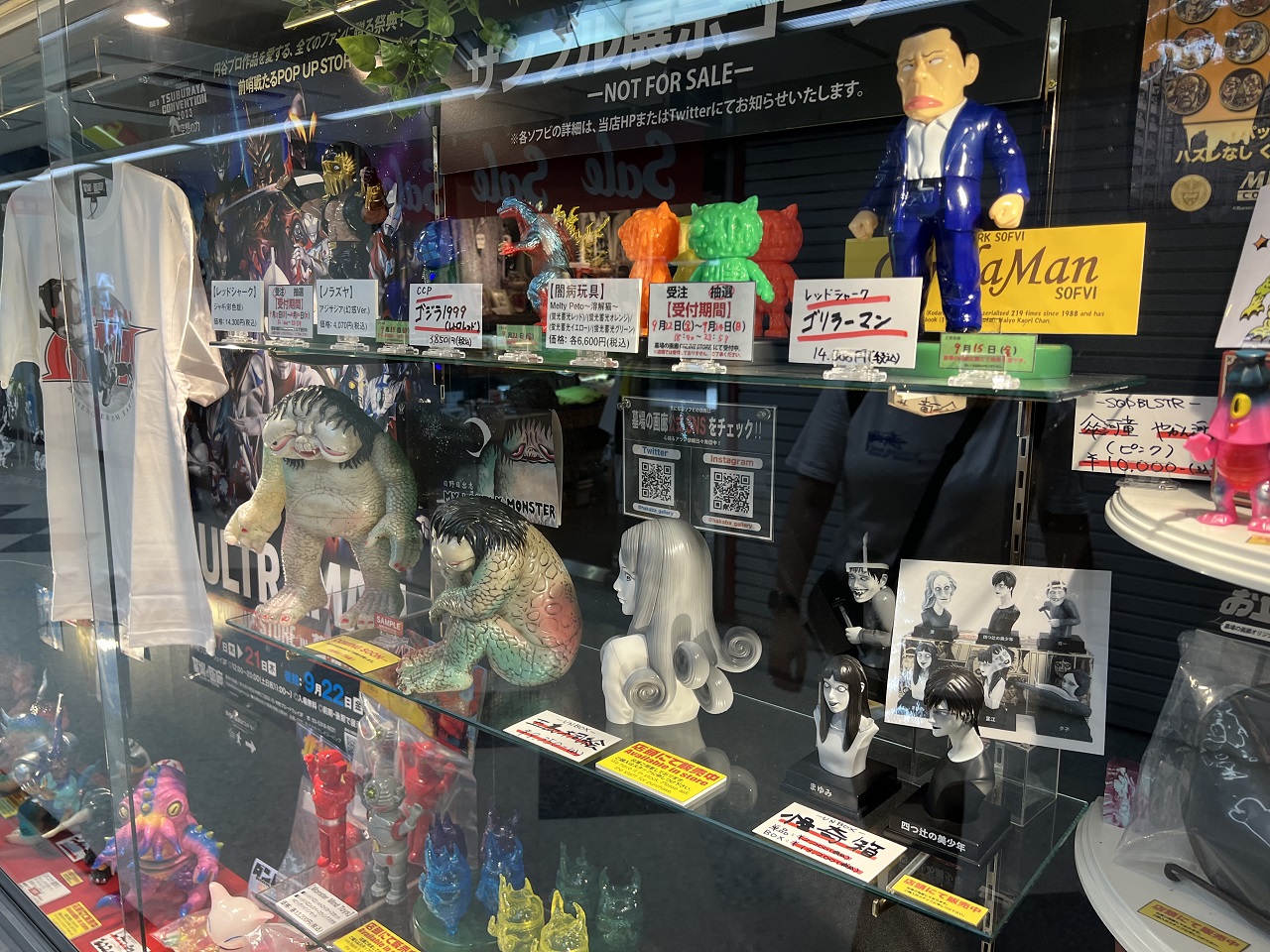 Not that you have to be wealthy to shop at Nakano Broadway, of course. The heart and soul of this shopping mall remains its eclectic range of specialty stores. Like diecast cars, model airplanes, or vintage toys from the 80's? There are entire shops that cater to these hobbies. Like retro games? There are two stores (though, sadly, it does seem like the stock for the really old consoles, like the Game Boy and NES, is starting to run out from these places). Have a fine collection of the best hentai? Yep, there are entire stores just standing there.
And indeed you can quite easily wander into these R18+ places without even being aware of it… until you start pulling books off the shelves and seeing boobs and more. Japanese culture remains as completely unconcerned about these things as ever, and the token signs delineating "adults only" stores and sections thereof tend to be tiny little cardboard squares stashed away in the corner and clearly there to meet regulatory requirements rather than, you know, warn people about what they're about to see. Sincerely, that is refreshing, coming from an increasingly-puritan culture in Australia. Yes, it means parents of young kids need to be parents and take some responsibility for what their children see on a trip to Nakano. But it's good that these things aren't treated as sleazy underground stuff and adults can just be open and mature about their presence.
Of course, the majority of the stores are all-ages friendly, and dedicated to figures, little toys, badges, stickers, posters, DVDs, dolls, CDs, mini-discs, Godzilla memorabilia, and just about everything else that you can imagine. There are multiple game arcades, though sadly those are mostly filled with skill testers and the obligatory smattering of rhythm games now. There are also plenty of vending machines, and just to show how eclectic Nakano can really be, there's even a vending machine that sells cans of bugs as snacks. And there was a lineup of people for it when I investigated. Actual bugs, in a can, just like beer nuts or other such bar snacks. Only here it's scorpions and tarantulas and rhinoceros beetles. It's not a vending machine I ever thought I'd see, but I love that it was there (and there were actually advertisements throughout the shopping mall pointing people towards it).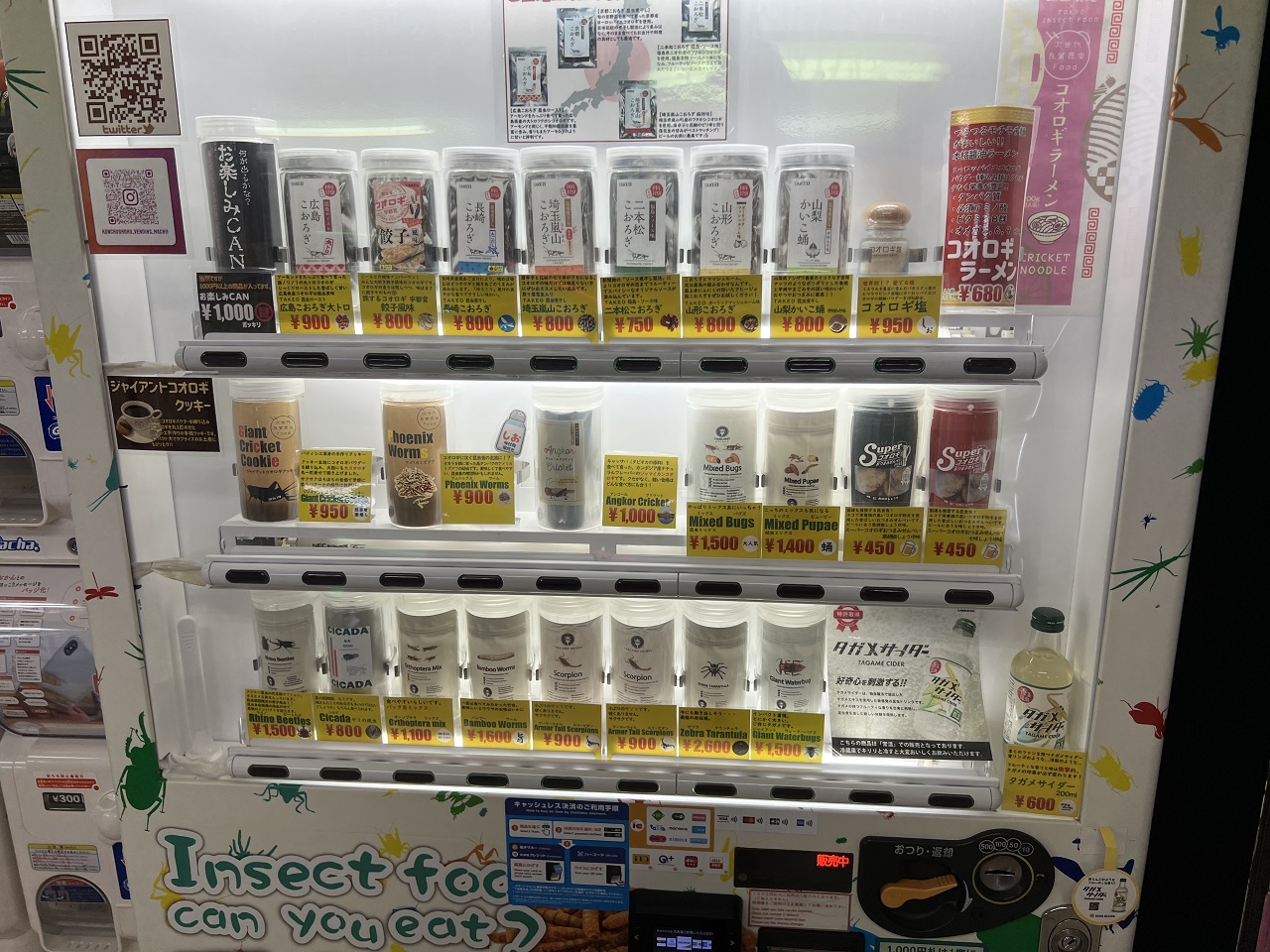 All this variety is housed within a maze-like shopping mall design, and it's not the kind of place you go when you're looking for something specific. Say, for example, you want Hatsune Miku figures. You're better off heading over to Akihabara for those, because you're going to find a bigger range and stores that are more likely to have the specific figures you might have seen online. Nakano Broadway's for finding the older Miku figures, or rediscovering your love for old Disney or Studio Ghibli merchandise. It's the kind of place you go to browse, not planning on actually buying anything and end up coming back with more than you can actually carry on the busy city trains.
It's also now the home of gatcha, apparently.
I was amazed by just how many gatcha machines now line the walls and occupy many of the store places in Nakano. There were always some, but now there are literally hundreds of the things spread across the walkway between station and mall, and within the mall itself. For those who haven't heard of gatcha, these are little capsule machines where you insert a relatively small amount of money into a machine (usually 300 yen – 500 yen, or roughly $3 – $5), spin a wheel, and a toy in a capsule pops out. Yes, this is exactly where "gatcha mechanics" in video games get their name from, but here it's not quite so exploitative since you're actually buying something with that money.
The toys tend to be good value as little collectibles, too. They run the gamut from popular characters in anime, manga and video games (they can be anything from small little charms to small figures), through to animals, miniature statues of pop-culture icons, miniature furniture, and so many other things that it's impossible to list and encapsulate just how diverse the stuff you can get out of gatcha is. Each gatcha machine will have a range of 5-6 of different toys in a "series", and so, you can either content yourself with getting one from that series at random, or you can take a deep breath, prepare to hand over some money, and try to complete the full set (almost certainly ending up with some doubles along the way).
I do have a theory why these machines, which have been around for decades, are now enjoying a resurgence in popularity. Part of it is that the quality of the toys is genuinely good and if the toys belong to a series or topic that you like (for example, you like rabbits and there's a gatcha machine of rabbits in cute poses), then you'll quite happily add the little toys that you obtain to your display cabinets back home.
But another part of it is that they are an enormously cost-effective souvenir. A Hatsune Miku figure costs, at the least, $20, and the best ones cost $200 if not (much) more. A cute little Hatsune Miku stamp or charm out of a gatcha machine is perfectly fine quality, and costs $3. Given that the entire planet is going through a cost-of-living crisis and people are being more circumspect about the little discretionary money they have, gatcha are a fun way to take something back from a trip to Nakano without blowing half the week's budget.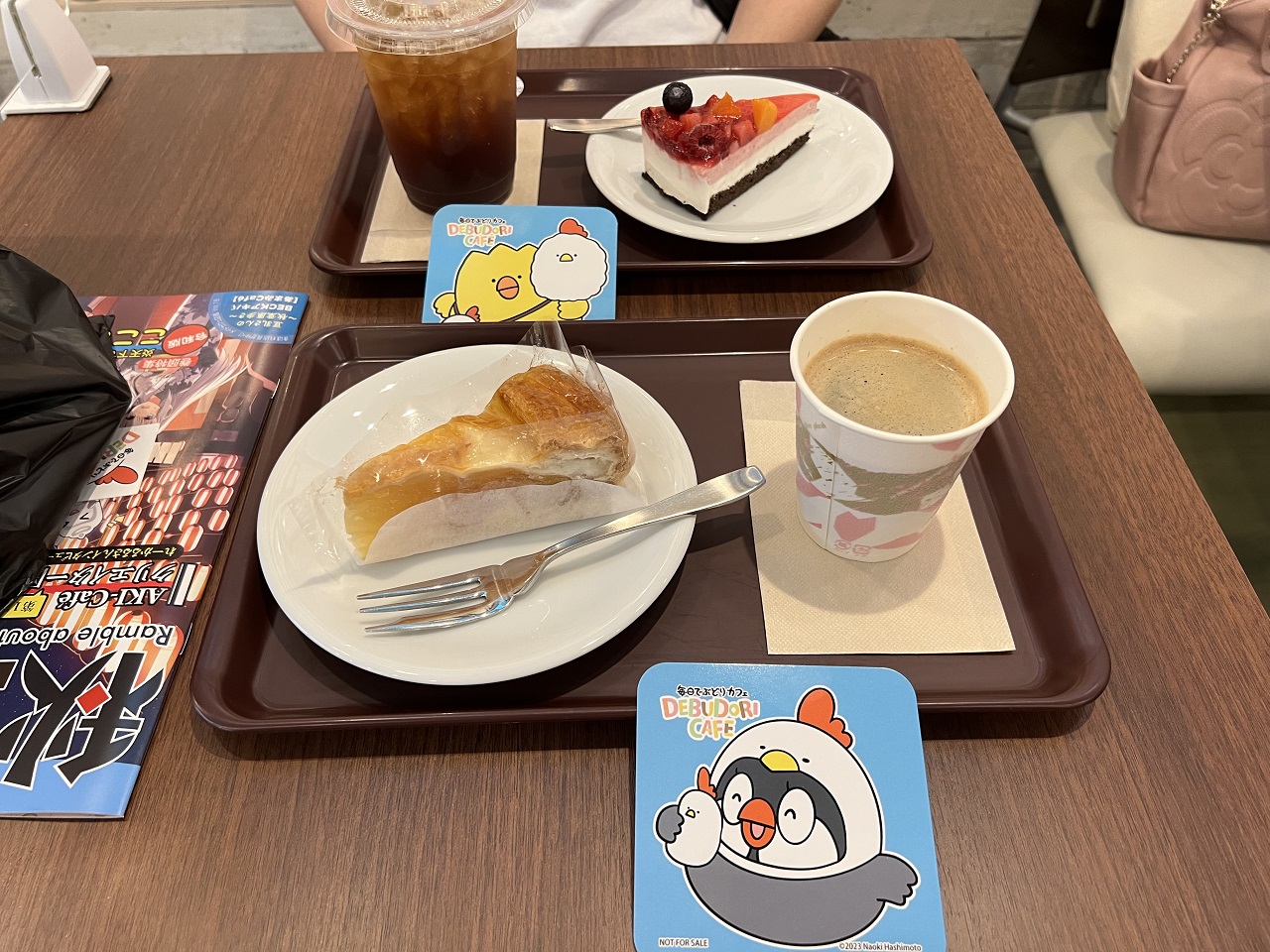 Putting aside the collections, Nakano Broadway is also a place for good eats. Inside the shopping mall itself there are several options. One of the most stand-out is Coffee Zingaro. This café looks vaguely like it might have been designed by a Japanese Andy Warhol for the way that it embraces a kind of colourful pop art. That's because the owner of Coffee Zingaro is kind of like a Japanese Andy Warhol. It has been owned and designed by Takashi Murakami. It also tends to be themed around various art concepts, so each time you visit you'll have a different experience. At the moment it's a gaming arcade café, so you can play retro games while sipping a melon soda or having a bite.
This is usually the café I visit on a trip to Nakano Broadway, because the colour and vibrancy inside does make it a stimulating experience. This time, however, I did something slightly different, because there was a pop-up-themed café to visit instead. There are actually two "events" running simultaneously at the moment. One is some virtual YouTuber that I didn't recognise. The other was themed after a popular Webcomic that my wife enjoys (Everyday Debudori), so we were there for that.
Themed cafés are great fun in Japan. While they tend to be somewhat expensive for the quality and size of food and drink, you also get all kinds of little gifts with every order, such as collectible stickers and drink stirrers, and in this case, after buying a number of menu items, you also got a little tapestry of this Webcomic. These are all little things that you don't find in stores, and so we usually end up at one or two themed cafés on any given trip to Japan.
Of course, if you're looking for more serious food, there is just about everything available in and around the mall, from great value ramen and Chinese food to Indian and Thai curry options, traditional Japanese sweets and many, many izakaya. It's all cheap, and all good. In fact, the most disappointing thing about Nakano Broadway's food scene is there is a McDonalds' there, and while it's one thing for Japanese people to use McDonalds', you always see it filled with obvious tourists in this very tourist area.
I mean… c'mon, people. You don't go to Japan, the world's greatest hub of cuisine and waste meals like that.
That aside, Nakano Broadway continues to be a true hub for subculture and counter-cultural shopping and one of the most delightfully eclectic and eccentric shopping locations in the entire world. Just do yourself a favour and don't get there until noon. A lot of the shop owners have creative ideas of when stores should be open, and if you get there early, you're almost guaranteed to walk past "closed" stores that are actually just not open yet because the owner hasn't rolled out of bed yet. Save yourself the confusion of figuring out which stores you have and haven't visited yet by making this a later-in-the-day outing.