WBSC eBaseball: Power Pros isn't quite what I was hoping for out of Konami. For the longest time, I have hoped against hope that the company would start localising its excellent baseball games again. I wasn't fussed which! Either the serious simulations or the eBaseball bobbleheads arcade titles would have been just fine for me. I know Konami did so in the past (to generally unfavourable reviews and poor sales in North America), but to the best of my knowledge, this is the first localised one in over a decade. This is inherently exciting, but at the same time, I do hope it's just a start.
There are a couple of positive things about this game. Firstly, I really like that it carries the WBSC branding. For those that aren't aware, baseball is indeed played outside of America. It's actually quite a popular global sport! I know it's hard to remember that at times, because Sony steadfastly refuses to acknowledge the world game despite having a stranglehold on global baseball games, but yes, it is a global sport. In fact, the "World Cup" – the World Baseball Classic – is happening soon in Japan. Konami carrying the branding of the organisation that manages world baseball gives me hope that there may well be more international competition games on the horizon.
It's also great to see Konami being so aggressive in its tactics to get people playing. WBSC eBaseball: Power Pros is $1 (or approximate equivalent, depending on where in the world you're located). You're not getting a full game like the other, unlocalised titles in this series, but you do get to enjoy everything about the basic baseball action, and surely this is an attempt to brute force an audience for the series' particular aesthetics and mechanics. There is every chance that it will find an audience, too, because the more streamlined pitching and batting systems make this a heck of a lot more accessible than Sony's baseball titles. This is more akin to Super Mega Baseball in terms of how it plays, and that game was so popular EA bought the studio.
So, really, what is most exciting about WBSC eBaseball: Power Pros is its potential and what it might mean for Konami in again looking at the global market for its baseball titles. The game itself is not the finest in the series, unfortunately, but that's only because it's so limited. The proper eBaseball titles have all the trappings that you'd expect of modern sports games, with the series' "Success" story mode being a particularly beloved component. They love that over in Japan, and this is a major sporting property there because of it, but it has been dropped for this game. All you can do in WBSC is create a team, play online (this being the major mode, with full and detailed rankings and leaderboards), and play offline against AI or humans.
In fairness, you can do a lot within that. You can create tournaments for up to eight teams, for example, and the competitive scene really is robust and intense. Really, WBSC feels like it comes from the N64 era of sports games where there really was only one "main" mode and basic multiplayer options. Go look at Mario Tennis or Golf on the N64 Virtual Console. There's not much more in them than there is in this title. WBSC is more than fair for the asking price, though it is true that it won't take long to want something more substantial too. After all, Sony's annual baseball release is just around the corner and Super Mega Baseball is still readily available. Both of these do have all the modern trappings you expect for modern sports games.
However, the thing about eBaseball is that it is a lot of genuinely good, clean, uncomplicated fun. The characters are nothing short of a delight in motion, and the mechanics are a near-perfectly designed and balanced riff on the baseball basics. For pitching, you select the pitch and then try and time the throw and hold the aiming reticule in the right spot for accuracy. For batting, you simply try to angle the bat with the location the pitch is coming in at, and swing at the right moment. As simple and "arcade-like" as it is, there's a lot of room to get very good at the game (as my 10-1 loss at one point demonstrates thoroughly – be scared when you run into people with Japanese names). Matches are just three innings at a time, so it's all about constant quick play rather than deep simulation mechanics.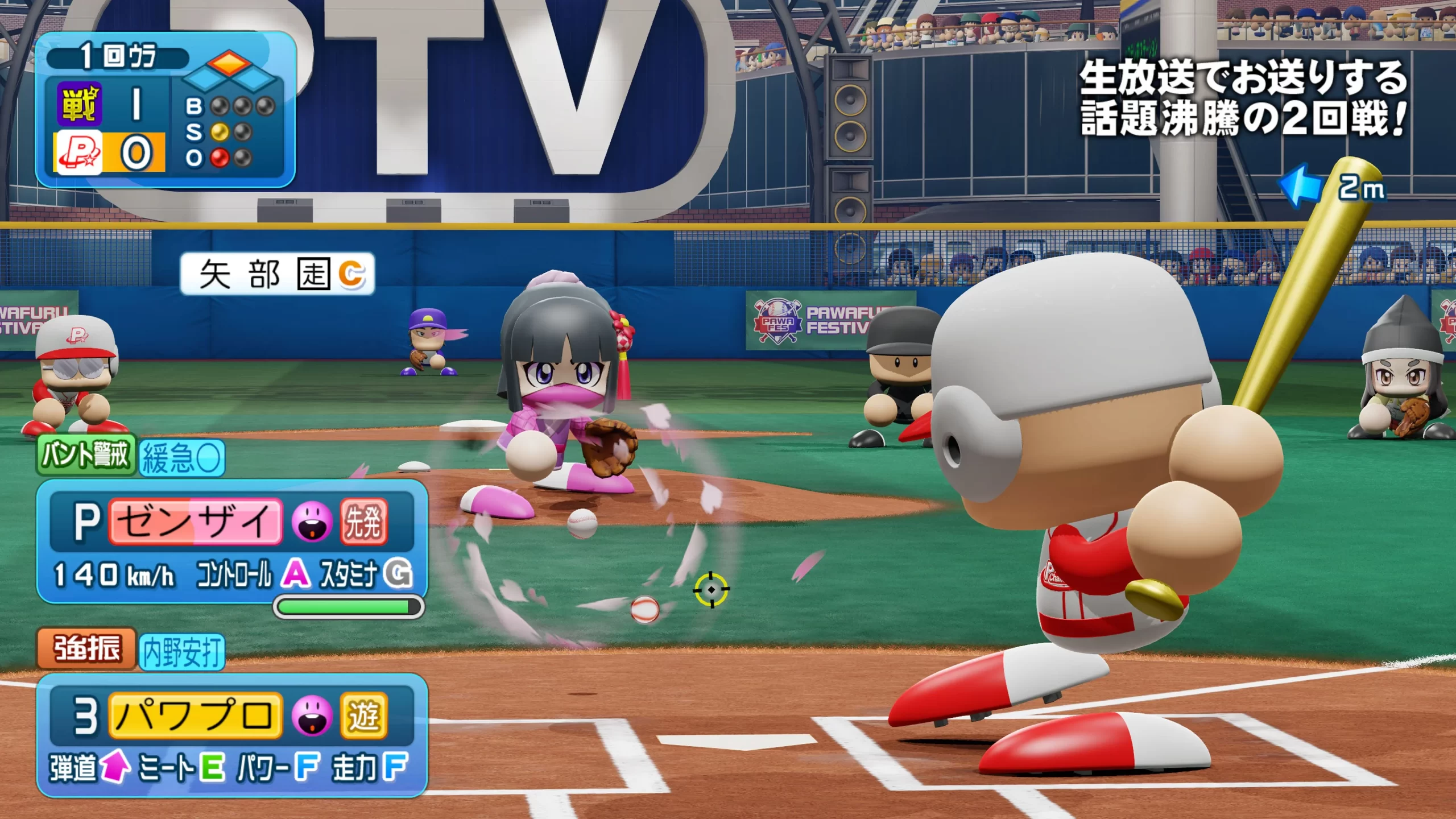 That's all it really needs to be to be worth your time and single dollar. Playing a bunch of matches in a row against random opponents online is a great way to spend an hour or two at a time. The online infrastructure is robust, matches are quick and sharp, and the time flies. You can't ignore that eBaseball is a bigger (and better) series than this, and it is disappointing that it's going to be the first introduction to it for a lot of people, but the fact it happened at all is such a positive sign of Konami's intentions for the future.