When Five Dates – one of the first (if not THE first) FMV games filmed and made 100 per cent remotely during quarantine – came out, it was at a time people were craving human interaction. It scratched that itch quite well despite those being fictional interactions. Its sequel, Ten Dates, moves away from online dating and brings us to dates at actual places in the outside world. I really liked Five Dates, and I had a lot of hope I'd feel the same about Ten Dates. Luckily, I was not disappointed!
The premise of Ten Dates is simple: Ryan and Misha, the two choosable protagonists, are two very single friends. And no, they're not into each other. Ryan and Misha's backstory is the same regardless of who players have chosen as their protagonist. Both sign up for dating apps separately (and unsuccessfully) and talk about it via video call (a nice link to Five Dates) before Misha tricks Ryan into speed dating. I'm not going to lie, it's always a bit weird playing a dating date when you're in a long-term relationship. But when the game is done right, like Ten Dates, it's easy to push that awkwardness aside because I'm so curious about the characters and what makes them tick.
Related reading: My review of Ten Dates' predecessor, Five Dates.
Players can choose to play as one person at a time, Ryan (Charlie Maher, best known for Black Narcissus and Conversations with Friends ) or Misha (Rosie Day, best known for Outlander and – this is a huge coincidence because this film is based on a book by a favourite author of mine, Lois Duncan – Down a Dark Hall). You'll always be able to play with the other (this makes me laugh because apparently I'm a 12-year-old boy) later on. Some info is set, like name and age. Players can select other information for a dating app, and these choices do affect who they are in speed dating; this information includes industry (finance, creative, etc.), interests (travel, spirituality, partying, etc.), and star sign.
There are five speed dates, narrowed down to two follow-up dates, and one final date. Ryan can date Kathleen, Brandy, Azalea, Toni, and Derek. Misha can date Jake, Bash, Ty, Lucas, and Hazel. It's all very heterosexual minus one male choice for Ryan and one female choice for Misha. If I could've changed anything about the game, it would have been great for them to have the same choices. I also understand the insane amount of video clips that would need to be shot and added to the game to facilitate that and in fairness to the developers, it may be too much. Perhaps they could have gone with six people, all can be dated by either Ryan and Misha? But "Ten Dates" sounds way better than "Six Dates," no?
The relationships screen is super detailed. Under each character are the numbers of their scenes that have been viewed, a list of five "tasks" to complete with them, and four sliders describing how they think of Ryan/Misha. The first three sliders are the same across the board: confidence, kindness, and humour. The four varies by character; for example, whereas Azalea is looking for openness, Derek is searching for charm. I hit a bit of a technical snag when trying to date Hazel through to the end, unfortunately: the game started hopping back to an earlier conversation, ignoring my previous choices, in a loop. It's too bad, I was very curious about her. Hopefully that will be fixed via a patch so I can finally see that one play out.
I'm oddly in love with the Ryan I've created with my choices. Like I've taken my perfect man and made those choices based on what I'd like to be told. I think that's what makes this sort of dating game seem so personal: it lets you explore what you want in real life. I'm drawn to the kind of person I aspire to be, or would want to be friends with. I definitely have favourites from the dating pool. Azalea is flirty and funny, and kind of… gothic? Kathleen is really smart, and I fell in love instantly as she was reading when I sat down at her table. That's the same reason I liked Hazel: she was reading at the bar! Jake is a very sweet, thoughtful teacher. Each date feels very intimate, even during speed dating when the time is limited.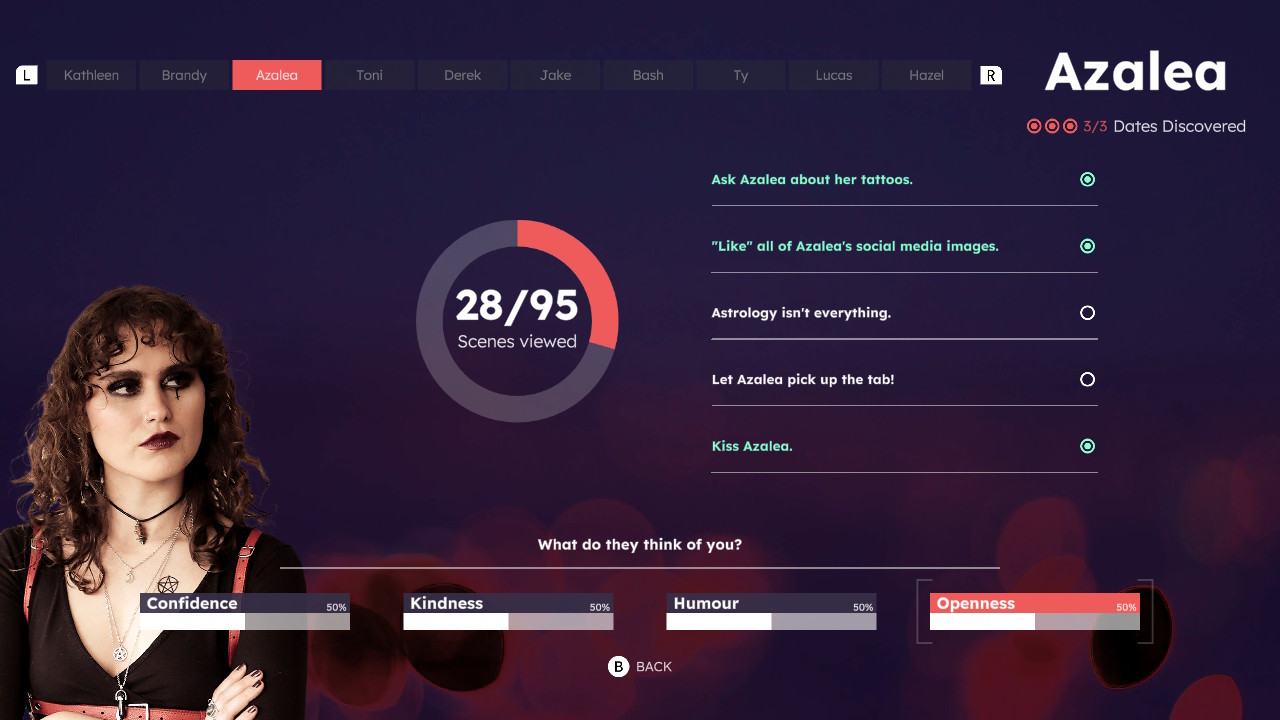 Ten Dates feel significantly more film-y that Five Dates. I think it's because it's no longer just on-screen dating, and the real world is represented through between-scenes montage collages of things like London, drinks, and people having fun. Despite the dramatically different setting, the game plays exactly the same as Five Dates. There's a conversation, then options for what to talk about next or to respond to the other person, which branches off. Your choices matter!
I'd like to take a couple of minutes to discuss Nintendo Switch-specific things. First, the game plays great. It's very smooth with no lag whatsoever, you can barely tell when one clip ends and another begins during a conversation. It looks great on the OLED screen, too. There is, of course, a lack of achievements; some people like it and some don't. I'm in between, as I use them to get as much as possible from FMV games. The nice thing is that the relationships screen helps direct me to what I may need to do to experience more from each person, so the lack of achievements isn't really a hindrance when it comes to experiencing the game as much as possible.
Whereas Five Dates was an essential quarantine experience in my mind (so was The Complex, filmed prior to the pandemic but oddly relevant), Ten Dates is an essential "let's get back out there and get on with life" game. It makes me feel like maybe I still have the ability, hidden very deep down inside of me, to connect with people in person. The two games are on-par score-wise while presenting very different life experiences. In Ten Dates, the characters are all relatable on some level, and the way relationships progress feels natural. The Nintendo Switch handles it very well, and I'd imagine the situation is very much the same on any other platform. All in all: play it! You'll fall in love.