Seagate has an expansive range of what it calls "special edition hard drives" – external storage devices that feature a character print on the front surface. Now, to say this upfront, you do pay a premium for the licensing. For example, I'm testing the Shuri drive, featuring the popular Black Panther character, and it's a 2TB, 2.5-inch FireCuda device that's about $30 more than a FireCuda without licensing. However, I'm going to say that if you're a fan of the particular property, it's actually worth it.
This is not a cheap sticker or lazy plastic print that Seagate has thrown onto a thin plastic shell. There's texturing across the surface, and the device itself feels solid and premium to hold. Additionally, the LED lighting effect under the surface when powered on adds to the aesthetic appeal. Seagate really has gone the extra mile to ensure that these special editions are a celebration of the property, and given that there are now not only Black Panther, but Star Wars, Spider-Man, Xbox and PlayStation-themed editions, chances are that if you're a gamer, there's going to be at least one of these that does have a favourite character on there for you.
The only question is whether it's actually worth paying for. I've plugged my Shuri drive into the PlayStation 5, to be my storage device for PS4 games. Consequently, it sits on the shelf next to the console, and I barely look at it. If I were to use it as additional PC storage it would be more prominent in my day-to-day workspace, but even in that situation do I believe there is an inherent value of $30 in having this character on my storage media? I'm not the world's biggest fan of Shuri (or Black Panther, or Marvel in general), so on a personal level, I wouldn't bother. I don't care for this drive, specifically, any more than any of the drives that I have that are plain black boxes (or have stickers I've stuck on them myself).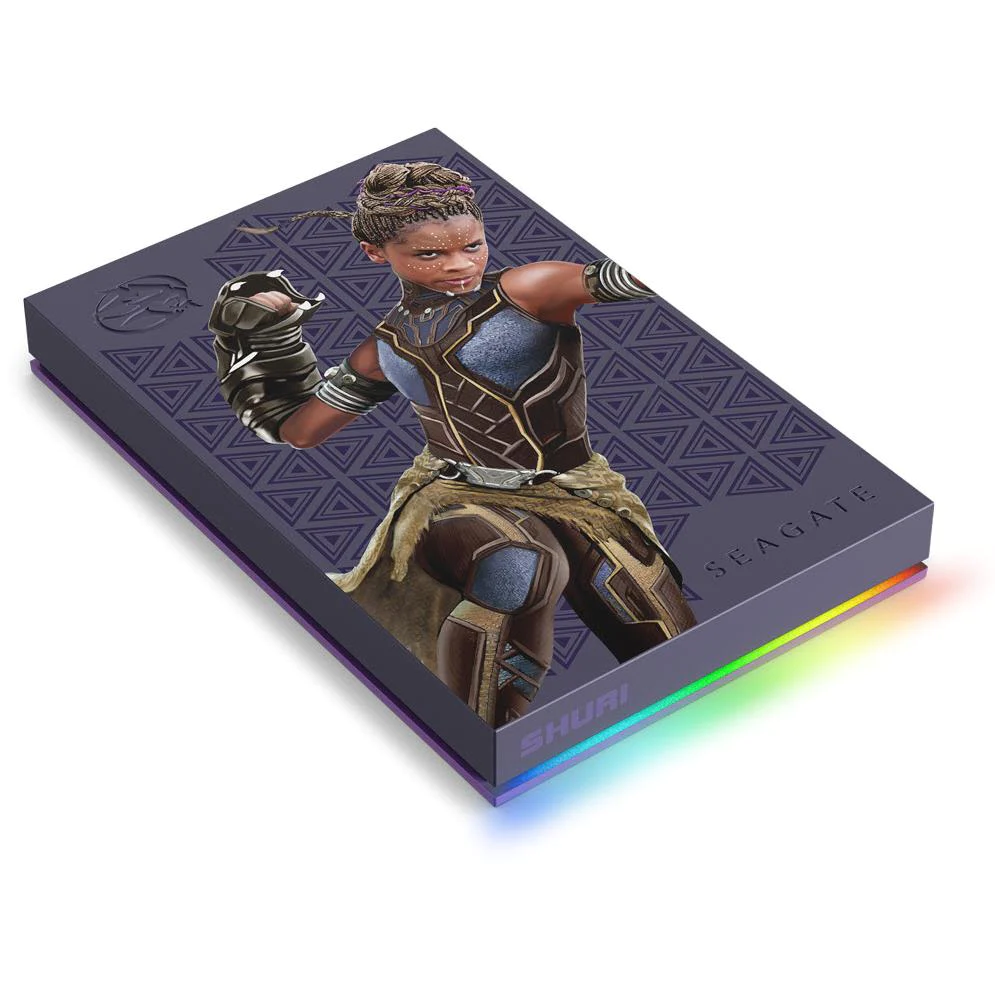 However, if Seagate were to produce a series that was licensed to something that I actually care about, I would be sorely tempted. If there was a Hatsune Miku drive, with the same customisable LED (so I could make the lighting turquoise like Miku's hair), then I could easily see myself grabbing one, because it would sit alongside the Miku figures in my workspace very nicely.
The device itself is exceptional, and Seagate is always a reliable choice for storage. In addition to feeling solid and robust, the FireCuda 2TB has a USB 3.2 interface for reasonably fast data transfer (around 130 MB/s for both read and write), and is fully compatible with both PlayStation and Xbox devices. You simply plug it in, allow the console to do the formatting, and you're ready to go. If you're planning to use it as PC storage, you can also take advantage of some simple backup and recovery software that Seagate provides on its devices as standard.
As mentioned I use it as PlayStation storage, and once you've formatted the drive to that purpose that is all you're going to be able to use it for. There is an additional caveat here that the PlayStation 5 doesn't allow the launching of PS5 games off external storage. PS5 games need the additional speed of the storage housed within the device, and wouldn't function properly off any external media. However, PS4 games are a different story, and by moving your PS4 games to this storage you can free up the internal data for just your PS5 library. 2TB is a large enough amount of storage to hold dozens of games, and is especially worthwhile if you're taking advantage of Sony's PSPlus subscription service and therefore have access to a lot of games.
Too often licenses are handled cheaply by tech companies. They're something that's cynically thrown on the package to sell a few extra units to suckers. Ultimately those disappoint the true fans of the properties, who carefully collect all the merch they can. The good news with this special edition series is that Seagate has put in the effort and actually engaged with designers and artists to make the device worthy of the license. You pay a premium, but get a hard drive that looks like it belongs next to the other merch that you might own. And, because the hard drive itself is also of very high quality, this is one of those times where paying a premium doesn't feel like an insult anyway.