We've got something a little different for you today – we don't often do interviews with folks from outside of the games industry, but the opportunity arose to have a quick chat with Glitch Productions, the Australian animation studio that has been turning heads with the quality of its Web animations.
The team's latest work is Murder Drones, a comedy/horror series that you can watch from the pilot episode onwards here. With there being so much interest in animation right now, across anime, cinema and streaming services, I was interested in getting the team's thoughts about where Australia fits in and how an animation studio ends up choosing YouTube as its platform of choice.
Glitch Productions CEO and Co-Founder, Kevin Lerdwichagul and Showrunner, Liam Vickers, were kind to answer my rapid-fire questions:
Matt S: In recent years it feels like the animation space has absolutely exploded and is now very saturated and very competitive. What do you think has driven that, and how can a studio like yours stand out?
Kevin L: That's definitely true and to be honest, we think it's a great thing for the industry. The explosion has largely come from the barrier to animation becoming lower and lower as software and education becomes cheaper and more accessible to anyone that has the passion to use them, plus more opportunities through places like Youtube to have your work shown to the world.
We're actually riding that wave right now, by focusing purely on the indie side of things – we aim to showcase talent that doesn't have to go through a big studio filter and deliver content that no one else can make right now.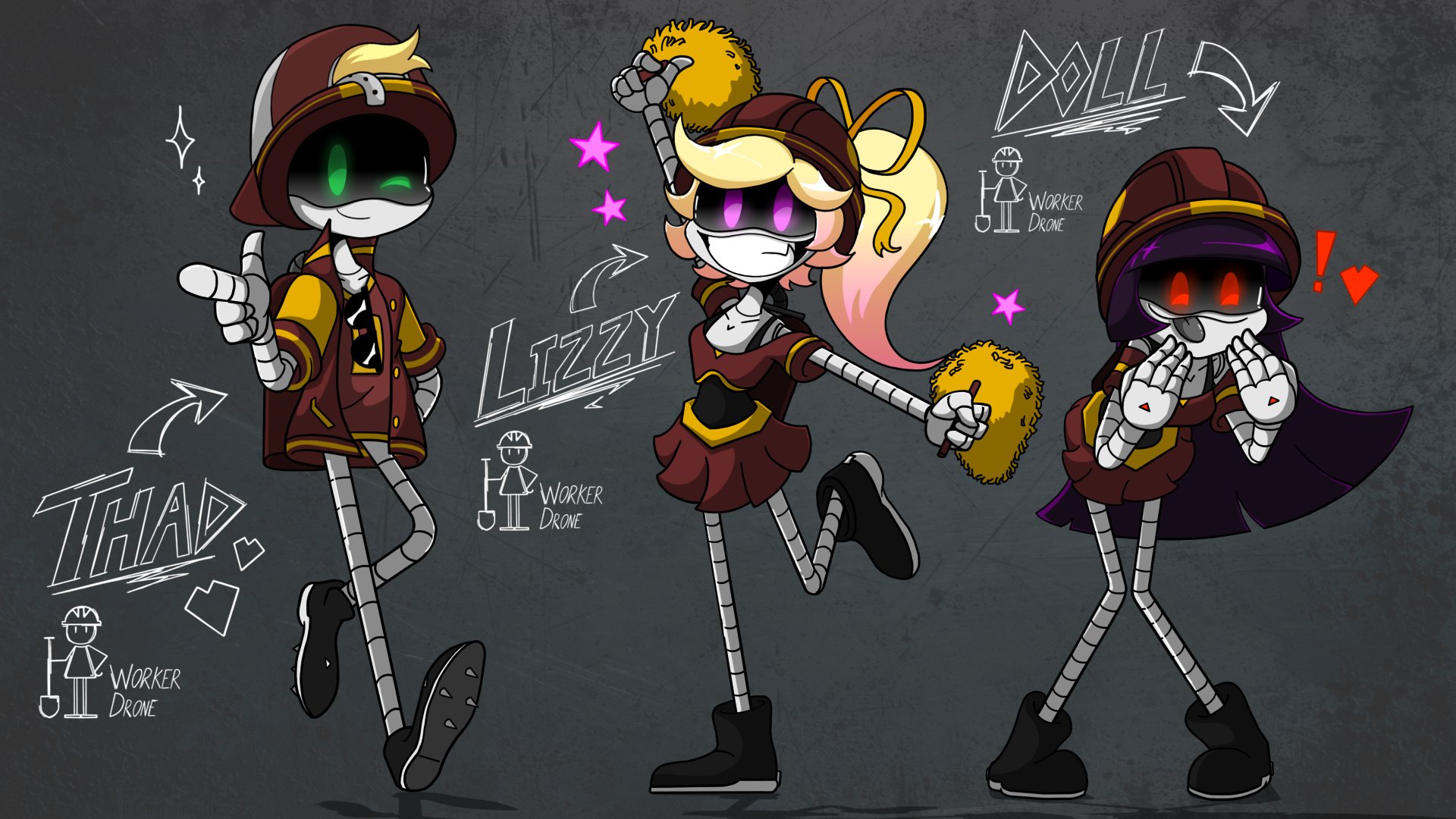 Matt S: Where did the inspiration for Murder Drones come from, and what are you looking to achieve with it?
Liam V: Murder Drones came from the types of shows I grew up with like Invader Zim and X-Files, just weird stuff with a bit of sci-fi and horror mixed in. I really wanted the show to be my love letter to the horror genre, plus carry through all those spooky ideas that maybe wouldn't make it through on a mainstream service.
Matt S: I notice that you've worked with everyone from game companies to anime distribution platforms. Are there differences in how these sectors work, and how can you establish a studio to work across them?
Kevin L: Yes, every platform is different, even within the same industry and sector, but there's still value for people with new ideas and unique voices. Our studio was established as a true passion project among ourselves, coming out of a Youtube channel that we put everything into, and I think that shows through.
Matt S: I wouldn't know what it's called if it has a specific name, but there's a common aesthetic style across a lot of modern animation, With everything from Pixar and Dreamworks to Warcraft and Fortnite sharing a stylistically similar approach to character design and worldbuilding. Murder Drones also has a similar visual theme to it. I was wondering if you had a theory on why the western animation industry seems to have settled on this style at the moment?
Kevin L: There's a lot of different factors, but one is simply that it works at the moment. Big shapes lead to readability in animation, and it's just a trend that industries go through at any given time.
Matt S: I noticed that you were able to secure funding from Screen Australia. How important was that to the studio and how receptive is Screen Australia to animation as a medium?
Kevin L: Screen Australia gave us funding for our very first series which was called Meta Runner and it really made the difference in being able to give the studio the boost it needed to get airborne. Screen Australia is really receptive to animation at the moment because the local scene is experiencing a bit of a boom, and developing it is a really big goal for them at the moment.
Matt S: Australia has a long and proud tradition in animation. What do you attribute that heritage to?
Kevin L: I think it has a lot to do with our geographical location. Because animation can be done remotely, it's a convenient industry for someone to be able to get into without having to fly across the world. Our isolation also means we've developed quite a bit of a culture and pool of actors to make and star in these.
Matt S: Digital distribution has meant that there has been an explosion in the number of ways you can get your work out there as an animation studio. How did you decide on the approach that you've taken?
Kevin L: We've seen the way the industry has been turning and seen that Youtube is really the future of entertainment. Streaming services have had a lot of issues recently with subscriptions and payments, and the tide is turning towards the faster-paced and free services that Youtube can do.
Matt S: Is Murder Drones a one-off series, or is there further ambition from here to continue growing it?
Liam V: We can't give any solid plans on this yet unfortunately, it's all being kept a little close to the chest for us.
Matt S: What are your long-term goals for the studio?
Kevin L: We want Glitch Productions to be the real leader globally in independent animation. I went to MIPCOM recently, which is a big animation conference in France, and so many studio heads were wondering how we were able to output shows of our quality on such a low budget, and that's because we've developed these tools and pipeline that ignore old standards and instead used things that work for us. And now we're seeing a bunch of studios starting to move towards the things we had already figured out two or three years ago.
Matt S: Finally, is there any particular piece of animation that has particularly inspired you, and why?
Kevin L: Into the Spider-verse was a life-changing movie because it really broke the mould in terms of what animation could look like, and the kind of tone it could strike. It was both mature, but also something anyone could enjoy.