I've been in love with the concept of Bear & Breakfast from the get-go. A bear? Running a B&B? Perfect! However, the bear management adventure game has had some complaints since launch, especially for the Nintendo Switch version of the game. Today, the developer (Gummy Cat) shared its vision for the game's future in the coming months. Its staff has been catching their breaths post-launch, but they're ready for more beary action now!
Before I get into the update details, I'd like to talk about what exactly the game is. It's describes as a laid-back management adventure game. Play as a bear, Hank. Him and his friends discover an abandoned building in the woods and decide to turn it into a bed-and-breakfast to earn some cash. As the business expands, the mysteries of the forest seem to get deeper and deeper, until Hank is knee-deep in it. Players build and personalize their own inns with guest rooms, bathrooms, parlours, and more. Each room can be individually customized down to the fixtures. Keep guests happy to keep your reputation up, attracting more gusts.
The developer has medium- and long-term plans for Bear & Breakfast. Some are pretty set in stone, others are still loosey-goosey.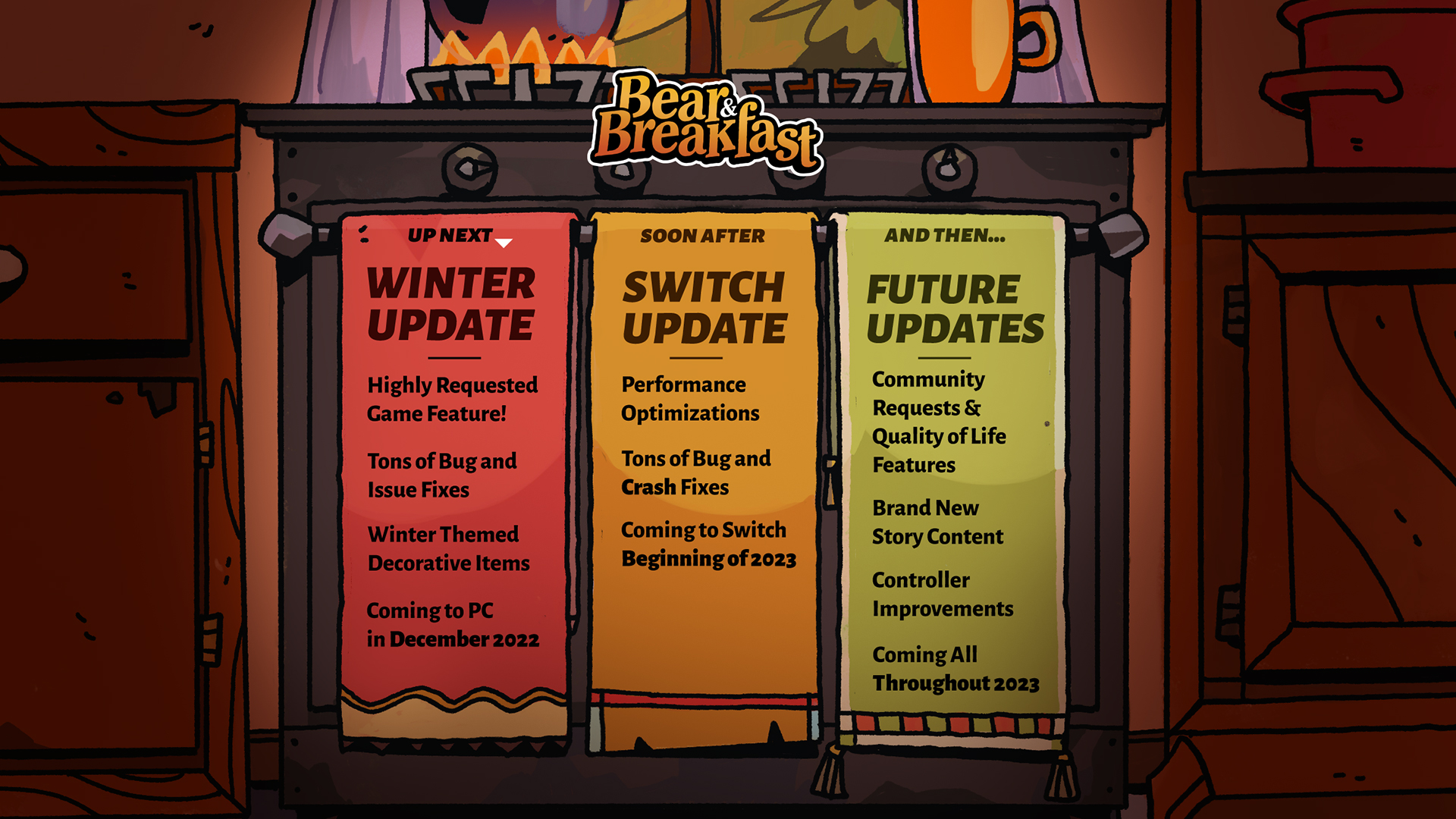 During next month, December 2022, the first major update will launch: the Winter Update. It will be released for PC and include loads of bug fixes, a "highly requested" feature (oooh the mystery!), and winter-themed decorative furniture. Soon after that (there's no announcement past "soon,' sorry) will be the Switch update. There have been a lot of reports of crashes and bugs on Nintendo Switch, and this update aims to squish them.
2023 will also be a pretty big year for updates. Ideas include more community requests, quality-of-life changes, new story stuff, improvements to controller support, and more. The eventual goal is to have all versions of the game on the same patch, so anything coming to PC will eventually be coming to Nintendo Switch as well.
Developed by Gummy Cat and published by Armor Games Studios, Bear & Breakfast is currently available for PC via Steam and Nintendo Switch.