Wales Interactive is easily one of the greater FMV game publishing companies right now; very little is released that I don't want to get my hands on as soon as humanly possible. Once I do, I play them. Repeatedly. Generally, at least five times, then however many times it takes to sweep the trophies/achievements. Needless to say, I'm excited for an upcoming action-adventure interactive movie. Mia and the Dragon Princess. Described as "an offbeat action-adventure," the game is developed by another shining star on the FMV scene, Good Gate Media (Five Dates, Who Pressed Mute on Uncle Marcus?).
Plucky barmaid Mia dreams of adventure, but would never take action to match these hopes; she feels too responsible for her workmates, who she considers a surrogate family. So she stays on at a job she doesn't like, living a life she doesn't want. A lot of people have been at a similar place in life. I know I have. It can feel like every day is the same, and that the people relying on you do so a little too much. A mysterious woman turns up at the bar, clearly afraid and on the run. Mia takes her in, trying to discover the woman's identity. What she didn't expect is that adventure is just around the corner: an adventure filled with intrigue, mystery, and danger. A group of no-good thugs led by a man named Walsh turn up at the bar, taking Mia and her coworkers (as well as some customers) hostage. Mia's boss is injured, and the entire group ends up on the run battling for their lives.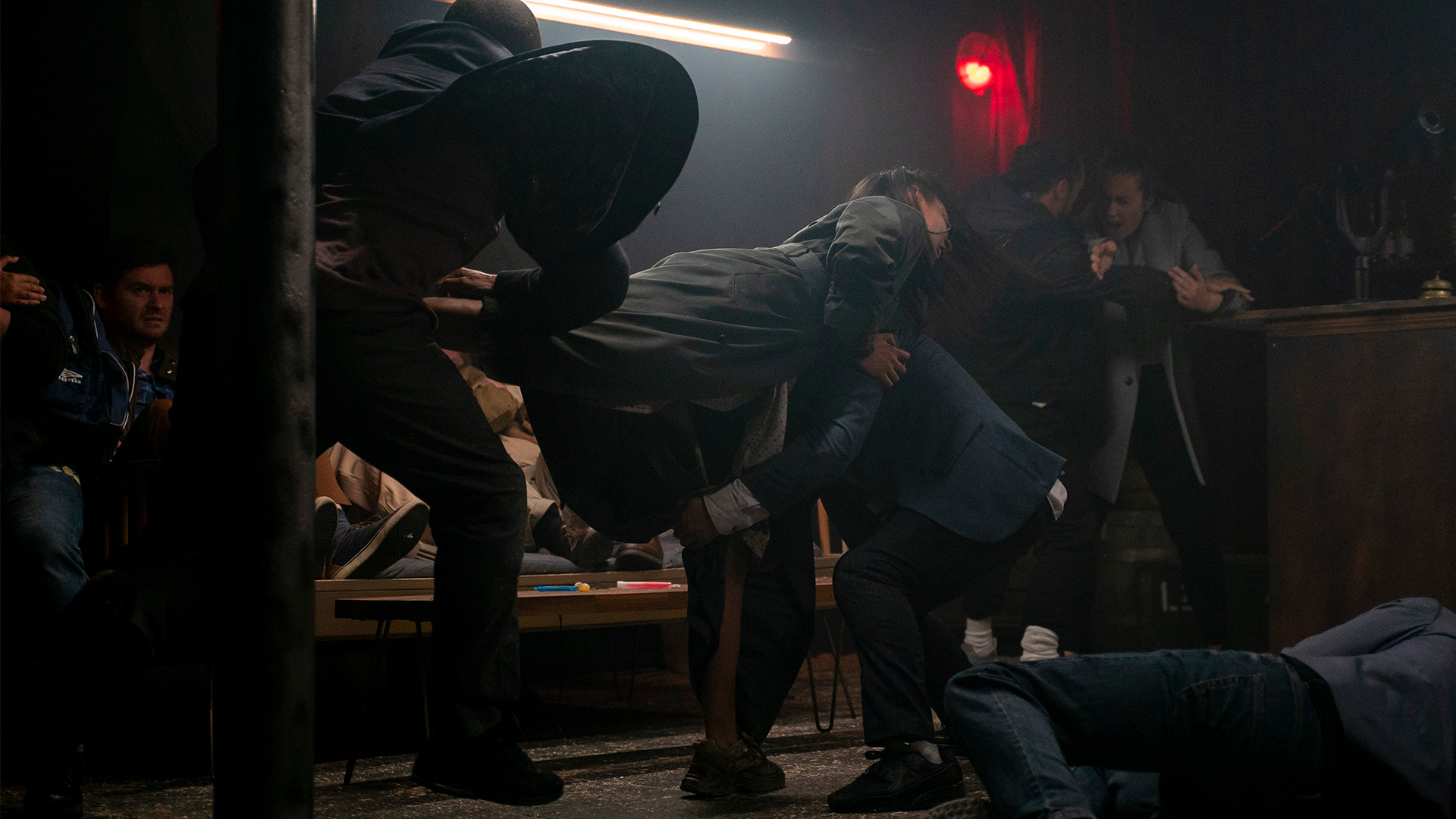 Players' choices along the way will guide Mia through the adventure and determine not only her fate, but the fate of the entire group. That's a lot of pressure for a lone barkeep! Interactions will eventually lead to more knowledge regarding the mysterious woman. However, Mia's dealings with the rest of the group will also have an impact on her, so every choice becomes one of utmost importance. Real-time attribute tracking evolves based on choices and influences the story, and there are ten different outcomes.
The game's cast and crew is stellar. It all starts with action designed by world-renowned fight coordination Marcus Shakesheff (WonderWoman, Hanna, Guardians of the Galaxy, Game of Thrones) and fight stunts by Taekwondo instructor Aaron Gassor (AKA "Ginger Ninja Trickster"). Mia and the Princess Dragon stars Paul McGann (Doctor Who, Alien 3, Withnail & I), Brian McCardie (Time, Rob Roy) and MyAnna Buring (The Witcher, Ripper Street), Dita Tantang (a Black Belt in Chinese Kickboxing), and Noa Bleeker.
Developed by Good Gate Media with Dead Pixel Productions and Wales Interactive, and published by Wales Interactive, Mia and the Dragon Princess will be released for iOS/Android, PC via Steam, PlayStation 5, PlayStation 4, Nintendo Switch, Xbox Series, and Xbox One in Q4 2022. This is the first of three announcements from Wales Interactive regarding interactive movies, so stay tuned – I'll be here with updates when they drop!