The week is about to get very, very hectic when it comes to gaming showcases – despite there being no E3 this year – but today we only have one showcase to focus on. Black Voices in Gaming is a non-profit created to highlight and support Black game developers, and it's really great for it to have a place to shine this week. As usual, it has collaborated with Guerrilla Collective for this broadcast. It is cohosted by Destiny from Freedom Games and Derrick from Walking Oni Games.
Adam Kareem, Protodroid DeLTA
We begins with an interview with Adam Kareem, the creator of Protodroid DeLTA, a 3D action platformer heavily inspired by Mega Man X and set in a solar punk world. He got his start making games by playing games, then realised he might be able to make what he wants as well. Serious kudos to him, because I play a lot of games and don't have nearly enough confidence to make that jump. And he has an announcement to make: he recently signed a publishing deal with Humble Games for Protodroid DeLTA!
They spend a moment speaking about the Black Game Developer Fund. Humble has been helpful and resourceful, supporting Black developers with this fund.
An interesting tidbit on the game: it has a female protagonist! He talks about a lack of Black representation in game rosters, and specifically references Mega Man in particular as only having three female characters across dozens of games. While designed the characters, his daughter actually looked at his work and said "dada, that's ME!"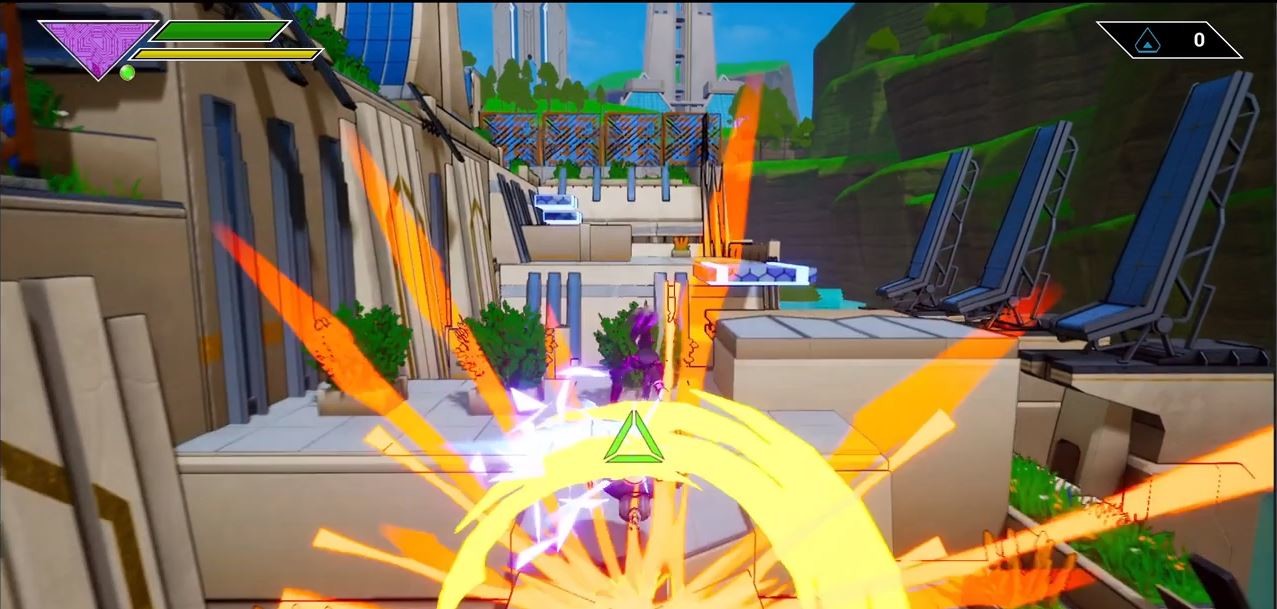 As Kareem was designing the game, solarpunk was a major inspiration. It's basically the opposite of cyberpunk; set in a future where technology and humans are doing great together. He talks about how common it is for male characters to have full armour, while female characters are basically naked. Protodroid DeLTA changes that, making clothing part of the characters' personalities. Despite all of the protagonist's armour, she still look feminine – yes, it's possible!
This guy gets me: he's terrible with FPS games. Protodroid DeLTA is different, and not just because it's third-person. All players need to do is jump and shoot. There's no momentum, she will do exactly what the input is. Derrick is playing as this conversation is happening, and said the environment and opponents are challenging, and the gameplay is great.
Scott Popular, Ninjaman and the Six Gold Chains
Up next is Scott Popular, creator of Ninjaman and the Six Gold Chains. The game is set in a world inspired by Atlanta and Tokyo. The music is as if you could play the game in a club, meant to uplift people. The game is basically about shooting love and making people happier than they were before. Again, Derrick is playing, and he says the game gives off good vibes. Popular is happy to incorporate actual businesses, etc. into his game through collaboration.
Development started in Japan, right before the pandemic hit. The character is based off the logo of Popular's podcast. What we're seeing being played is about a ninja collecting fruits and shooting zombies until they turn into strippers; then the strippers are returned to the club. It actually looks really fun to play, which I wouldn't normally think based on the description; I'm grateful to be able to see it played like this! Everybody who helped Popular work on the game has been immortalised in the game. This includes a couple of friends who have passed on, which makes their presence incredibly special.
So far we've only seen a ninja, a Black bouncer, and white strippers – but Popular promises there are more Black women in the game, as requested by his sister. It's important to see Black women in spaces they aren't normally seen, and that includes video games.
Beloved, 5 Force Fighters
We turn to a trailer for a another game. 5 Force Fighters is a flashy 2D fighting game with some great music (even Destiny notes this). There are some sound issues, but I'll do the best I can to cover what's said. Beloved started the game when he was 19, he was working full-time and financially supporting himself and his siblings. His brother was drawing, and Beloved was inspired by the art and decided to make a game based on it. My sister and I would never, so that's impressive on its own. This is Beloved's first game.
Destiny sees some Street Fighter in 5 Force Fighters. The game actually started as a platformer but that didn't work out, so there wasn't necessarily a specific inspiration but it definitely ended up resembling Street Fighter (perhaps subconsciously).
Kahlief Adams, Spawn on Me (podcast)
Spawn on Me is now nine and a half years old, and is one of the premiere podcasts about Black influence in video games. One of the goals is to bring Black developers to the forefront, because they are already occupying that space but it's not often spoken about.
Jordan Scott, Arbiter
Arbiter's trailer is enthralling, I could watch the graceful movements for a very long time. It is a 3D action game. Scott has been making fan games for about ten years, but is now ready to move on to something all of his own. His schooling was actually developing games. Arbiter has been inspired by Kingdom Hearts and Devil May Cry; Kingdom Hearts is what Scott grew up playing, so he was inspired by how accessible it was in terms of controls, etc. The combat system in Devil May Cry upped the ante. There are also anime influences, effecting character design and the narrative style.
Demonic spirits have arisen and have cornered humanity. The arbiter was defeated, and all of those spirits were released. Two spirits decide to help the humans as they did with the arbiter, giving them powers so they have a chance to fight back. They travel the world to hunt down spirits and steal their powers. The world doesn't have much technology, and the people are very community-focused.
Scott's background is in animation, so he puts a lot of focus there. The money he got from the Black Game Developer Fund was used to help make the protagonist transform. Characters and enemies share effects, as they have the same power source.
The Trailers
From Waking Oni and White Thorn Games, Onsen Master is a hot spring customer strategy game about healing.
Developed and published by Playtra Games, Grid Force: Mask of the Goddess features grid-based, real-time, bullet-hell combat. It will be released for PC via Steam, Nintendo Switch, Xbox Series, and Xbox One on August 11, 2022.
El Paso, Elsewhere is about fighting werewolves and vampires in a reality-shifting motel. It is a love letter to classic shooters. It is developed by Strange Scaffold.
BPM Boy, developed by Retro Ninja is a Physics-based platformer. Save the music, save the galaxy.
Samurai Zero's trailer starts by telling us, "Even in the darkness of night, the moon is always shining." It is a third-person tactical hack and slash game set in the fantasy world of Edo. The game is developed by Neo Interactive.
Watch the whole showcase