Relayer is God Wars, but located in space. That comparison isn't going to help you if you were one of the many people that unfortunately overlooked God Wars (and therefore missed one of the finest tactics JRPGs ever), but if you imagine a heavily narrative-driven fantasy adventure, backed by traditional tactics JRPG action, then you've got it. By taking that and setting it in the vastness of space, Relayer has one more thing going for it: an enormously cool aesthetic.
As a robot-driven sci-fi thing, the game is somewhat akin to Super Robot Wars, sans the fan service of so many licensed guest appearances. That actually works to Relayer's benefit as far as its cohesiveness is concerned, as the writers and designers were able to forge Relayer to have its own identity, story, and characters. You'll be spending a lot of time getting to know those characters, as cut scenes and narrative exploration can run very, very long. For an example, one night, at about 11:30 pm, I put this on at the end of a rather long day doing everything else I do at DDNet. I figured that I'd play through a mission or two before bed. First, though, I needed to watch a cut scene, so I put the dialogue on "auto mode," and settled back. It was 12:30 before I picked up the controller for the next battle scene.  In this regard, Relayer is most akin to Utawarerumono, in that it is as much a visual novel as it is a tactics JRPG. While the balance does get better once you can spend time doing training missions and other such things that don't need to be bordered by cut scenes, prepare yourself for some very lengthy cut scenes every time you want to progress the story.
I don't mean this as a criticism, however. Relayer does tell a consistently fun and, at times, interesting story. It is very anime in tone and approach, and I dearly wish that I could enjoy the Japanese voices rather than have to listen to the English dub, but as pulpy space operas go, this one is characterised by a good ensemble of characters and solid moments of drama.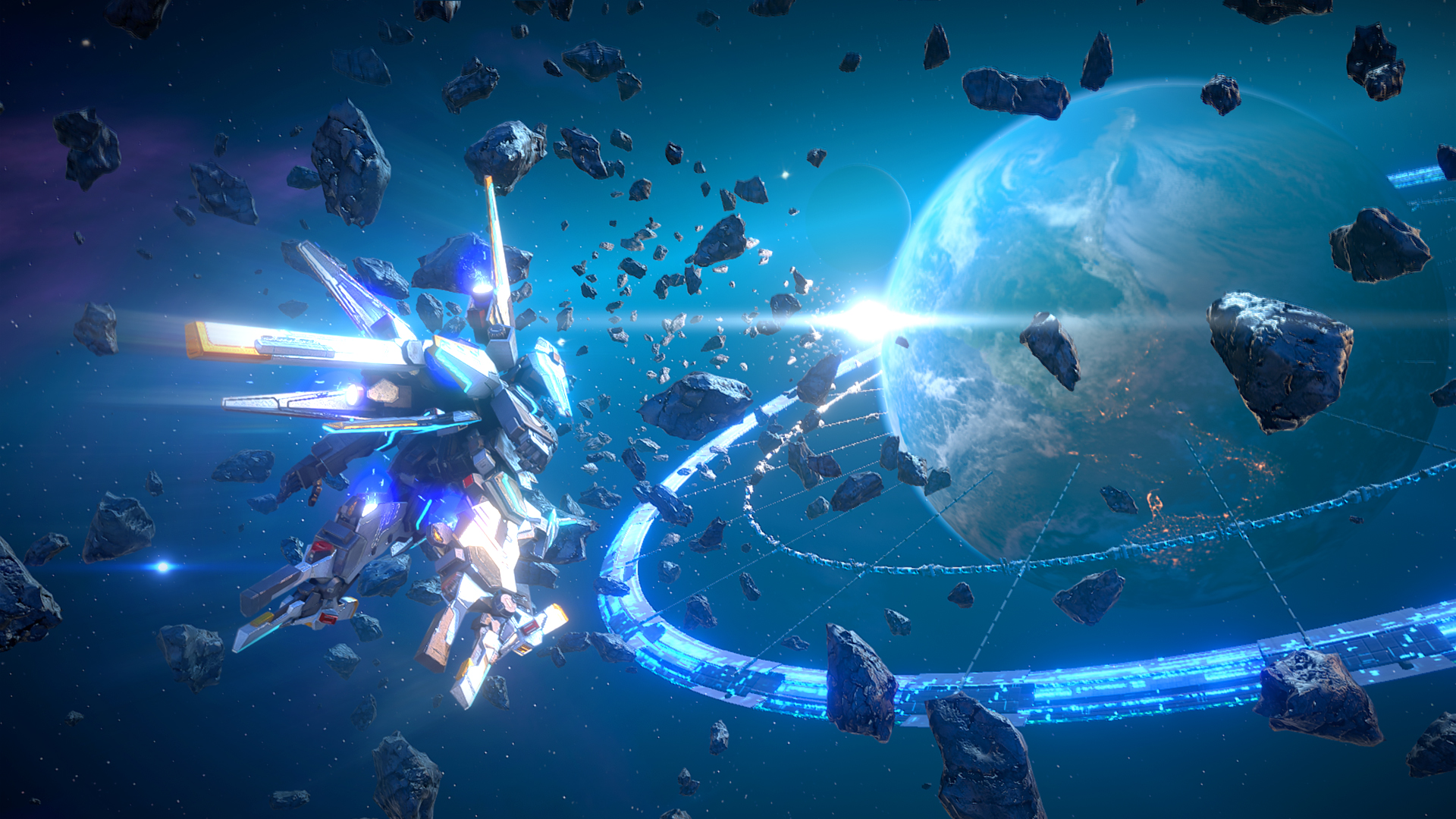 Relayer opens with two sisters being separated by a gravity disruption that hurls one of them into the air (and, as her grounded sister assumes, her death). However, that sister is soon revealed to have been rescued, and has joined a nasty force of beings – the Relayers – that are committed to the destruction of the universe. This sister is now consumed with rage for her near-death experience, and channels that towards her sister, and humanity in general. The other sister – the protagonist – needs to find a way to put a stop to her sibling's murderous rampage. As she's one of the fabled "star children," she also joins a group, only this time it's one that is dedicated to saving humanity. These are rare humans that can pilot massive robots to fight back against the Relayers, and they are desperately working to stem the nihilistic Relayer wave rolling over them.
It's anime Mass Effect, yes, but it also doesn't take long for the plot twists to start coming in thick and fast and subsequently challenge those initial assumptions that you might have. At about 60 hours in length, you would hope that Relayer told a good story to justify its length, and it does. It's unashamedly pulp fiction, but the excellent character writing and dynamic flow of the plot make for a good-time page turner that's difficult to put down. Even at 12:30 am after an exhausting day. Like the best pulp fiction, there are plenty of flawed heroes, shifting allegiances, betrayals and big emotions, and it's all glorious, set against the backdrop of intergalactic warfare.
Just as the narrative structure and themes of Relayer borrow from a range of different sources and don't really try to add anything to the package, so too does the gameplay, which is a steadfastly traditional example of the tactics JRPG genre from end to end. Each character has their role on the battlefield (some in melee, others ranged, some tanks and other support or glass cannons), and your goal is to outmanoeuvre and slowly whittle down your opponent's numbers. There are some missed opportunities with this setup, to be sure. When people play mech games they generally want to see a lot more customisation than they get here. You have the limited ability to change equipment and deal with a skills tree for each character, but it's hardly the free-form creativity of other mech games. That's said, what is there all works perfectly fine, and is nicely balanced to land between accessible and challenging.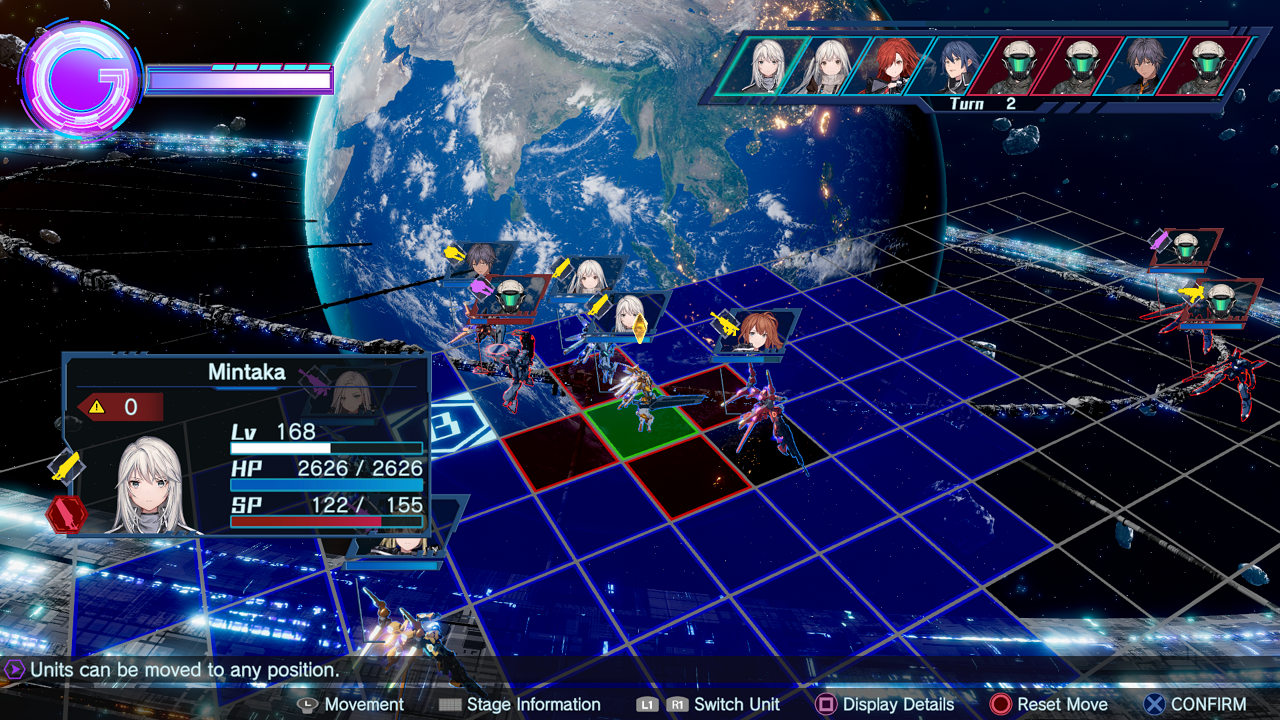 Like the better tactics JRPGs tend to do, Relayer rewards good movement around the space, and it does this by providing a bonus to damage when you have two of your units flanking one opponent. This "backstab" does more damage and prevents a counterattack, which is important given that offensive capabilities tend to trump defence, and so counterattacks can devastate a unit's health. Meanwhile, unlike (most) tactics JRPGs there isn't that much terrain to account for in Relayer. Certainly, there aren't elevations to allow units to attack from behind, and there aren't generally many obstacles that prevent your forces to move around freely, so being able to manoeuvre "pieces" to protect the weaker ones while also setting up those flanking opportunities is the key to success.
What Relayer does absolutely spectacularly is make those battles look like something straight out of a big-budget space action anime. Whenever one unit attacks another, you get to watch a fairly lengthy cut-scene that shows the two units dodging, diving and firing at one another, until finally an attack lands and the unit takes damage. These are not interactive and can't be altered (think of them like the Fire Emblem one-on-one battles, but at a much greater scale), and a really just an aesthetic flavour. You can turn them off if you want to speed things up, but I was never tempted to in my playthrough. They add too much fun energy to the action.
The only real downside to Relayer comes down to an irony. The vastness of space is actually a creatively limiting setting for a tactics JRPG. Visually, you can always have different planets in the background, but other than bits of rock and debris, you're not really able to create interesting battlefields. Similarly, when you are restricted to a small little community of characters on your spaceship, the ability to provide interesting, varied and character-driven side quests or distractions, as you'd see in something like Witcher 3 is actually more inhibited than you might think. These are challenges that are not impossible to overcome (see Mass Effect), but the developers of Relayer clearly didn't have the budget available to go that far. I do think the team has done what they can within the creative limitations of that setting and their budget, but I also think that as far a gameplay experience is concerned, Kadokawa's previous work on God Wars sustains itself better than Relayer does.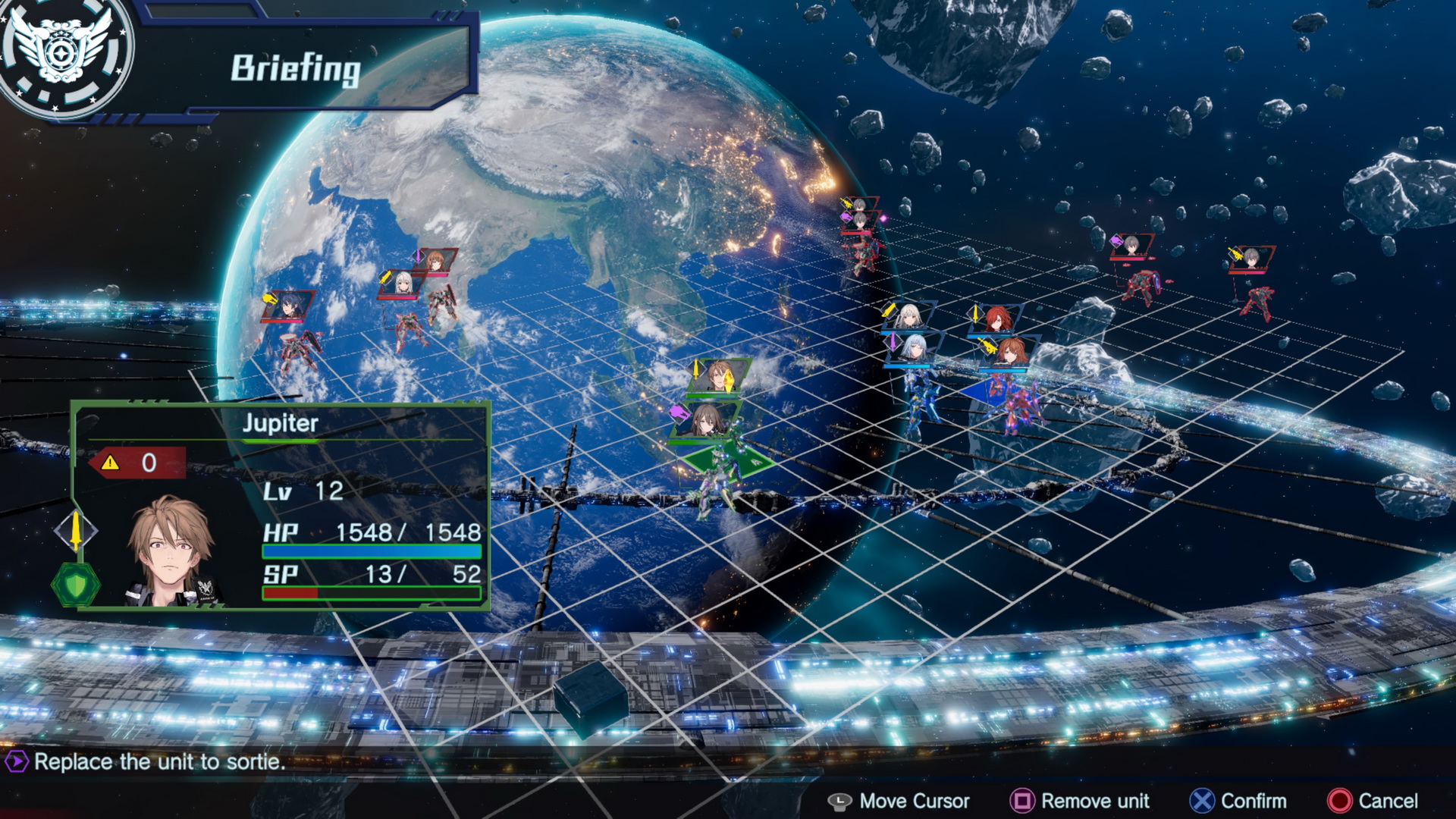 Relayer gets so much right. It's gorgeous on the eyes, the narrative is twisty and fun in the way that the very best pulp sci-fi can be, and the traditional tactics JRPG action is well-executed and clean. It takes such joy in what it is doing that I can't imagine there will be many people that walk away from it without a smile on their faces. While it might not do enough to stand out as one of the greats of the genre, it is more than worth your time, especially if you've ever looked to space and wondered just what tactical warfare up there might look like.