Last week Nintendo and Fujifilm had something exciting to share; a new partnership that would allow people to directly print out their favourite digital photos (i.e. screenshots) from the upcoming New Pokemon Snap using the instax mini Link. The mini Link is a tiny, pocket-sized printer that churns out Polaroid-style photos directly off your phone, and it has been on the market for a while, but this new arrangement means that, come Friday, fans will be able to set up custom Pokemon, Animal Crossing and Mario borders for their photos.
A printer that specialises in printing game screenshots is exciting stuff, worthy of a press release, but the big dirty secret is that you've actually always been able to print out your Nintendo Switch screenshots using this system. The printer has been able to do that since day one, however "undiscovered" it has been as a feature, and therefore the big new announcement is really just a special Pikachu-skinned version of the printer, as well as some optional themed borders for the photos. So, credit must go to Nintendo and Fujifilm's marketing teams, because in making this announcement, they've also pointed out that the mini Link has a function that is valuable to me, a person that takes a lot of screenshots as I play games but hadn't really thought about this application of the printer previously. Now I'm the proud owner of the instax mini Link, and even before I've got my hands on New Pokemon Snap I love this thing.
Printing is done via a simple process. The Nintendo Switch can produce QR codes for your screenshots, which allow you to transfer them from your Switch to your phone. You simply scan the screenshots into your phone via the aforementioned QR codes, and then send them, via a free Bluetooth-powered app for iPhone or Android, to the mini Link printer, which then automatically prints them out. Note that there's no ink involved (since the printer uses the same basic technology as polaroid photos). To operate the printer, you simply make sure the battery is charged up, load up some paper stock, and turn it on. While we are talking about using it for printing screenshots in the context of this review, of course you can print any image that you've got on your phone to the printer, it's by no means a dedicated device. Indeed, the original intent of it was to print out photos taken on your phone. It's just a happy coincidence that it does screenshots so well.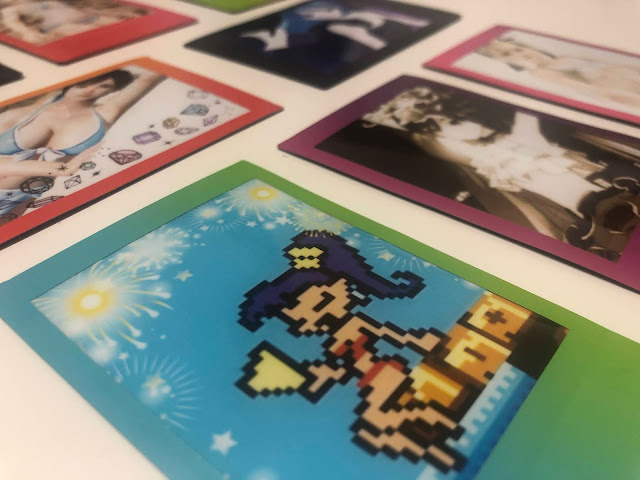 In the app, you can play around with cute little frames and designs, much like those popular photo booths that you find in arcades and theme parks. Currently, the app hasn't been updated to include the Pokemon options that Nintendo and Fujifilm were making a big deal of last week, but there are enough non-Nintendo themed ones to have fun with already. The app also includes some basic image editing features, like being able to crop the screenshot/photo, change the exposure and contrast, and run the image through a handful of filters. These are all standard features for photo apps and social media sharing, but give you enough control to ensure that the "polaroids" that you print will look good.
Printing is fast. The time from the moment that you hit the "send" button on the phone to the point that the print comes out is just a few seconds, and then it takes just a few minutes more for the image to appear on the "polaroid" and "cool" to its final colour depth. The paper comes in cartridges that provide ten prints per pack, and you pop those in and out of the printer as easily as you might replace disposable batteries in a toy. Finally, the device is designed to be hyper-portable, since it's meant to accompany you while you snap selfies and food shots while out and about. As such, the instax mini Link has a tough outer shell and few moving parts to ensure that it's as rugged as possible. Don't drop it – I'm not saying that it is certified rugged – but also don't worry about sticking it in your bag, either. There are a couple of different colours available, or you can wait for the new Pikachu shell special edition, which is coming in May.
Now, while the "polaroids" that you print are fairly small in physical size, and certainly no substitute for having a proper camera and printing facility, printing great works of art is absolutely not the point of the instax mini Link. This is a fun way to preserve instant memories, rather than having them eventually lost in your phone photo library, or buried deep on your Instagram or Facebook profiles. Or, as we're talking about in this review, languishing among thousands of different screenshots captured while playing. Devices that use the stock that prints the instax mini Link prints have been around for long enough now that there are also all kinds of specialised photo albums and scrapbooking options for those fun little "polaroids," and overall I can see this becoming a wonderful way to experience something like New Pokemon Snap. Rather than just keep a digital album of your favourite shots, you will now also maintain a physical album. While physically small, it's also worth mentioning that the quality of the prints themselves are quite high, and this feeds into the "collectibility" of the screenshots. This modern "polaroid" technology does a good job of capturing depth of colour and contrast, and should suit the relatively bold, high contrast graphics of video game screenshots.
As a reminder, the printer's not exclusive to New Pokemon Snap, or any other games. Any Switch game that is compatible with the screenshot function (and I think that's all of them) can also be connected up with your phone to print those screenies out. Heck, you'd be able to transfer your screenshots from PlayStation or Xbox games to your phone to print them out as well. It's a slightly more lengthy process, but it would still work. So for me, personally, I am planning on printing out some albums of Hatsune Miku (Project Diva MegaMix) or Marie Rose (Dead or Alive Xtreme 3). Perhaps some Firis from Atelier, too. Building an album of pin-up "polaroids" of waifu certainly sounds like a fun use of the instax mini Link to me!…
Though there is one big downside; here, in Australia, this thing costs a fortune to run. While it doesn't require ink, it's also not going to work with normal paper, and a cartridge of ten photos costs around $Aus15 each. In other words, you're paying $1.50 per screenshot that you print out. It's cheaper if you can get to Japan and buy up a whole lot of stock, as the paper is about half the price over there, but even then, filling an album with hundreds of photos will be an expensive hobby. I don't mind it as I, an adult, have a disposable income and I can use it to indulge my hobbies. Furthermore, putting my joke about the waifu pinup albums aside (note: it's totally not a joke), I do have fond memories of taking my cartridge of Pokemon Snap on the N64 to the printing booths to print out my favourite pictures AND I have fond memories of using Game Boy Printer, which was itself an expensive novelty toy, back in the day. The instax mini Link has given me a nice rush of nostalgia, and I may well not need to print thousands of photos with this to have considered this toy a worthwhile purchase. However, parents might not appreciate the ongoing cost of supplying their kids with printer paper once they latch on to New Pokemon Snap. Think about it this way: there are 200 Pokemon in New Pokemon Snap. That's $Aus300 in paper stock just to print out one photo of each of them. There's no getting around that: you do that, and this is an expensive toy.
The instax mini Link is well an incredibly well-made unit and it's a great peripheral attachment to the Nintendo Switch for anyone that does enjoy taking screenshots as they play their favourite games. While the cost of the paper stock itself is a detriment, it's effortless to use, has a convenient form factor, and is an
awful
lot of fun to play around with. It was a stroke of genius on the part of Nintendo and Fujifilm to partner up on this around New Pokemon Snap, because while Pokemon Snap isn't the only application for this printer, it is perhaps the best way of demonstrating the value of it to anyone that enjoys the screenshot button.