Welcome to Digitally Downloaded's weekly catch-up news feature, the catch-up coffee. With each issue I will bring you the best news that you may have missed. Grab the biggest mug you've got, fill it with your favourite brew, and catch up with us (and our favourite news anchor, Dee Dee)!
Sticky Business will launch next week
I've written about Sticky Business in the catch-up before; it was also featured in two Not-E3 2023 showcases, the Guerrilla Collective and the Wholesome Direct. It's my absolute delight that I can now share its launch date, which is soon. Like really soon. Like, in a week soon. The game encourages players to let their imaginations run wild as they make and pack up boxes of stickers, all while going through the ins and outs of owning a small business.
Players take on the role of a brand-new sticker making business, creating amazing stickers with thousands of customization options. Aside from creating the goods, players will pack orders, develop their online store, and build up customer relationships. Stickers can be upgraded using experience points awarded with each order. The more stickers players unlock, the more new customers are unlocked.
Developed By Spellgarden Games and published by Assemble Entertainment, Sticky Business will be released for PC via Steam/GOG on July 17.
PowerWash Simulator's developer clarifies its 2023 roadmap
Yes, I'm still talking about PowerWash Simulator. The SpongeBob DLC was downright delightful! Awhile back, the game's developer announced its 2023 roadmap. We know what was part of Q2: a free content update, the SpongeBob DLC, a physical edition, and the announcement of PowerWash Simulator VR. When the Warhammer 40K DLC was announced, I mistakenly thought it would be Q3's paid DLC. But it's actually for Q4.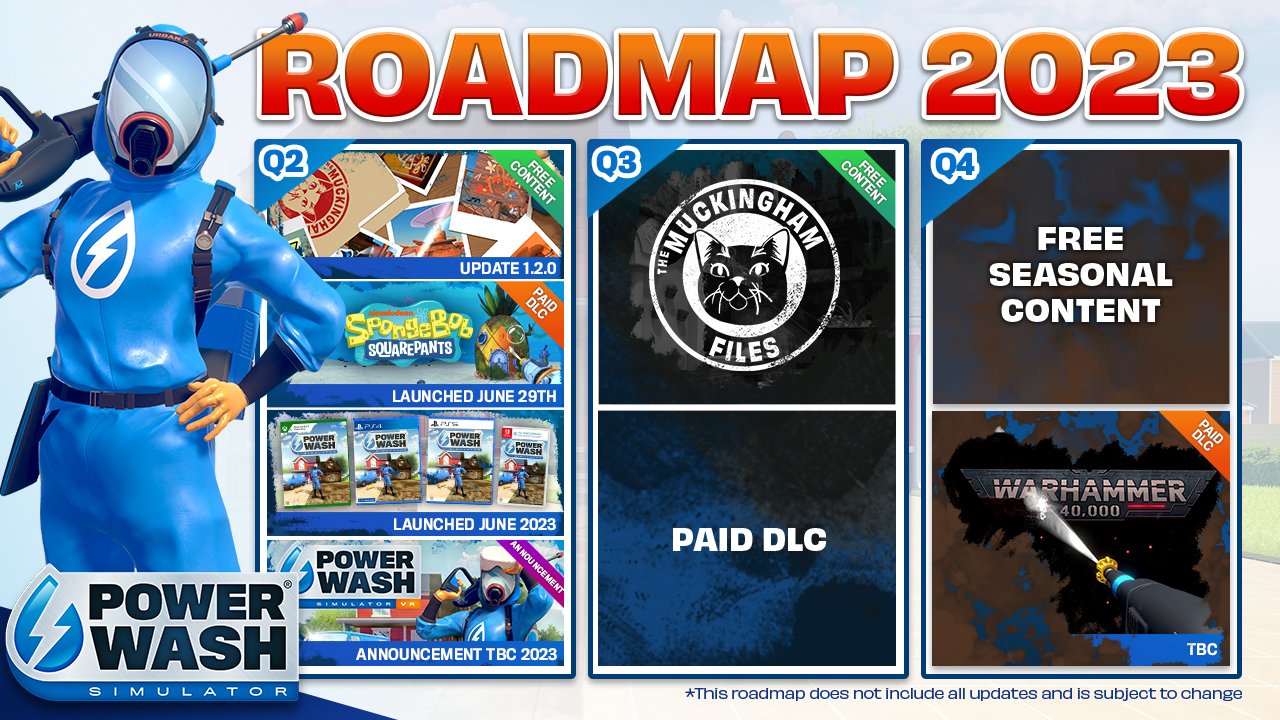 So what does that leave? There will be a free content update called The Muckingham Files launching in Q3, alongside unannounced paid DLC. For Q4, there will be a free seasonal content update, and that Warhammer DLC. I don't even play Warhammer, but I will probably still get the DLC just because of how obsessed I am with the game.
Developed by FuturLab and published by Square Enix Collective. PowerWash Simulator is available now for PC via Steam, PlayStation 5, PlayStation 4, Nintendo Switch, Xbox Series, and Xbox One.
More Mario Kart courses and characters are imminent
That's right, there are still Booster Course waves being released for Mario Kart 8 Deluxe. Wave 5 will be released this week, featuring eight new courses and four new playable characters. The first wave launched back in March 2022, and they've been steadily released since then. There will be one more wave released by the end of 2023, in total adding 48 remastered courses to the game.
The new courses include Koopa Cape (Mario Kart Wii), Los Angeles Laps (Mario Kart Tour), Moonview Highway (Mario Kart Wii), Squeaky Clean Spring (it's new!), Athens Dash (Mario Kart Tour), Daisy Cruiser (Mario Kart: Double Dash), Sunset Wilds (Mario Kart: Super Circuit), and Vancouver Velocity (Mario Kart Tour). The new playable characters are Birdo, Petey Piranha, Wiggler, and Kamek.
Mario Kart 8 Deluxe is now available for Nintendo Switch.
The Spirit and the Mouse will be coming to PlayStation
Cozy game fans who primarily use PlayStation, this news is for you! The Spirit and the Mouse will be coming to PlayStation next week. It originally launched for PC and Nintendo Switch in September 2022, and I'm excited to see it make the leap to new consoles. The game is all about fate, powers, and solving puzzles.
Lila the mouse and Lumion the Spirit Guardian are bound together by fate and must work together to bring light back to the people of Sainte-eat-Claire. Lila will have to use her newfound electrical powers to placate spirits called Kibblins by solving character-driven puzzles across the quaint French village. The low-stress experience is paired up with lush environments and a soothing piano-driven soundtrack.
Developed by Alblune and published by Armor Games Studios, The Spirit and the Mouse will be released for PlayStation 5 and PlayStation 4 on July 20.