To all the big AAA publishers out there: if you are going to insist on monitoring our play sessions for every second that we play your thing, make sure your servers are rock-solid. Having to re-log into a golf game every two or three holes because a server disconnection throws me out of the single-player modes is ruinous to the experience. EA, I have had a genuinely lousy time playing EA Sports PGA Tour. Enjoy the score at the bottom. You earned it.
Mind you, even if I could play 18 holes of unbroken golf, I still would recommend the cartoony, and yet vastly more enjoyable Easy Come, Easy Golf on the Nintendo Switch instead. There is a stilted soullessness about EA's effort. The game cosplays as a "cinematic, broadcast-quality" effort to recreate golf's aesthetics and drama, but as soon as you scratch below the superficial pristine presentation, it fails to be convincing.
For example, one of the great rules about creating "realistic" video games is that you sometimes need to fake reality because the player's perception is that it should look different. PGA Tour is a good example of why this rule is often cited. After you hit a ball, it looks like it's skidding across ice once it lands on the fairway or green. It just rolls, and rolls, and rolls, seemingly unconcerned with physical laws like friction or the impact of gravity when something rolls up a hill. Now, I have no doubt that this really is just my perception, and EA's developers took special care to measure the different lengths of travel a ball would move on the green following a drive with a 1 wood, 3 iron or pitching wedge. I have no doubt that according to real-world physics, this is exactly what happens on real courses. It's just that my brain rejects that. The way the ball moves off the grass, sand, and rough in PGA Tour infuriates me, even when I'm at a score of -24 by the end of the fourth day of a tournament, because it simply doesn't look right.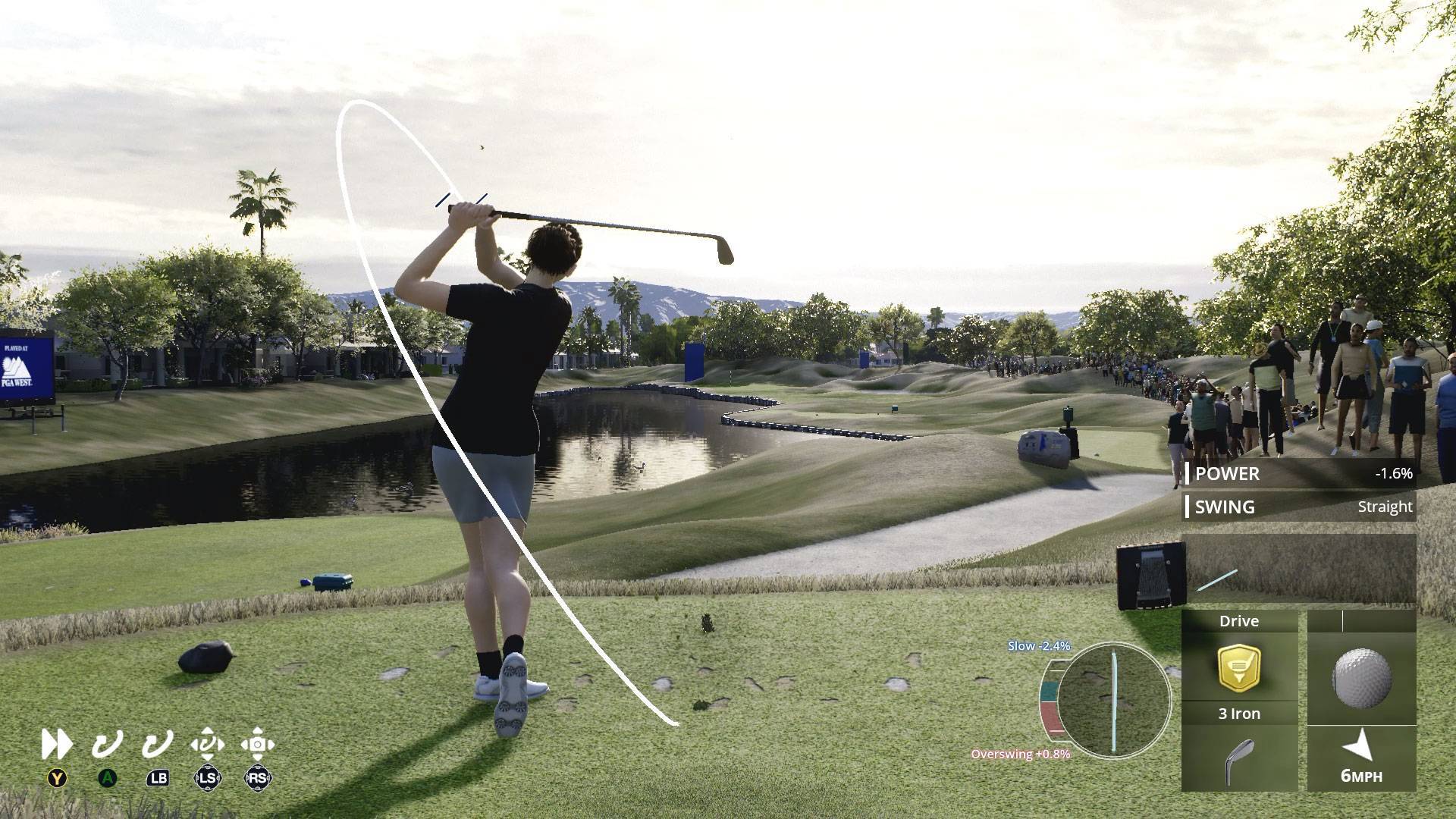 Meanwhile, another area where the game does not play realistically is with the crowd. They'll hang off your every shot, of course, but they won't move out of the way when you've hit a ball right at them. In fact, I quickly made that part of my tactics. When there was a crowd arrayed behind the green, I would actively swat the ball from the fairway as hard as I could. I knew full well that even if I overhit things badly, the ball would simply crash into the crowd and stop dead. This would then typically give me an easier chip and approach shot to the green and hole than if I had tried to be precise, accidentally undercooked my shot and left myself with a 40-foot putt.
And then one time, off a badly mis-hit drive, I nailed some crowd member in the skull. The crowd, and my player, actually celebrated that shot. Don't worry, though, the person that I hit with the ball wasn't even aware of it. For all EA's efforts to present the game as an authentic and realistic depiction of the sport, the development team has cut a lot of corners that completely shatter that suspension of disbelief.
Another issue is EA's decision to choose a stick-flick control method, and make it the only option (for now). In fairness, it does work better than in the 2K golf games. However, the reality is that the PlayStation's analogue sticks are never accurate enough to make this control system truly enjoyable. A more conventional and appropriate three-click system is coming, we're promised but… well, I can't review what isn't in there. Sony's baseball game has a half dozen different control options to suit every playstyle and then some. There's no excuse for EA to fail to support a few of the common (and preferred) ones out of the box.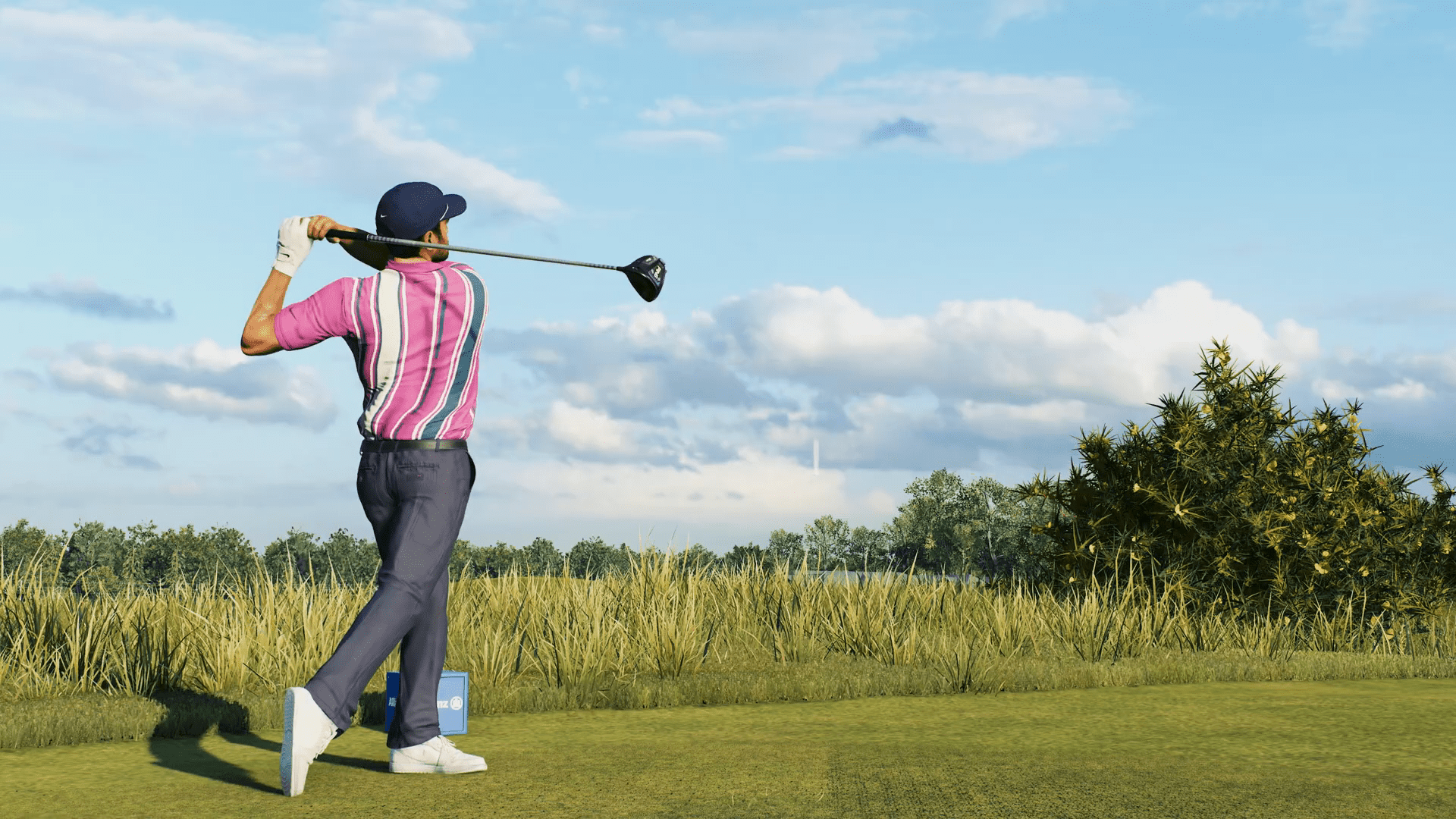 In the developer's efforts to offer "broadcast quality realism", PGA Tour's 30 courses are meticulously rendered in EA's Frostbite engine. The grass is impeccably manicured. The trees are imposing on either side of the fairway, and the lighting system makes putting at the wrong time of day all the more difficult. Those rays of light make judging curves… and even seeing the hole… an even bigger challenge.
But it's simply not fun to play. Your character is built from way too few options (all boring), and while their swinging action is smooth enough, their walking gait is the same awkwardly stiff and stilted movement that seems to plague most of EA's games, and their range of celebration and reaction emotions is tiny enough that you'll have seen most of them by the end of your first weekend with the game. Meanwhile, while the cut scenes and score updates do their best to look like a golf broadcast, the commentary is awful enough to completely undermine that effort. It's contextual enough (the commentators aren't going to say you've got an "easy" putt when the ball is dozens of feet from the hole), but it is painfully repetitive and limited in scope. Again, you'll have heard most of the on-course quips by the end of your first tournament.
Overall, I simply can't see a group of friends getting together to play this thing. Golf fans will enjoy the single-player career mode well enough, and particularly serious players will jump online for a game or two, but anyone looking to have an intense contest like in EA's other sports games will find PGA too pondersome for a social setting.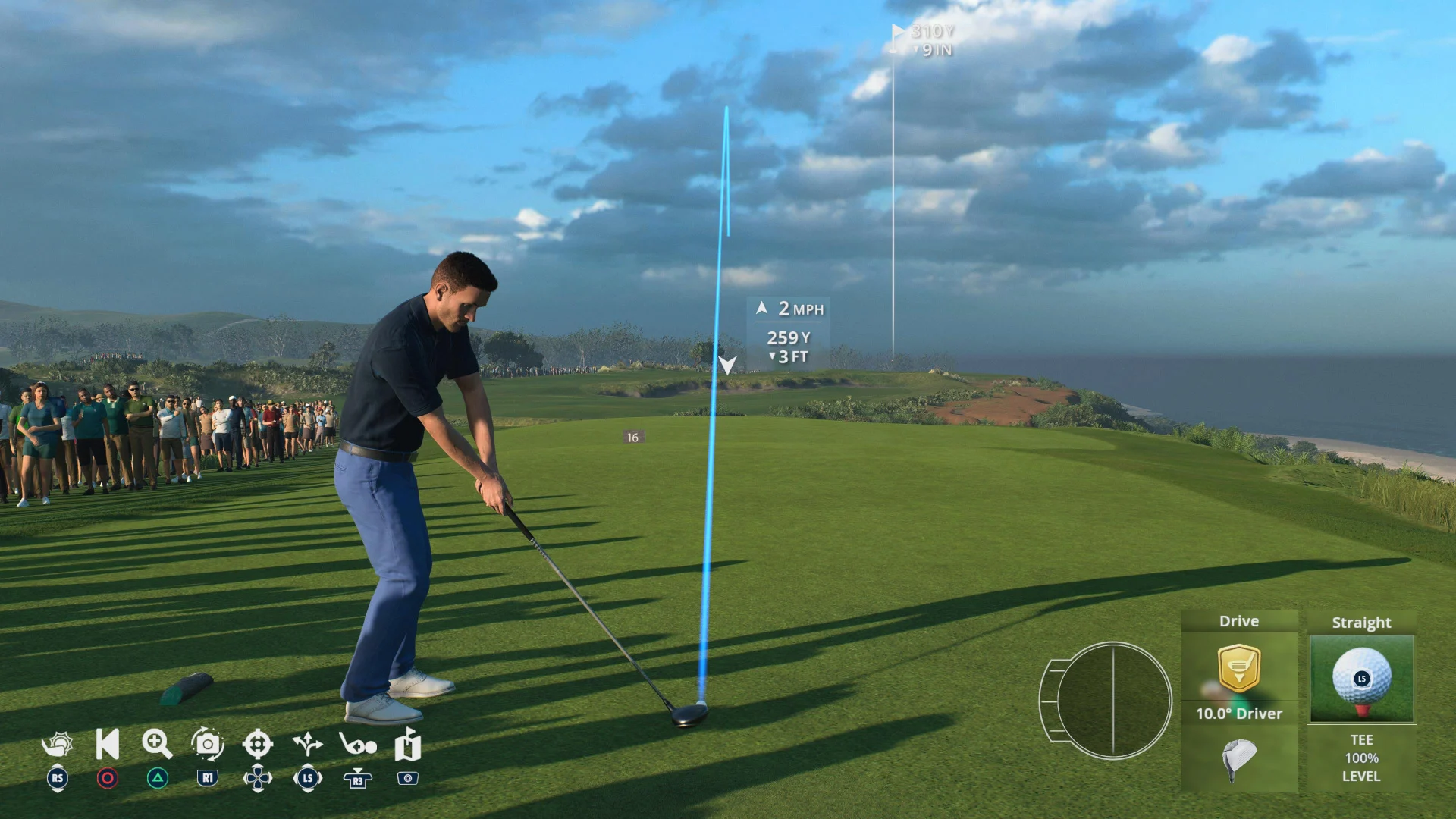 The main meat of the game, then, is that career mode, and it's okay. The skill tree and experience system is a little too limited to get creative with the kind of golfer that you shape, but you are able to move up through the amateur ranks to the coveted Masters wins. It would have been nice if there were some narrative elements in there, however barebones, to allow you to get a sense of character out of your wooden little avatar, but alas that is not to be.
However, the biggest problem with PGA Tour is that the rewards for playing are just not there. The cosmetics you earn are universally dull and boring – a bunch of dry licensed stuff, with no joy behind it – that you can put on your stiffer-than-a-mannequin doll. Also, you can pay real money rather than grind it out, which makes the reward feel even less worth chasing. Look, realistic sports games are perfectly fine. I'm still enjoying MLB The Show and love both the NHL ice hockey and FIFA football series. But those sports are inherently active, tense and exciting. The sport itself is the energy that makes it entertaining to play. Golf is a hugely technical and challenging sport and the skills of the athletes deserve respect. However, the sport itself is also slow-paced and low-intensity. A golf game needs something else to give players a reason to get enthusiastic about it.
Between the lack of personality, inconsistent aesthetics, physics that, accurate or not, look broken, and cynical always online requirements, EA Sports PGA Tour gets just about everything wrong. I found myself jumping right back to Easy Come, Easy Golf almost immediately. Sure, it's not the most realistic golf game out there, but at least it has fun with the sport and I'm not booted from the game after every other hole. EA's dour, miserable effort is the "you must be fun at parties" joke/insult manifested as a sports game.