Digitally Downloaded's coverage of Fairy Fencer F dates back nearly a decade, beginning with Matt's review of Fairy Fencer F for PlayStation 3. At the time, the game was billed as a more serious take on Hyperdimension Neptunia, and it succeeded at it; the first game was rated a DDNet 4.5 and the sequel – Advent Dark Force – scoring the same. The upcoming Fairy Fencer F: Refrain Chord, though, takes a different approach to the characters from the first that are beloved, going from turn-based RPG to tactical RPG. It's been out in Japan for a little bit, but now the western release date is set for April!
The game centres around Fang, but his story has quite a bit of history to it. See, long ago Goddesses gave people the knowledge needed to making civilization flourish. They built massively tall towers and a weapon so powerful it could pierce the gods. This civilization didn't last, as the result of a violent conflict between the Goddesses and the Vile God. Lots of time passes, then Fang enters the picture. He's become a Fencer, which is a swordsman (or woman, I presume) with the ability to wield a special weapon imbued with a Fairy known as a Fury. Fang journeys to find the Furies and resurrect the Goddesses. On his way, he encounters a woman who can save people with her song; then he meets another who can brainwash people with her song. These women call themselves the Muses, and Fang's destiny begins to unfold once they meet.
And did I mention the opening movie has dropped? Because it has:
As I mentioned, Fairy Fencer F: Refrain Chord is a tactical RPG. Strategize to capitalize! Use terrain and positioning to your advantage. Avalanche Attack and Fairize do make a comeback despite the change in battle systems. The two Muses bring new mechanics to battle, as they can buff allies or combine with each other for a very dramatic buff. Be careful, though, as enemies within a set area can also benefit.
Players will follow Fang and his friends though multiple routes in the story as they continue their search for the Furies in order to resurrect the Goddess. Furies are quite helpful when using the world map: stab them in various locations to unlock items, hidden locations, even Fairies. Chains can be activated to stab more locations without using up energy.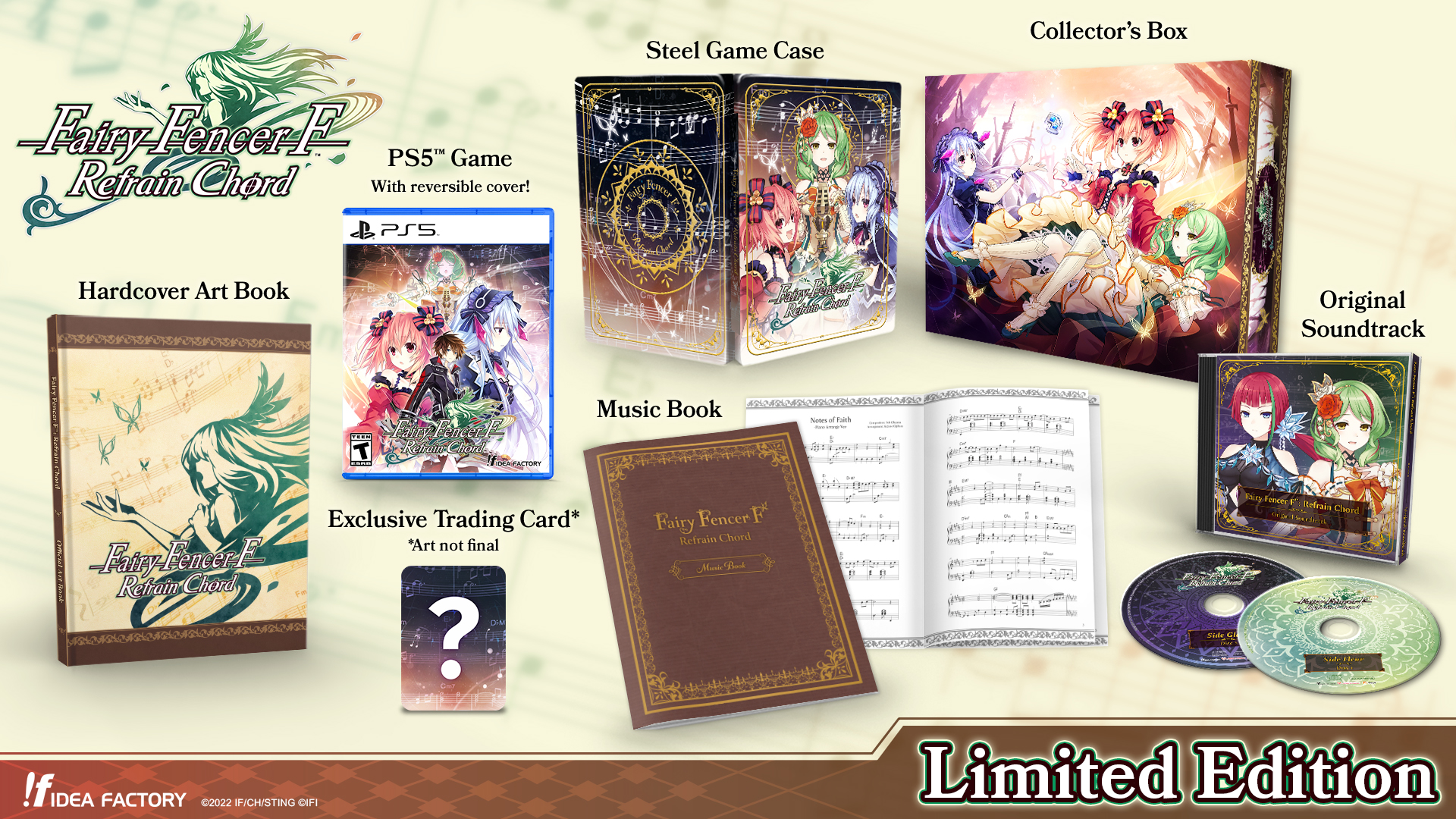 The Limited Edition will be available via the IFI North American and European Stores, with pre-orders opening on February 28. This edition includes the game for the console of choice (PlayStation 5, PlayStation 4, Nintendo Switch) with a reversible cover, a steel game case, hardcover art book, original soundtrack, music book (love this!), collector's box, and exclusive trading card.
Developed by Idea Factory and Compile Heart, and published by Idea Factory International, Fairy Fencer F: Refrain Chord will be released for PC via Steam, PlayStation 5, PlayStation 4, and Nintendo Switch on April 25.