Self-described "cozy" games are all the rage right now. Often they're life sims, sometimes other genres, but there is nothing quite like Riley & Rochelle. I'd describe it as cozy because it is an intimate look at two young lives, and it creates a swirling warmth sensation around you while playing. Okay, and a bit of frustration, but nothing that can't be justified. But I'm getting ahead of myself, aren't I? So let's start at the beginning…
Riley & Rochelle is accurately described as "a tale of love and pop in the 90s." The game tells the story of Riley and Rochelle (duh). It starts with their separate origins before moving on to their musical collaborations. Each has their own successes and setbacks in the years before meeting (and honestly, after that too) but their stories remained intertwined as they rise to musical stardom (in my mind, anyway). They are both fully-evolved characters before they meet, and they continue to change with each other's influence.
Rochelle has great taste; she listens to Liz Phair! Her self-titled album was my end-of-high-school favourite, so I have a lot of memories associated with it. I have memories associated with the time frame in general (mid-80s baby here, so the late 90s and early 00s were my fundamental high school years) so some of the time-appropriate references are a nice touch. Despite loving Rochelle's taste in music, I think I identify a bit more with Riley and have a soft spot for him. He's a good dude who tries hard and keeps getting shut down for various reasons.
The gameplay is broken down into a series of levels. Each level involves putting the correct dates on diary entries. Use visual and audio clues (with transcripts) to piece it together. Once that is done, the level ends. There are also parts outside the main gameplay. For example, a quiz where you put review snippets to their respective songs. Visual clues can include things like notes or flyers, while audio clues can be things like voicemails or interviews. Sometimes clues can be found in the "evidence" (as I sometimes like to call it) from previous chapters. Transcripts are available for the audio clues, an attempt to make the game more accessible.
Information can also be gained by listening to their records; each is dated with its publishing year. Unfortunately, there are no song lyrics. This actually makes the game highly inaccessible to anyone with problems hearing. If there are audio transcripts for interviews, etc., there should be written song lyrics equally available.
The game is "date accurate" so a calendar and search engine will come in handy. I liked having to search the Internet for answers as I played this thing. For example, I needed to pull up facts on when US Thanksgiving happened in 1993 or when Sleepless in Seattle first hit theatres. It's clever, it's thoughtful, and it definitely enhances the quality of the game.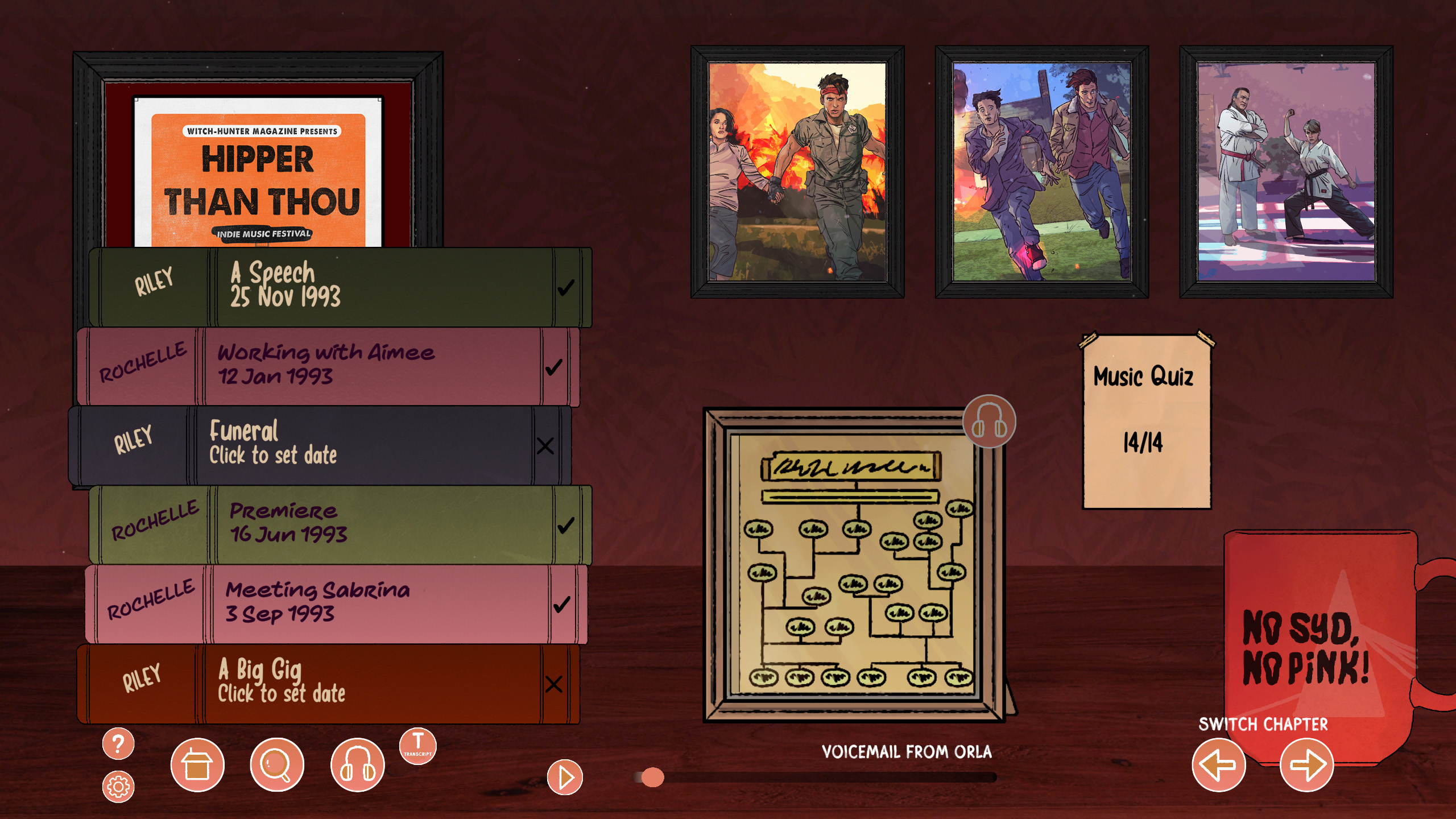 I'm not going to sugar-coat it: the levels get hard, and quickly. Soon there is so much information to sort through, you don't know where to start and end up looking at everything from the beginning, one by one. It's exhausting, as Riley & Rochelle is one of those games where if you're stuck, you're stuck. You have to add dates to a handful of diary entries before moving on to the next level. If you can't solve even one, you can't move on. I personally struggle with impatience but that's not exactly the developer's fault, so I don't take much issue with the difficulty.
But don't bother trying to guess the date with very little guiding information: the wait to see if the date is correct is a few seconds long, which can add up to a lot of agony if you're guessing dates willy-nilly; it definitely stopped me doing that. It made me slow down to really think and examine the clues, which I really appreciate. I tend to get distracted and jump over or miss crucial information, but I can't do that here!
A small note on how to play: there is no controller support. It doesn't really matter though, as it's very point-and-click-y and that rarely works well with controllers anyway. Using the mouse makes it much easier to move the cursor on the screen. I just wanted to give anyone reading a head's up. I know I'm sometimes disappointed when I can't use a controller, which I was until I actually played the game. Then it stopped mattering.
The musical quality is quite good, especially considering how many songs were written specifically for this game. Each song is unique, and overall the songs are diverse. They tell parts of the story, as well as provide a background soundtrack. The early ones feature Riley or Rochelle with collaborators. Then there's some solo work before they get together in musical harmony.
Like the music references, the graphics actually remind me much of my time in high school. There's something about the burgundy/purple colouring that harkens back to games I would have been playing at the time, and the diary font is very "everyone is using comic sans because it looks like a kid wrote it." Something that I can't quite pinpoint reminds me of games as far back as Rocket's New School (1997), it's just must more grown up. It's almost like being in the Central Perk from Friends.
An incredible amount of work went into this game. I mean, there's the original songs, plus diary entries, notes, voicemails, interviews, quizzes… The overall quality of the game is excellent. Yes, I have my qualms with it, mainly with the difficulty and lack of song lyrics. But I can see past the difficulty, at least, to understand the narrative puzzle game that's in front of me. I wouldn't quite call it a masterpiece, but I will say that it's exceptionally unique.