In recent years, Bandai Namco has been very busy creating special edition Tamagotchis covering just about every fandom you can imagine. I still use keep the batteries in my Pac-Man one fresh. But I might need to retire ol' friend Pac soon, because there's a Hatsune Miku Tamagotchi on the way and as you all know I'm very partial to the idea of Hatsune Miku in my pocket.
The Miku Tamagotchi will be built on the Tamagotchi Nano hardware (the exact same one as Pac-Man), and will ship in early 2023. Pre-orders are available now, though you'll need to grab this one from Japan as there is no news of an international release right now.
In terms of the game itself, there will be 17 different characters to raise, including 10 different Hatsune Mikus (representing designs for her from every year since 2013), one design for each of the five other Crypton vocaloids (Len, Rin, Kaito, Luka and Meiko), as well as two hidden characters to discover while playing.
Every Tamagotchi has a couple of micro-games to play, and this one will be no different, with each of the minigames being based on the theme of music (no surprises there). If you look after Miku well, then you can also look forward to special events where she'll rock up with her leek, or say hello as Snow Miku.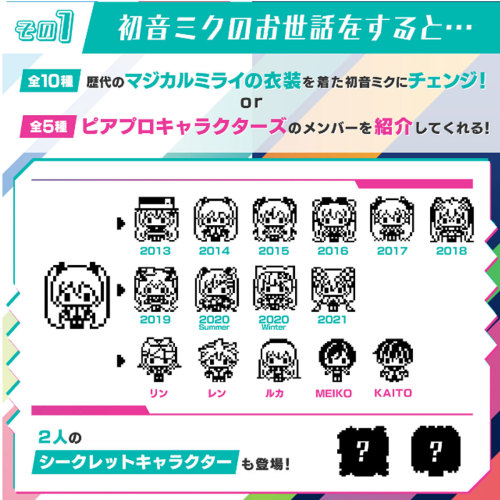 There's no news about what she does when she finally departs at the end of the game – one assumes it'll be some kind of "graduation" if you've looked after her well.
Tamagotchi Nano is incredibly limited, and designed for you to be playing with it for just a few seconds here and there during the day, but there is something really appealing and relaxing about distracting yourself from whatever you're doing to check in on your virtual pet. They're always gorgeously presented too, and the casings for the Miku edition (there are a couple of different options) are right up there with the best work Bandai Namco has done.
I'm sold. You can lodge the preorders on Bandai's goods store here.