Welcome to Digitally Downloaded's regular catch-up news feature. With each issue we will bring you the best news that you may have missed. Grab the biggest mug you've got, fill it with your favourite brew, and catch up with us (and our favourite news anchor, Dee Dee)!
The Meteor World Actor sequel is coming west
The sun despises the Seventh Republic, to the point sunlight hasn't reached the city since the last great war. Since it's so dark, it is filled with violent criminals. Meteor World Actor: Badge & Dagger centres around detective Ruka Hirya, who is treated poorly by his follow police officers. He's been investigating a sealed case, the Cult Massacre, in secret. The game will be coming west late next month, and the opening film has been released:
The game features a dozen voiced characters, including Ruka. The one I find the most interesting are Ryoko Hara, a café employee who knows just about everything about police affairs because the cops all blab to her. I'm also interested in Claris Zeinburg, Ruka's rookie partner that he's been pulling away from. She's starting to become more competent. The final character I really want to know more about is Melissa, Ruka's roommate who lives in his coat pocket. She's a busybody pixie but her cheerfulness makes up for the curiosity.
Developed by Heliodor and published by Shiravune, Meteor World Actor: Badge & Dagger will be released for PC via Steam/Johren on June 10. It was originally released in Japan about a year ago.
This War of Mine coming to PS5, Xbox Series
I think we can all agree that the narrative in This War of Mine is extremely poignant right now, with multiple wars raging and devastating countries. The game's developer, 11 bit studios, feels like this is the right time to launch the game on more consoles for this reason. "The message and themes existing inside of This War of Mine have, unfortunately, become brutally vivid and relevant in recent months," says Przemek Marszal, 11 bit studios CEO, in a press release. "We believe it's especially important to educate people on the realities of war right now, while its horrifying reality has become a daily struggle for people that are close to us. We're proud that recent This War of Mine fundraising helped us create a wave of spontaneous help for war victims in Ukraine, and we hope we can further spread our antiwar message with This War of Mine: Final Cut."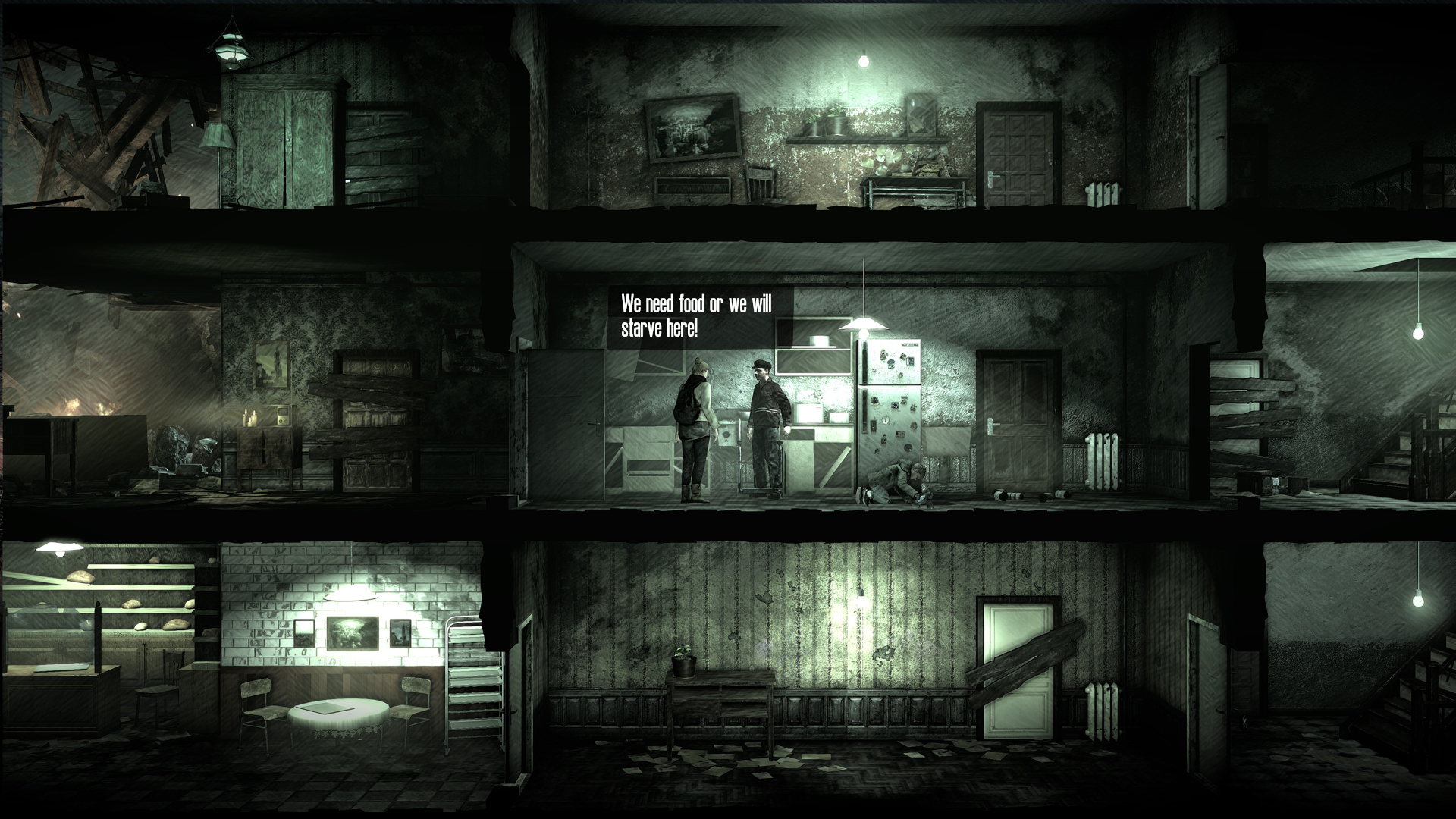 This War of Mine is a war game where you play as a civilian (or group of civilians), not a soldier. The city is under siege. There is a lack of food and medicine, and there's constant danger from snipers and hostile scavengers. The daytime is spent maintaining the hideout, while night is time to becomes a scavenger too (although hopefully less hostile, if the situation allows for it). This War of Mine: The Final Cut includes all updates and free expansions of the game, as well as locations used in the separate This War of Mine: Stories.
Developed and published by 11 bit studios, This War of Mine: Final Cut will be released for PC via Microsoft, PlayStation 5, and Xbox Series on May 10. There will also be a bundle titles This War of Mine: Complete Edition that includes This War of Mine: Stories. This War of Mine: Final Cut is already available for PC via Steam/GOG/Humble.
I'm extremely interested in newly-announced Disney Dreamlight Valley
A Disney game for adults that isn't Kingdom Hearts? I'm in! Last week, Gameloft announced Disney Dreamlight Valley, a free-to-play sim/adventure game launching just about everywhere next year. It has players arrive in a once-idyllic village that is now desolate and full of Night Thorns. The ultimate goal is to restore the town to its former glory and helping residents regain their memory. The game features multiple realms inspired by Disney and Pixar worlds.
Players will be able to design the villages of their dreams with a ton of customisation available. Most importantly, there will be a never-ending about of princess ball gowns available (hey, we all have our priorities and this is mine). "Disney Dreamlight Valley will give our fans the opportunity to write their own story and build their ideal Disney and Pixar life within a richly detailed world populated with characters from some of Disney's most iconic stories," said Luigi Priore, Vice President of Disney and Pixar Games, via a press release. "We are excited to hear feedback from our audience throughout the development of this title as we collaborate with the talented team at Gameloft to bring Disney Dreamlight Valley to life."
Developed and published by Gameloft, Disney Dreamlight Valley will be released for PC/Mac via Steam/Epic/Microsoft/App Store, PlayStation 5, PlayStation 5, Nintendo Switch, Xbox Series, and Xbox One this year. In the coming months, an Early Access version will be released for players who purchased a Founder's Pack or those using Xbox Game Pass.
The Super Mario film has been delayed
Initially due out this upcoming holiday season (it was actually supposed to be out on my birthday so I'm sad about this one), Super Mario Bros. (the animated film) has been delayed to next April. It will be released in North America a few weeks before it releases in Japan, something a bit surprising to me considering Japan is basically Mario's home. We've been waiting four years since the movie was announced, so I think another few months will be okay.
In a now-iconic and memeified tweet on the Nintendo of America Twitter account, Mario creator Shigeru Miyamoto writes, "This is Miyamoto. After consulting with Chris-san, my partner at Illumination on the Super Mario Bros. film, we decided to move the global release to Spring 2023–April 28 in Japan and April 7 in North America. My deepest apologies but I promise it will be well worth the wait."
We know basically nothing about the film's plot, although you can bet that Bowser is up to his dastardly deeds once more. We do know the main cast, though. Mario is voiced by Chris's Pratt, Princess Peach is voices by Anya Taylor-Joy, Luigi is voiced by Charlie Day, Bowser is voiced by Jack Black, Toad is voiced by Keegan-Michael Key, Donkey Kong is voiced by Seth Rogen, Cranky Kong (ha) is voiced by Fred Armisen, Kamen is voices by Kevin Michael Richardson, and Spike is voices by Sebastian Maniscalco.