Welcome to Digitally Downloaded's regular catch-up news feature. With each issue we will bring you the best news that you may have missed. Grab the biggest mug you've got, fill it with your favourite brew, and catch up with us (and our favourite news anchor, Dee Dee)!
There were a few updates regarding Sky: Children of Light this week
Sky: Children of Light is developed by thatgamecompany, the same company behind Journey and Flower. It's a beautiful game where players fly to explore various dreamlike realms to uncover a mystery. Co-op is key to help get players through the darker realms, while candles are gifts to share appreciation and grow friendships. It would make a beautiful animated show/film… and it soon will! This week the Sky Animation Project was revealed; it's a very quick look at the project based on the game. The dreamlike realms and star-filled skies are familiar, what the characters and scenarios are new.
There are also a couple of updates regarding the game itself. The Days of Bloom, a tranquil event celebrating all things floral, will be starting soon. So will the upcoming season, set to launch April 11. It centres around collaborative performances and will introduce a community theatre. That's right: the game will have a community theatre. You can't convince me that isn't sheer genius. There will also be a Shared Memories feature coming soon.
When it comes to Sky global community projects, there are updates on two. Sky Assemblies allow players a chance to host their own community events. The Assemblies are produced and coordinated by the community team, and lets players share interests such as arts and crafts, trivia, and in-game challenges. There is also Sky Crafting Corner, a community initiative that affords fans the chance to celebrate through the art of crafts based on the game's seasonal events.
Help ghosts ascend to the afterlife in The Outbound Ghost
Announced during the Future Games Show's Spring Showcase last week, The Outbound Ghost is an adventure RPG about helping spirits pass on. Very cute spirits, I'd like to add. Players become a spook, but they're no ordinary ghost: they have no memory of who they are or how they died. They arrive in a small village with a tragic past called Outbound, where our protagonist finds themselves haunted by former residents unable to cross over. The player's goal is to help these ghosts resolve their unfinished business and pass through to the afterlife.
There are lots of elements to the game. The battles involve fighting your past to gain new abilities and unlock party members that are parts of your past personality (such as Regret or Jealousy). Craft materials earned by winning fights can be turned into badges that offer various effects and stat boosts. There are also puzzles to solve along the way. The art style is definitely paper-influenced, and the world is 2.5D.
Developed by Conradical Games (a one-person studio) and published by Digerati, The Outbound Ghost will be released for PC, PlayStation 5, PlaySTation 5, Nintendo Switch, Xbox Series, and Xbox One towards the end of 2022.
Kowloon Highschool Chronicle is finally coming to NA
Already released in both Japan and Europe, Kowloon Highschool Chronicle is finally ready for a North American release. Actually, that's a bit misleading: it is so ready that it launched yesterday! The game originally released for PlayStation 2 in 2004 as Kowloon Youma Gakuen Ki in Japan. This new version includes high-definition remastered (technically, redone) graphics, first-person dungeon exploration, and a "unique" conversation system.
Players will make choices that help them solve puzzles, avoid traps, and fight enemies. They'll also be joining some classmates to solve mysteries. Who doesn't love a good mystery?! The innovating conversation system has players expressing themselves through feelings and actions, such as giving an angry glare, loving touch, or (ew) bizarre lick. How the other characters view the protagonist depends on these actions, so if you go around licking people I can promise they'll think you're batty. Players can choose from friends, classmates, and allies to help them through the dungeons in search of adventure and wealth. Having one wrong teammate could spell disaster, so the choice is important.
Developed by Toybox Inc. and published by Arc System Works, Kowloon Highschool Chronicle is now available for PlayStation 4 worldwide. It launched in Japan and Europe on March 18 of this year, with the North American release occurring slightly later on March 26.
Birushana: Rising Flower of Genpei coming west this year
It's take two years, but Birushana: Rising Flower of Genpei will finally be coming west courtesy of Idea Factory International. Set fifteen years after the Heiji Rebellion, the Heike clan is in power and the Genji clan is defeated. The youngest male heir to the Genji is Shanao, who lives hidden deep without the mountains. Shanao has a big secret though… he is not a he at all. She's torn between living peaceful and living up to her family name, and sets off to defeat the Heike and bring peace to the land.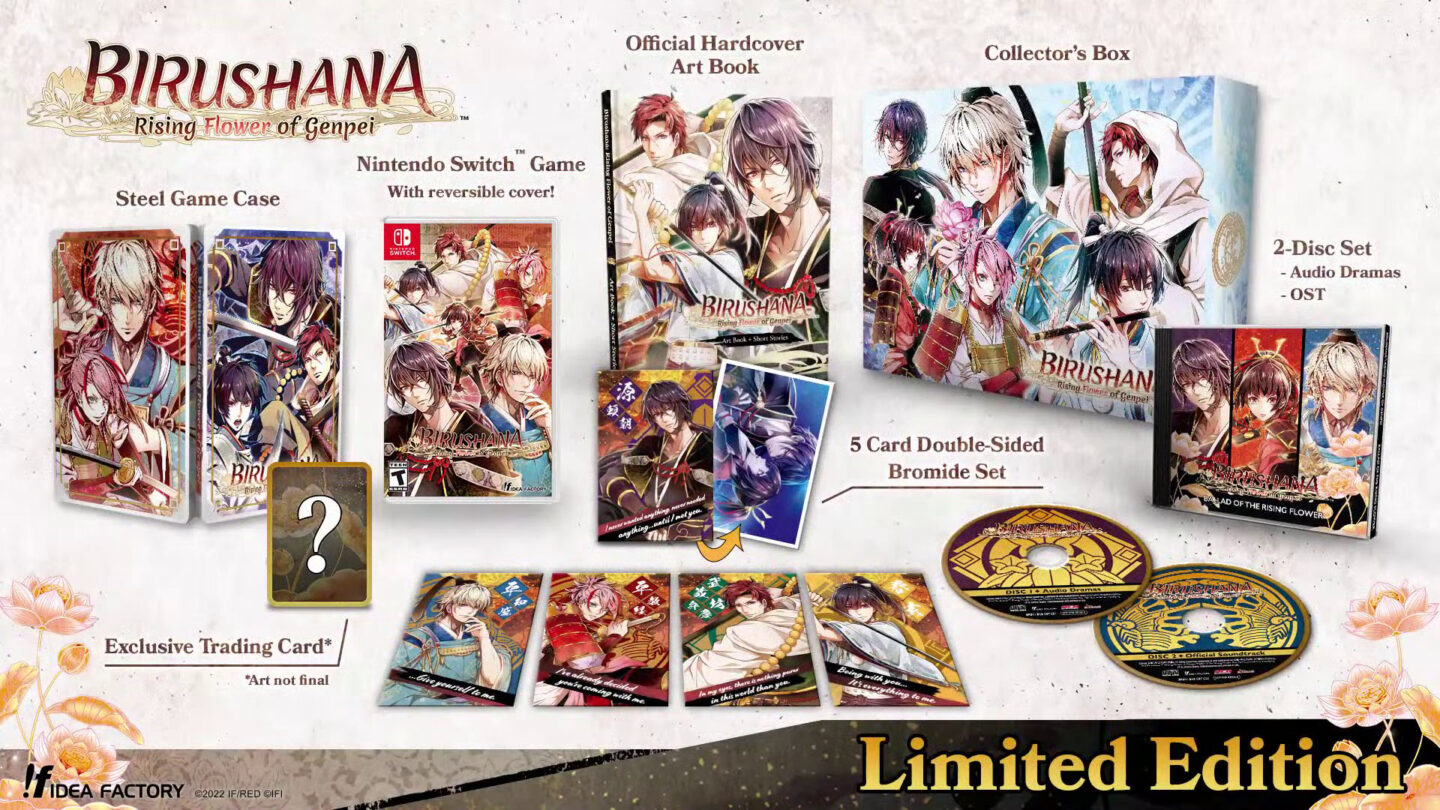 The game has five potential routs, each with an Affection Level. The Affection Level is a meter that shows how much progress has been made with a character. The goal is to maintain it to get up close and personal. Shanao possesses three Character Abilities: Strength, Knowledge, and Kindness. She needs to keep them as equal as possible to avoid disaster. Both the Affection Level and the Character Abilities are reflected real-time in the UI. A poor Affection Level will display a seedling and a blooming flower means things are going well. To the Character Abilities, the frame colour will change between red, blue, and green. After finishing a chapter, players can try it again while manipulating the Affection Levels and Character Abilities to access new paths.
Developed and published by Idea Factory International, Birushana: Rising Flower of Genpei will be released for Nintendo Switch on June 28 in North American and July 1 in Europe. It originally launched in Japan in September 2020. This upcoming launch is both digital and physical. There is a limited physical edition available for pre-order now; it includes the game with a reversible cover, steel case, hardcover art book, audio drama, soundtrack, five-card double-sided bromide set, exclusive trading card, and collector's box.