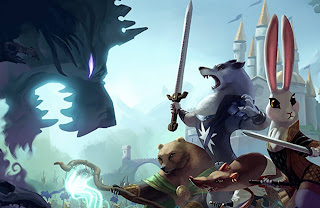 For years now the games industry, media, and community has been calling for the Australian government to do something to support the games industry. We look over at places like Poland and Canada, which have become thriving hubs of game development and the arts thanks to government investment, and can't help but wonder just what Australia could achieve given the same.

The better part of a decade ago, we had something, with the then-Labor government providing a few million directly to game developers to fund development projects. It was a great initiative and resulted in some excellent games being made… but then it was scrapped by the new LNP government, and since then, successive LNP governments have refused to do anything to support the industry.
That all changes today, however, with the Australian government announcing a substantial 30 per cent refundable tax offset for video game development. The immediate details about how that will work are scarce beyond that (the full announcement will be made at next week's budget), but if the offset is provided in good faith and implemented properly (sadly, neither of which are a guarantee with this government), then it will be a genuinely huge boost to the industry that will both encourage global companies to set up local offices, and give local developers a big boost in being able to fund their own projects.
"This is a very welcomed day for Australian-made video games. We congratulate the Prime Minister, Minister Hume, and the Minister for the Arts the Hon Paul Fletcher MP, for recognising not only that video games have an important place alongside TV and film in Australian screen production and storytelling, but also their unparalleled potential for supercharging Australia's exports, attracting vast inward investment, and up-skilling a whole new generation of Australian digital workers" iGEA (the local voice representing game developers and publishers), CEO, Ron Curry, said in a release.
"It is clear from today's decision that the Morrison Government has noticed how innovative and successful Australia's game developers are, as evidenced by standout titles like Big Ant Studio's AO Tennis 2 and SMG Studio's Moving Out, to the amazing local independent studios like Mighty Kingdom and Hipster Whale who are exporting their games and services around the world, as well as the investment being poured into the Australian economy by international studios such as Sledgehammer Games, Gameloft, Wargaming, and Firemonkeys", Chair of IGEA and Managing Director of Koch Media, Roger Clarke, also said in the press release.
This is not something we were expecting from this government. This LNP is, typically, a particularly nasty breed of conservatism, austerity budgets and all, so the fact that it is investing in something as forward-thinking and arts-focused as game development is both genuinely surprising and very welcome. It's genuinely good that the government has listened to the voices of the experts on this one.
Of course, this government and associated parties is also absolutely determined to kick off a real-world game of Call of Duty with China right now (no, really), so I wouldn't necessarily say that today's announcement has won them my vote. It's also a party that protects alleged rapists and self-confessed upskirt enthusiasts, and mocks entire religions (despite being a passionate advocate of the need to stay vigilant against antisemitism). This is the same government that was more than happy to harm independent media outlets like DigitallyDownloaded.net to start a war with Facebook to boost the profits of their propaganda arm News Corp, and they set up a welfare "dob-in" hotline which, as far as anyone can tell, exclusively exists to give people the chance to take a big kick at the unemployed in this country.
That's just a shortlist of morally unconscionable things that this LNP has done in the last term of government. So, yes. When I say that the LNP has done the right thing here, I do so through very gritted teeth. But they've done the right thing here.
– Matt S.
Editor-in-Chief
Find me on Twitter: @mattsainsb