I've been quite excited for office romance otome visual novel Sympathy Kiss to launch in the West; it first launched in Japan in 2022, and in July of this year it was announced to be coming West in 2024. The game follows a woman at her job for a mobile app maker and explores her relationships with multiple possible romance possibilities. Today, Idea Factory International announced that Sympathy Kiss would be released in early 2024 and revealed the game's Limited Edition.
Akari Amasawa has worked for mobile app maker Estario for a year now. She doesn't hate her job, but she's not exactly passionate about it either. After her annual performance review, she's offered a position on the Estarci team. Estarci is the company's namesake news app. It made a big splash when it launched, but has now fallen behind rival apps – even some also made from Estario. Management is giving the app one more chance before shutting it down, so it is up to Akari and her new coworkers to save it from the chopping block.
Business and pleasure mix in Sympathy Kiss as Akari explores her career opportunities and works with six possible love interests. There are a lot of issues up in the air. Will Akari find true love? Will she discover what she wants to do in life? Will Estarci get shut down? And finally, most importantly, was Akari only given this opportunity so the company would have a reason to fire her?!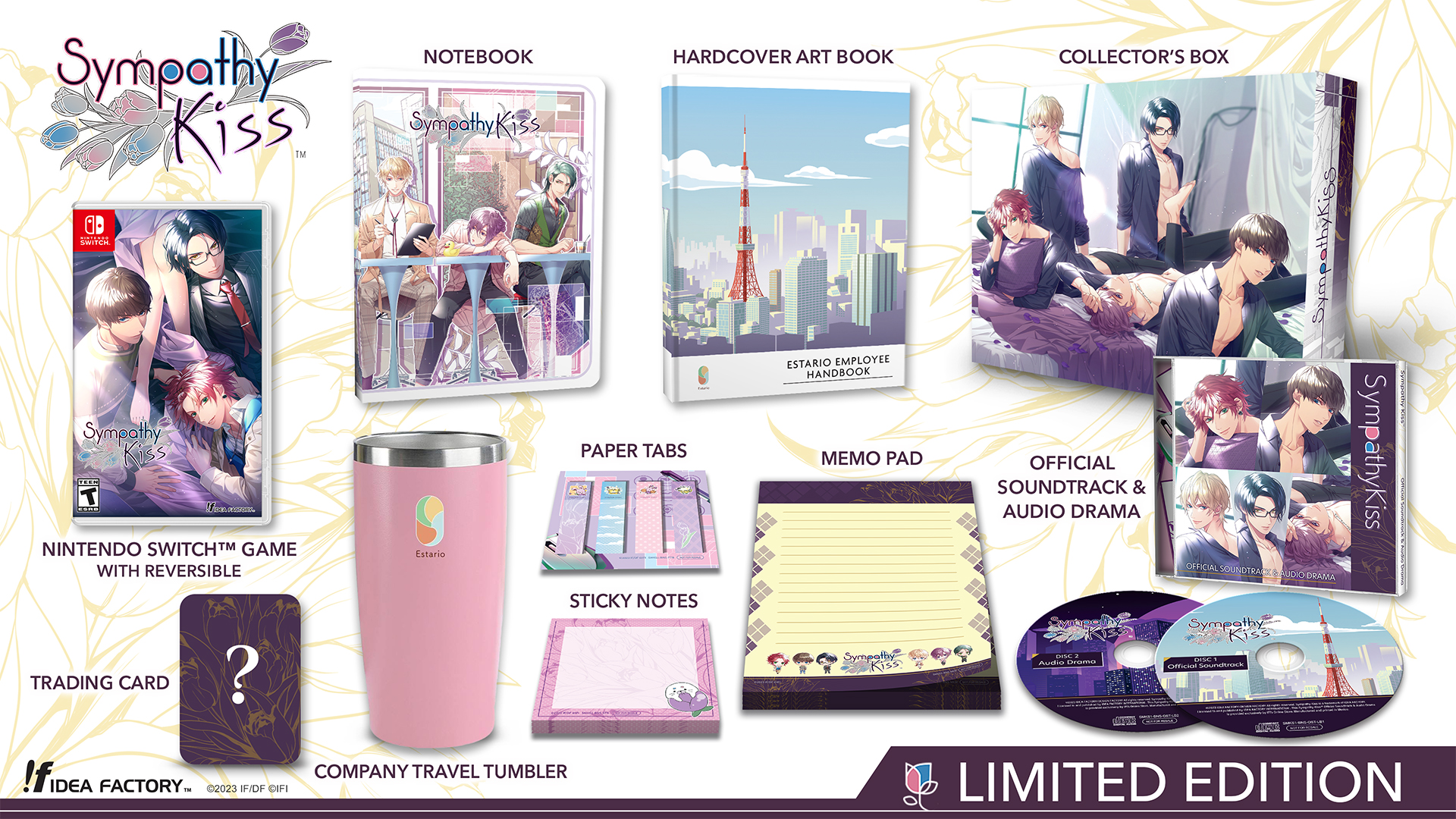 Increase productivity or choose to dabble in friendly office banter with the six romanceable characters using the RiNG system. Respond to texts, or take fully-voiced calls. When making decisions, use the Love/Work system to balance your social life and work life. Each decision will give Love Points or Work Points by choosing which to prioritise. These points will influence the outcome of your route and the ending you get. Some decisions require the Emotion Select system, where you pick two of five emotions that will then influence future conversations. Your love interests will always consider your emotions.
The game's Limited Edition includes the game with a reversible cover sleeve, a hardcover art book, the official soundtrack plus audio drama, a company travel tumbler, an Estario stationary set, a collector's box, and an exclusive trading card. The art book is styled as the Estario Employee Handbook, which is a cute idea. And the stationary set includes four items: a 96-page notebook, a 35-sheet memo pad, a 50-sheet sticky pad, and four different paper tab designs (with 45 sheets per design).
Developed by Idea Factory and Design Factory, and published by Idea Factory International, Sympathy Kiss will be released for Nintendo Switch on February 27, 2024.