Ooblets first launched in early access a little over three years ago. I've been playing it since the beginning, first on Xbox One then on Nintendo Switch, and quite frankly I'm still a bit obsessed with it. That being said, I actually haven't written about it a whole lot. That needs to change, starting now! Today, developer Glumberland announced that the game is coming to PC via Steam in October (something that people have been requesting like crazy since it was announced as a (timed) Epic exclusive on PC). It also announced that the annual Halloween event is getting revamped.
Ooblets is a farming sim/creature collector. The title comes from the creatures, ooblets, that are collected via card-based dance battles. To battle groups of ooblets, you need to have what they want; each type will have a specific requirement that will consist of one or more items that are either findable, plantable, or craftable. When it comes to farming, grow plants to make foods that ooblets want (or to give yourself an energy boost); you can organize your farm however you want, and ooblets can help out by pulling weeds, planting, and watering.
The story revolves around Badgetown, and the Council's want to destroy it. Complete tasks for the mayor to help unlock new areas to explore and new quests to complete. Along the way, you'll have to use your party of ooblet followbabies to battle against NPCs to progress past them. Each area has its own set of ooblets that are available in common, uncommon, and gleamy forms. And each ooblet (regardless of rarity) has its own set of dance battle moves.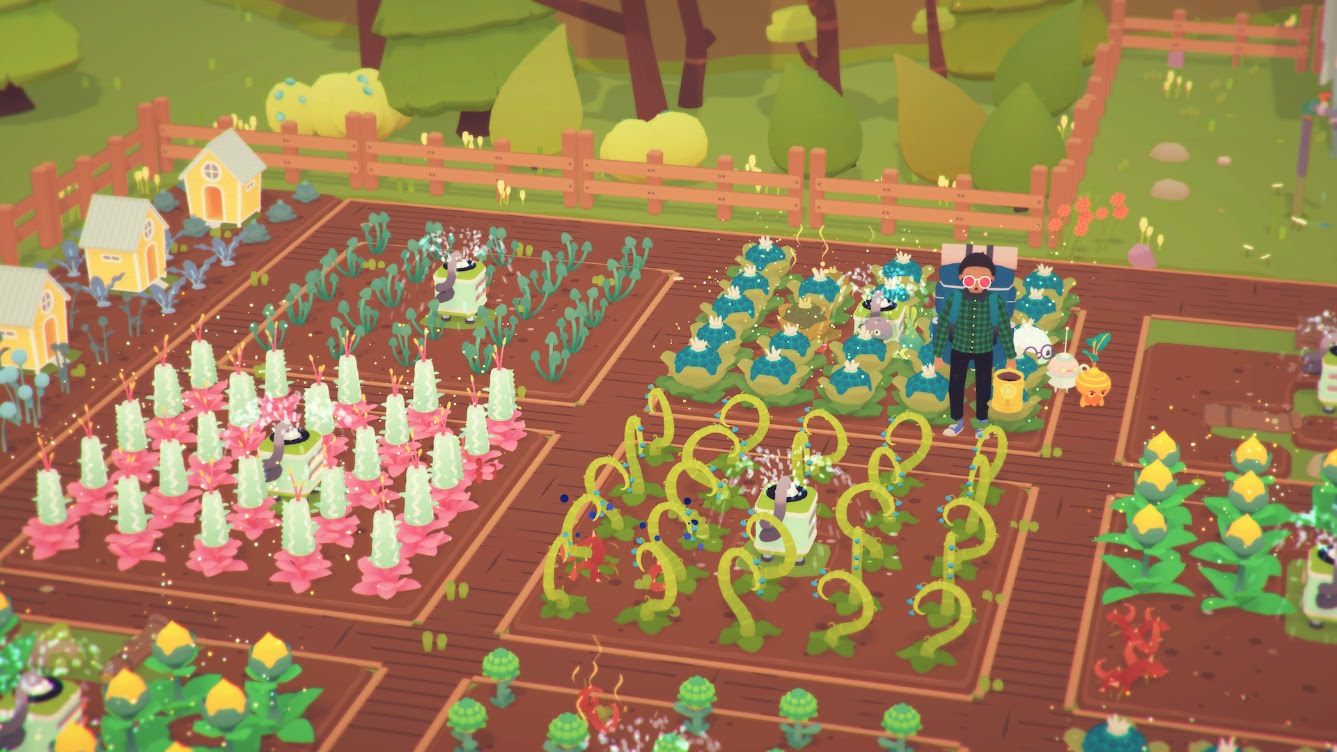 There are regular events in the world of Ooblets, including Halloween, winter, and spring/Easter. This year, the Halloween event is getting a makeover. Badgetown itself will get a spooky new look, and all the townsfolk will be in costume. The big news here is that there will be a new event-limited Ooblet to collect. There will also be a ton of new clothes, accessories, furniture, and decor items to earn by making potions. There are new event collectables as well. This update doesn't wipe out what was available in past Halloween events, it adds to it; so previous Halloween collectibles are back. The 2023 Halloween Event will run from October 1 through mid-November, but that may be expanded based on player demand.
There's another little bit of Ooblet news to share: the developers are currently working on another major content update, version 1.4. It will bring in oobmobiles, which are little vehicles for your ooblets to drive. Basically, it makes the game even more adorable. The update should be launched before the end of 2023.
Developed and published by Glumberland, Ooblets will be released for PC via Steam on October 5. It was first released in early access for PC via Epic and Xbox One in July 2020; its full launch occurred in September 2022 alongside the release of a Nintendo Switch version. All versions are digital, though there is a physical Nintendo Switch release available through Fangamer.