Somehow, the announcement of Dragon Quest Monsters: The Dark Prince got lost in the sauce for me a couple of weeks back. So let's start from the beginning here: Dragon Quest Monsters is basically Square Enix's answer to Pokémon. It's a turn-based roleplaying game that gives players the opportunity to command and recruit various types of monsters to join them on an adventure. The next title, Dragon Quest Monsters: The Dark Prince (Dragon Quest Monsters 3 in Japan), was announced two weeks back. This time around, scout monsters and use them in battle in an effort to become the Master of Monsterkind. Now that that's cleared up, let's get to the information divulged by Square Enix today.
Dragon Quest fans will be familiar with the main character, Psaro, from Dragon Quest IV: Chapters of the Chosen. That being said, Dragon Quest Monsters: The Dark Prince is completely standalone, so if you're not familiar with him that's cool too. Psaro is cursed by his father, the ruler of the monster realm of Nadiria (more on that later), and incapable of harming any creature of monster blood. In defiance, Psaro becomes a monster wrangler and ends up commanding his own army of loyal monster minions. While trying to get revenge against his father, he meets a young elvish woman named Rose and a mysterious man named Toilen Trubble. They head off to face the perils in Nadiria together. To get the vengeance he seeks, Psaro will need to befriend many monsters and tread many dark paths.
In case you missed it, here's the announcement trailer:
Now, onto the characters. Psaro (shown below and to the left, voiced by Gwilym Lee in English) is a young demihuman with very recognizable silver hair and red eyes. Otherwise, I already discussed his goals. Rose (voiced by Emma Ballantine in English) is an invaluable ally to Psaro and uses her mystical elven powers to reveal the path through the foreboding land. She is kind-hearted and gentle, while also being unafraid to stand up for what she believes in. Toilen Trubble (voiced by Hyoie O'Grady in English) is a young magic researchers with a bit of an issue when it comes to five-finger discounts. He joins Psaro so he can scour the Nadiria for ingredients not found in the human world. Fizzy (shown below and to the right) voiced by Harriet Carmichael in English) is a cheeky creature whose life's mission is to seek out the best and brightest monster wranglers in the world. She teaches Psaro the basics of wrangling, and becomes a sort of mentor to him.
Nadiria is an underworld domain where monsters rule supreme. It's divided into a number of realms, called Circles. Each Circle is comprised of three separate areas: a lower, middle, and upper echelon. Some examples include the Circle of Temper and The Circle of Indulgence (below). In Nidiria, there are seasons that cycle in a familiar fashion. As they change, so does the monsters who inhabit the world.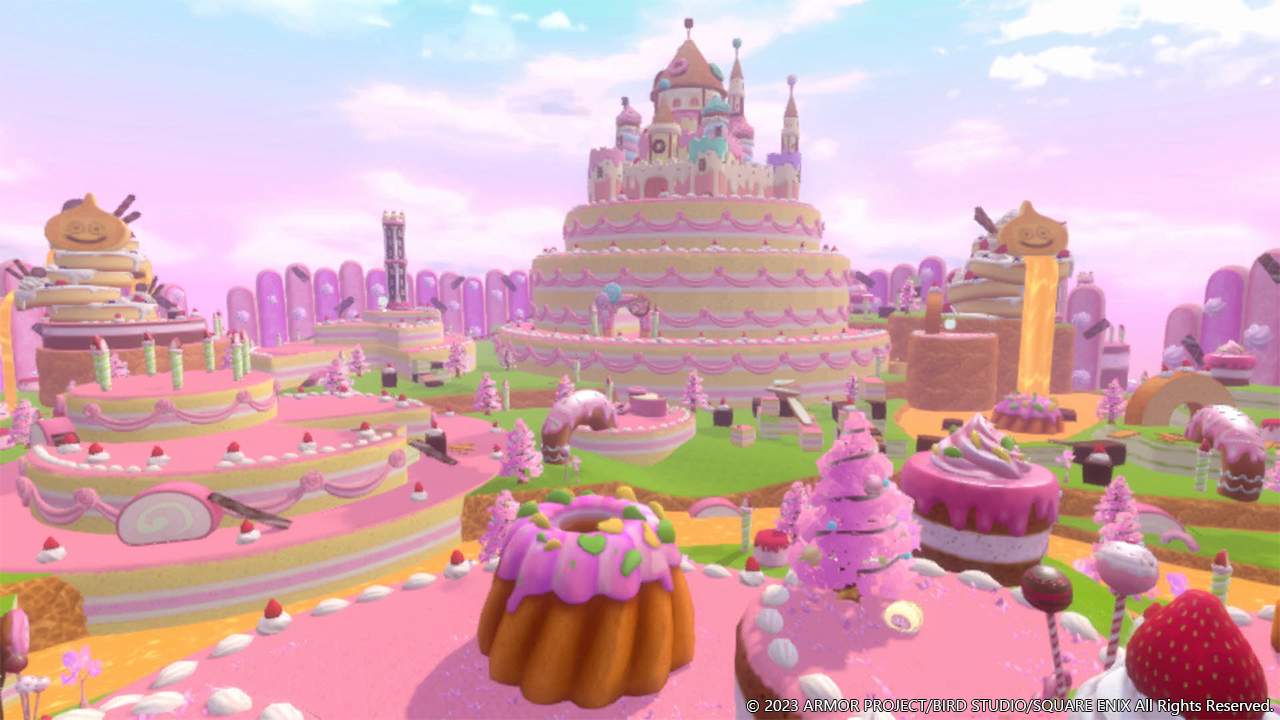 Dragon Quest Monsters: The Dark Prince features over 500 different types on monsters and a revamped synthesis system, with brand-new monster combinations to discover and familiar friends (and enemies) from past Dragon Quest titles to create. The game has online capabilities, allowing players to battle with wranglers worldwide. A few of the new monsters include Goomulonimbus (sneaky slimes that summon thunderstorms), Vegandragora (a dragon with a symbiotic relationship with a flower sprouting from its head), and Ronin Raccoon (who reaches into its foe's psyche to determine how to best strike them down).
Related reading: In this opinion piece, Matt ponders "what the hell has happened to Dragon Quest Monsters?"
Three sets of paid DLC will launch alongside the game: The Mole Hole, Coach Joe's Dungeon Gym, and Treasure Trunks. Progressing through this content will earn players rewards that will help on their quest and new outfits for Psaro. In The Mole Hole, delve underground for a reunion with monster types you've befriended before, and scout monsters what are tricky to synthesize. The DLC includes the gothic vestment outfit. In Coach Joe's Dungeon Gym, explore randomly generated dungeons and battle legions of monsters. Dispatch the boss awaiting in the final room to earn rare items. The DLC includes the cake-maker's clobber outfit. In Treasure Trunks, open mysterious treasure chests to win rewards. Yup, that's it. The catch? You'll have to wait awhile to open the next chest. The DLC includes the monstrous mail outfit.
Developed and published by Square Enix, Dragon Quest Monsters: The Dark Prince will be released for Nintendo Switch on December 1 worldwide.