Game development crunch is bad. There's literally no upside to it. Games get rushed, released with issues, and the staff suffers. So I take very little issue with games being delayed, despite being super impatient. I'd rather the people behind it stay healthy while creating the best product possible. So today when it was announced that Goodbye Volcano High would be delayed from June until August I was totally supportive. Good on the Ko_Op for making that choice!
On Twitter (below, text available via Notion here), the developer explains the reasons behind the delay: "The reality is that, with our current workload, we could not have met our June launch date without significant cuts to the quality and scope of the game. This would mean delivering something much different than what we've envisioned and worked toward. We don't want to release anything less than the best version of the game we have been making throughout our development cycle … We're a studio that prides itself on avoiding crunch. Meeting our original launch date would require our team to work nights, weekends and early mornings to ship and risk burning people out."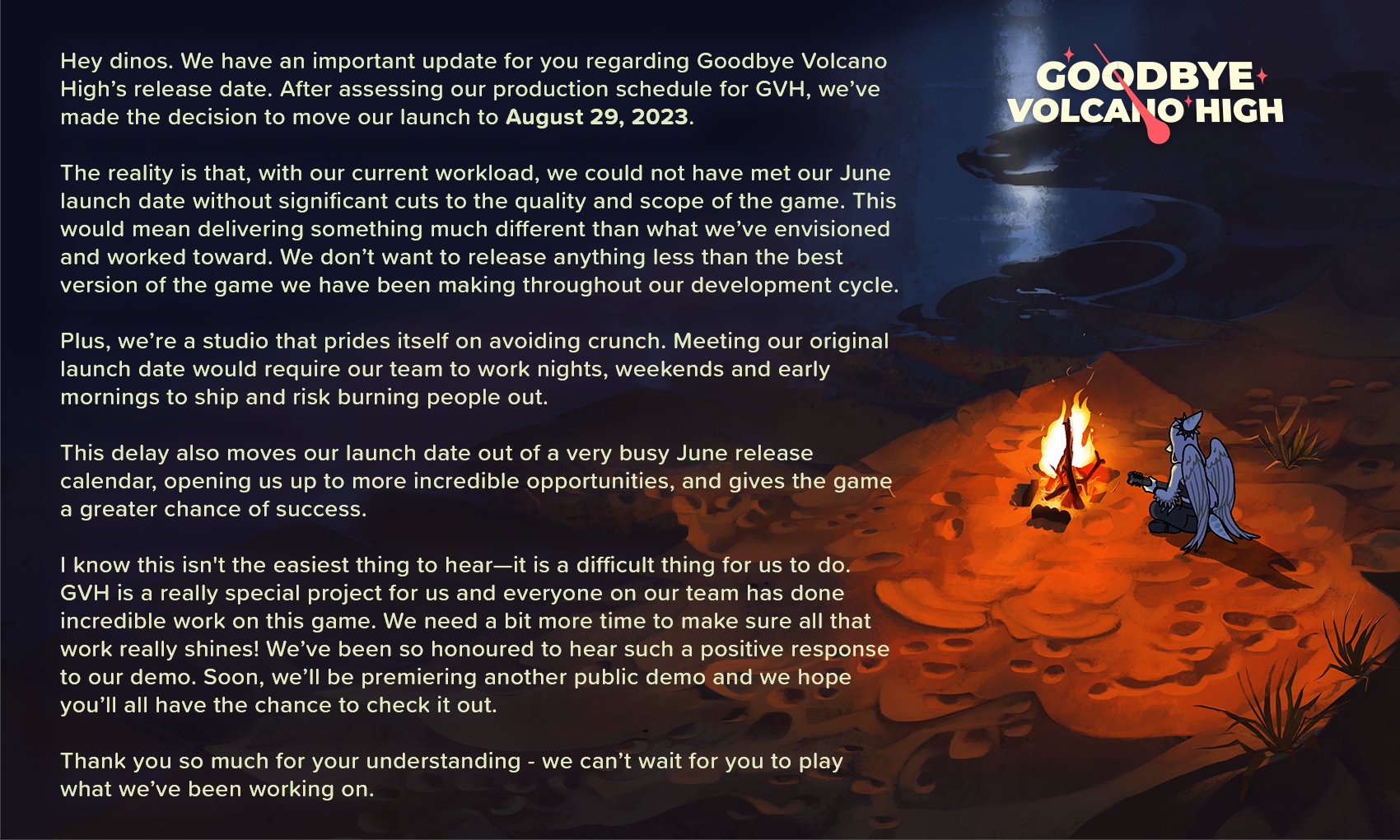 Goodbye Volcano High is a visual novel that follows Fang, a high school senior. Fang's just figured out what they want from life… and now the world is about to explode. Go figure. With the world ending, what does Fang do? Confess their feelings to their crush? Fix their family dynamic? Write the greatest song of all time! The game is choice-based, with every decision shaping Fang while also determining the gameplay experience. There are also seamlessly integrated minigames, like dinosaur-themed social media and interactive one-offs.
On a related note, today it was announced that Goodbye Volcano High is one of Tribeca Festival's 2023 official Game Selections alongside A Highland Song, Chants of Sennaar, Despelote, Nightscape, Stray Gods, and The Expanse: A Telltale Series.
Developed and published by Ko_Op, Goodbye Volcano High will be released for PC vis Steam, PlayStation 5, and PlayStation 4 on August 29.